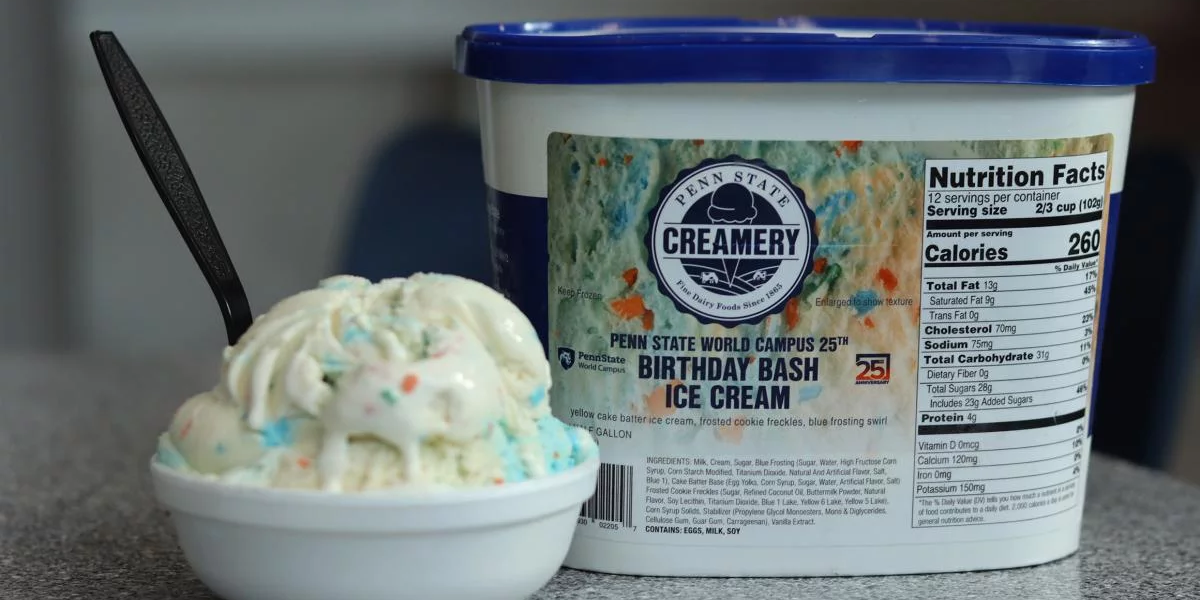 UNIVERSITY PARK, Pa. — Penn State World Campus turned 25 this year, and an ice cream flavor at Penn State Berkey Creamery is marking this sweet occasion.
The birthday cake–flavored ice cream has been temporarily renamed "Penn State World Campus 25th Birthday Bash" and will be available for purchase starting August 1.
"Birthday Bash" is yellow cake batter ice cream with frosted cookie freckles and swirls of blue frosting. The Creamery's website contains its complete ingredient list and allergen information.
The flavor will be available for scoop purchases in the Berkey Creamery's retail store through November 30. Half-gallons featuring a label with Penn State World Campus branding will also be available for purchase in the store and online.
The renaming of the ice cream flavor is the main celebration to mark the 25th year since Penn State World Campus launched in 1998.
"Penn State World Campus has been an integral part of Penn State for 25 years, and what better way to celebrate this milestone than with another symbol of the University — Creamery ice cream," said Renata Engel, vice provost for Online Education. "We hope that the University community will celebrate with us by grabbing a cone or a dish."
25 years of online education at Penn State
Penn State launched World Campus in January 1998 when the first course, in turfgrass management, made its debut online. All that students needed at that time was a computer and an internet connection.
In the subsequent semesters, Penn State added courses in new fields, such as supply chain management and nuclear engineering. The courses expanded into certificate and degree programs, giving students credentials for their achievements.
Within the first decade, the University launched more than 20 associate, bachelor's, and master's degree programs. Students who wanted a Penn State degree but could not go to a campus had options in business, liberal arts, law and public policy, education, nursing, and more.
Today, World Campus offers a comprehensive selection of online programs, with more than 175 degree and certificate programs available. To date, more than 35,000 students have graduated, and there are almost 14,000 students currently enrolled.
"We at the Berkey Creamery are excited to celebrate such a momentous occasion for Penn State World Campus, and this partnership shows how we are all part of the University," said Jim Brown, manager of sales and marketing at the Creamery. "We cannot wait to share this with students, faculty, staff, alumni, and visitors."
Visit the Berkey Creamery website for store hours and online ordering information.
Media Contact:
Mike Dawson
mdawson@psu.edu