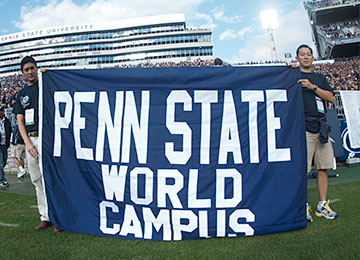 As a Penn State World Campus alum, you have access to a variety of benefits and opportunities, including networking with other alumni, mentoring current students, and participating in exclusive alumni events. You can stay involved with World Campus in a variety of ways after graduation. 
Be a Member 
Join or renew your membership in the Penn State Alumni Association. When you join or renew your membership, you automatically become a member of the World Campus Alumni Society and stay connected to Penn State well beyond graduation.
You can also join a local Penn State Alumni Association chapter in the area where you currently live and work. Local chapters throughout the United States and abroad can help you meet Penn Staters and stay active in your area. 
Attend Alumni Events 
Participate in a variety of events to expand your network and connect with other Penn Staters. 
Join the Conversation 
Become a member of the Penn State World Campus Alumni Facebook group. Stay up to date on the latest World Campus alumni news and online and in-person events, and connect with our community of more than 900 members. 
Host a Virtual World Campus Intern 
You or your company can partner with Penn State World Campus to provide an internship for online learners who work remotely. 
Volunteer 
Become an Alumni Ambassador 
Help prospective and new Penn State World Campus students by providing your insight into the online learning experience. Applying to become an alumni ambassador is quick and easy. 
Become an Alumni Representative at Open House Events 
Share your World Campus experience with prospective students at World Campus open house events. Events are hosted in locations around the United States and online. 
Become a LionLink Coach 
LionLink is Penn State's virtual networking platform that connects alumni in the workforce with students and other alumni looking for career help. When you sign up to be a LionLink coach, you have the opportunity to share career insights with Penn State students and alumni. You can also connect with other Penn State alumni to build your own professional network. 
Join the World Campus Alumni Society board 
You can support the growth and impact of the World Campus Alumni Society. Complete the nomination form to be considered for a position on our alumni board. 
Keep Your Contact Information Updated 
Whether you've moved to a new location or have changed your email address, be sure to update your contact information so you don't miss newsletters and emails that keep you connected to the Penn State alumni community.
Nominate an Outstanding Alum
Do you know a World Campus alum who is making a significant impact for World Campus and in his or her professional career? Nominate that individual for the Penn State World Campus Outstanding Alumni award. 
Give a Gift 
Learn how you can make a gift that gives future World Campus students the opportunity to earn their Penn State degree.