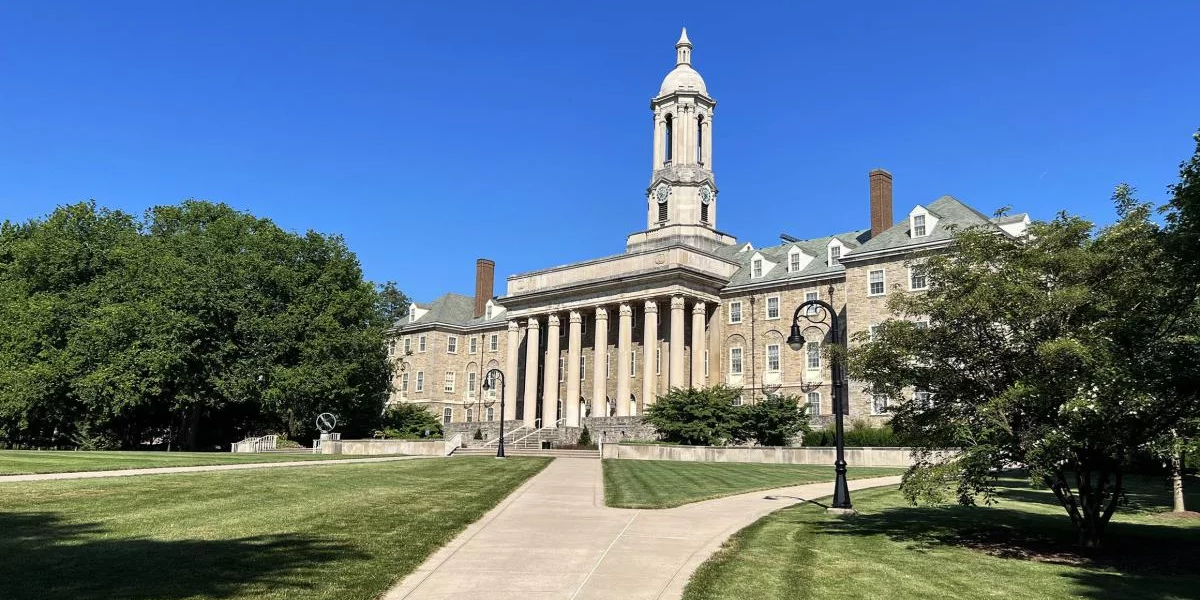 In the 1990s, professors at Penn State were exploring how they could use the latest technological advancement, the internet, to take what they taught in their classrooms to people all over the globe who would be learning online.
These senior, tenured professors at Penn State helped pioneer online learning not just at the University but in the country. In 1998, efforts throughout the University culminated in the launch of Penn State World Campus as the online campus of Penn State.
This year marks the 25th anniversary of that milestone. Over that time, Penn State World Campus has expanded its offerings into a comprehensive portfolio of more than 175 degree and certificate programs and is a vital part of the prestigious university that is Penn State.
Online learning is rooted in the University's legacy of distance education
Penn State has a long history of distance education that predates online learning by 100 years.
The first courses in distance education were correspondence courses in agriculture delivered by the U.S. Postal Service to farmers in the 1890s. As communication methods and technology evolved in the following decades, Penn State used these mediums — radio, TV, then satellite — to offer courses to students who wanted a Penn State degree but could not attend the University at one of its campuses.
By the 1990s, the internet was becoming more widespread. The military was heavily investing in satellite and online education for its service members. In the private sector, businesses began promoting online learning as a convenient way for their employees to go back to school to gain additional credentials or finish their degrees without leaving their jobs or moving.
While some universities began offering a limited selection of online degree programs in fields like engineering, Penn State's leaders were determined to establish an online campus that had the support of the entire University. Its programs were developed by the same faculty who taught on campus.
Penn State goes all in on online learning
The first course that was offered online in January 1998 was in a field in which Penn State has a long history, turfgrass management. 
The course in turfgrass management was offered by the renowned Penn State College of Agricultural Sciences, which has been one of the leading academic colleges of the University since its founding in 1855 as the Farmers' High School.
In the following months and semesters, more professors developed courses, with offerings in geographic information systems (GIS), supply chain management, nuclear engineering, and acoustics engineering. 
Students could complete their course work, attend lectures, and post discussion topics when it was convenient for them, from wherever they were.
Expanding the degrees for online learners
As its course catalog increased, Penn State World Campus started opening academic programs. Certificates gave students the chance to earn a credential for their résumé after successfully completing several courses.
Degree programs provided a path toward a diploma. The first was the master's in adult education in 1999. It has been offered by the Penn State College of Education, which has been training teachers since 1923.
Within the first 10 years, students who wanted a Penn State degree online could choose from a growing list of majors: business, the liberal arts, organizational leadership, nursing, criminal justice, psychology, information sciences and technology, and more.
Adult learners seeking to advance their careers by gaining specialized skills could choose from graduate degree programs: an MBA, project management, human resources and employment relations, curriculum and instruction, and more.
A wide variety of degree programs
In the 2010s and 2020s, the increasing demand for online programs and the emergence of new fields resulted in the comprehensive portfolio of more than 175 degree and certificate programs available today.
Traditional areas of study in political science and economics were added to the list of bachelor's degrees. At the graduate level, additional offerings included master's degrees in homeland security, engineering management, and finance.
A master's degree in data analytics was designed to teach students how to design and implement systems to analyze large sets of data. Specialized degrees in marketing analytics and insights and strategic management and executive leadership expanded the scope of graduate business programs.
The first doctoral program, in nursing practice, created a portfolio of programs that ranged from the associate level to the doctoral level, giving students the convenience to select a program at the right degree level for them.
Penn State World Campus students earn a respected Penn State degree
The University attributes its ability to launch Penn State World Campus to the early adoption of online learning by many professors at Penn State.
Today, many faculty who teach online also teach in the classrooms at the University Park campus and other campuses across Pennsylvania. Professors work with Penn State World Campus staff to design course content, labs, group discussions, and other resources specifically for online learners.
For instance, the faculty from the Penn State Donald P. Bellisario College of Communications teach in its online programs in strategic communications and journalism.
The Penn State College of the Liberal Arts' programs are another example of the longstanding commitment to online education. The college has more than a dozen online degree programs that have been taught by its faculty members for 20 years.
U.S. News & World Report consistently features Penn State World Campus's comprehensive portfolio in its annual "Best Online Programs" rankings for bachelor's and master's degrees. The rankings also highlight specific majors evaluated by peer institutions that offer online learning, and the online bachelor's in business and psychology programs are among the most highly regarded in the country.
Penn State is accredited through the Middle States Commission on Higher Education, and many individual online programs have earned accreditation, such as the online Master of Health Administration (MHA). It received national accreditation after a rigorous review of its students' success, curriculum, and faculty members.
When students graduate, they will have earned a Penn State degree.
A commitment to education and supporting military learners
Military students may need additional resources or different kinds of support to be successful learners.
Penn State World Campus has a dedicated military team of admissions counselors and academic advisers, many of whom were service members themselves or are military spouses. A team of School Certifying Officials are available to assist students with using their federal GI Bill® and other financial aid benefits.
The Penn State World Campus Military Grant-in-Aid program is one of the ways that the institution helps create a high-quality, affordable education for military students. It reduces the cost of tuition for service members in undergraduate degree programs.
Military Times has recognized Penn State World Campus as a top-5 school for military and veteran learners in its annual "Best for Vets" rankings.
Real Penn State experiences for online learners
While Penn State World Campus students are having the same high-quality learning experiences as their peers on campus, they also have opportunities to participate in the University community as their peers do.
World Campus students have participated in research opportunities with their professors and can join clubs and organizations — including one club for students who are parents. They can participate in the World Campus Student Government Association, which advocates for the second-largest student body at the University.
Penn State World Campus Student Affairs organizes a leadership conference each year. Students who attend can participate in sessions about how to improve their leadership skills to apply them to their experiences in school, in their jobs, and in their communities.
There are also opportunities to come to the University Park campus. For the past several years, the members of the World Campus Homecoming Committee have marched in the Penn State homecoming parade ahead of the Nittany Lions football team's homecoming game.
World Campus students can have the chance to take the field at Beaver Stadium during a football game in front of more than 100,000 Penn State fans. Each year, the All-University Day football game brings together students from across Penn State to be recognized, campus by campus, on the field during halftime.
Graduating from Penn State
Penn State World Campus students can have perhaps the most quintessential Penn State experience, too: attending graduation. In May, August, and December of each year, the University holds commencement ceremonies for graduating students.
Penn State World Campus students can attend the ceremony at the University Park campus, or they can select another campus's commencement ceremony to attend.
Students graduating with undergraduate degrees wear blue caps and gowns, and they will be recognized by name as they walk across the stage and receive recognition from the University president or another leader. Students graduating from master's or doctoral degree programs participate in The Graduate School at Penn State ceremony and wear black caps and gowns and receive the same name recognition.
Additionally, Penn State World Campus hosts a special reception to recognize the graduating students who completed their degrees online. All graduating students and their families and friends are invited to attend.
Being a part of the Penn State network
Over the past 25 years, Penn State World Campus has worked to create an online college experience that is as high quality and engaging as the kind students could have at any Penn State campus.
To date, almost 34,000 students have graduated with a degree they earned online through Penn State World Campus. In a job interview, they can tell prospective employers that they earned a Penn State degree, as their diplomas say they graduated from The Pennsylvania State University.
And when they hear someone say the "We are Penn State" chant, they know they are part of the community.
Since its beginning in 1998, Penn State World Campus has been woven into the fabric of the University.
Penn State World Campus is Penn State and has been for 25 years.
GI Bill® is a registered trademark of the U.S. Department of Veterans Affairs (VA). More information about education benefits offered by VA is available at the official U.S. government website at https://www.benefits.va.gov/gibill.
Media Contact:
Mike Dawson
mdawson@psu.edu