Rob Butler, Director of Major Gifts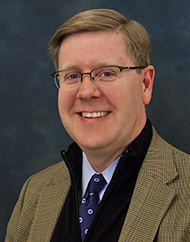 M.A., Television, Radio, and Film, Syracuse University
B.A., English, Bates College
Rob Butler, director of major gifts, has a fundraising portfolio that includes initiatives at Penn State World Campus, such as program and scholarship endowments. He joined the Penn State World Campus Development and Alumni Relations team in 1999, and he has held the positions of development assistant, assistant director, and associate director. Before his career in fundraising, Butler was a radio news anchor/reporter in Augusta, Maine, and an associate producer for television and radio at WPSU.
Email: rmbutler@psu.edu
Phone: 814-865-8283
Amy Sharer, Director of Stewardship and Donor Relations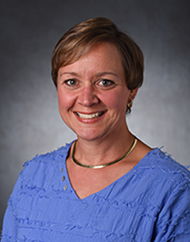 Associate of Applied Science, Pennsylvania College of Technology
Amy Sharer, director of stewardship and donor relations, began her career at Penn State in the Office of the Senior Vice President and Dean for the Commonwealth Educational System. She spent several years as the development assistant for the Donald P. Bellisario College of Communications and as assistant director in administrative information systems for Penn State Development and Alumni Relations. Sharer joined the World Campus Development and Alumni Relations team from the Penn State College of Engineering, where she served as the College's stewardship coordinator.
Email: aqh1@psu.edu
Phone: 814-863-3328
Nick McCarthy, Director of Development Communications & Senior Proposal Writer
M.A., English, Penn State
B.A., English and American Literature, University of Warwick, UK
Nick McCarthy, director of development communications and senior proposal writer, leads communications for the Penn State World Campus Development and Alumni Relations team, which includes managing volunteer campaign communications. Her responsibilities encompass researching and developing major proposals, developing relationships with foundations, and managing special projects. Previously, she was a publications writer for The Penn Stater, proposal writer for the Grand Destiny Campaign, and assistant director of the Center for Computational Mathematics and Applications at Penn State. She also served as a technical communications specialist with the Justice and Safety Institute in Penn State Outreach.
Email: njm9@psu.edu
Phone: 814-865-4342
Suzie Hassinger, Administrative Support Assistant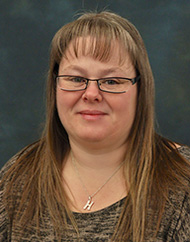 Diploma in Accounting, South Hills School of Business and Technology
Suzie Hassinger, administrative support assistant, joined the Penn State World Campus Development and Alumni Relations team in 2014. Previously, she was an administrative support assistant for the Grants and Contract Office in Outreach and Online Education. Her experience also includes providing administrative support for Statewide Continuing Education, Outreach Marketing, and Cooperative Extension.
Email: seh15@psu.edu
Phone: 814-863-2437