The World Campus Alumni Society Board is a volunteer advisory board that plans events, meetings, and other support activities for Penn State World Campus and its alumni.
What does the Alumni Society Board do?
We engage with World Campus leadership and advise on key initiatives that impact or involve the alumni community.
We partner with the Alumni Association affiliate groups to provide meaningful opportunities for our alumni and students.
We advocate for, promote, and offer other support programs that fulfill our mission and the strategic mission of World Campus.
Board expectations and responsibilities:
Advocate for Penn State and the World Campus community.
Understand the strategic priorities of World Campus and partner with leaders in identifying opportunities for achieving them.
Promote and be familiar with the Alumni Association membership programs and benefits.
Cultivate connections with alumni affiliate groups, including local chapters and academic societies.
Contribute to Alumni Society committees.
Actively participate in scheduled board meetings.
Support and promote philanthropic endeavors relevant to the mission of the Alumni Society.
Board meetings are open to all World Campus Alumni Society board members. If you are interested in attending a board meeting, please email Penn State World Campus alumni relations at alumni@worldcampus.psu.edu.
World Campus Alumni Society Board Officers
Mark Poblete, President
Senior Manager, Enterprise Services Risk, Capital One Financial
Mark earned his Master of Science in Information Science from Penn State World Campus in 2020 and a Graduate Certificate in Enterprise Architecture in 2022. He previously earned his Bachelor of Science in Information Sciences and Technology from Penn State in 2007. Mark is a seasoned risk management professional whose career has focused on delivering risk management services to business partners in government and financial services. He supports highly complex, enterprise-wide technology initiatives and partners with product managers, technology teams, and cybersecurity analysts in identifying, assessing, and managing operational and compliance risk. As a Penn State volunteer, in addition to his current alumni service to Penn State World Campus, Mark previously served as the president of the Penn State World Campus Blue & White Society, the student membership of the Penn State Alumni Association. He is a former member of the College of Information Sciences and Technology Alumni Society, where he served as president, and of the Executive Board of the Penn State Alumni Association's Alumni Council, where he chaired the Audit and Risk Committee.
Linda Wackerman, Vice President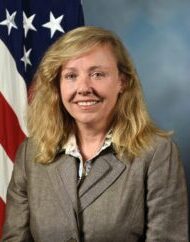 Airbus 320 International Pilot, American Airlines; Rear Admiral, U.S. Navy, Retired
Linda grew up in Miami, Florida; received a bachelor's degree in aerospace science from Metropolitan State College in Denver, Colorado; and is an alumna of Massachusetts Institute of Technology Seminar XXI. She received a Master of Professional Studies in Homeland Security from Penn State World Campus in 2016. Linda was designated a Naval Aviator in October 1987 and retired from the Navy in October 2018 as Rear Admiral. She has multiple military decorations, was selected as 2005 Federal Woman and 1995 NAS-JRB Willow Grove Woman of the Year, and received the 2020 Penn State World Campus Outstanding Graduate Alumna Award. She continues to serve as a board member for Penn State's Homeland Security Advisory Council; is an executive board member for the Boy Scouts of America, Washington Crossing Council; is an executive board member of the YMCA of Bucks County; and co-chairs their Diversity, Inclusion, and Global Engagement committee. Linda is an Airbus A320 International Pilot with American Airlines (AA) — she has accumulated more than 5,400 military and approximately 10,000 civilian flight hours. She serves as a facilitator for AA and is a volunteer on the Allied Pilots Association's Professional Standards Committee and the deputy chair for the Inclusion and Diversity  Subcommittee. She is also the assistant director for the Organization of Black Aerospace Professionals (OBAP) at Aerospace Professionals in Schools (APIS). She is married to a fellow retired Naval Aviator and fellow Penn State alumnus and is the proud mother of four incredible children (including a Penn State alumna and a soon-to-be alumnus).
Julie Pichora, Secretary/Treasurer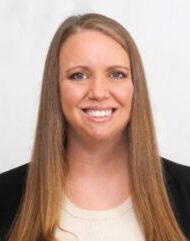 Senior Mortgage Loan Processor, Developer's Mortgage Company
Julie earned her MBA from Penn State World Campus in 2017. She is a season ticket holder for Penn State football. She currently resides in Pittsburgh, where she is a senior mortgage loan processor for Developer's Mortgage Company. In her free time, Julie enjoys traveling and scuba diving. She is also the secretary of the Greater Pittsburgh Chapter of the Penn State Alumni Association.
Luis Carrillo, Officer-at-Large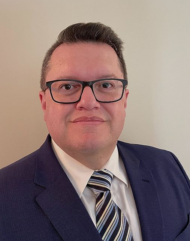 Senior Vice President of Global Procurement, Bank of America
Luis Carrillo earned a Master of Business in Global Management in 2000. After attending his wife Tracey's graduation from Penn State World Campus in 2018, he decided to go back to school and get another master's. He fell in love with what Penn State stood for. He truly was moved by the "WE ARE." In 2020, he obtained a Master of Professional Studies in Corporate Innovation and Entrepreneurship (Business Architecture) from Penn State World Campus. He is the senior vice president of global procurement for Bank of America, where he is responsible for all procurement activity related to professional services globally. Luis enjoys sharing Penn State experiences with his two boys (Gabriel and Gavin). They are very excited at the possibility that they might also be part of the Penn State family after high school. During his free time, Luis enjoys traveling, cooking, renting a plane, and going flying.
World Campus Alumni Society Board Members
David Altier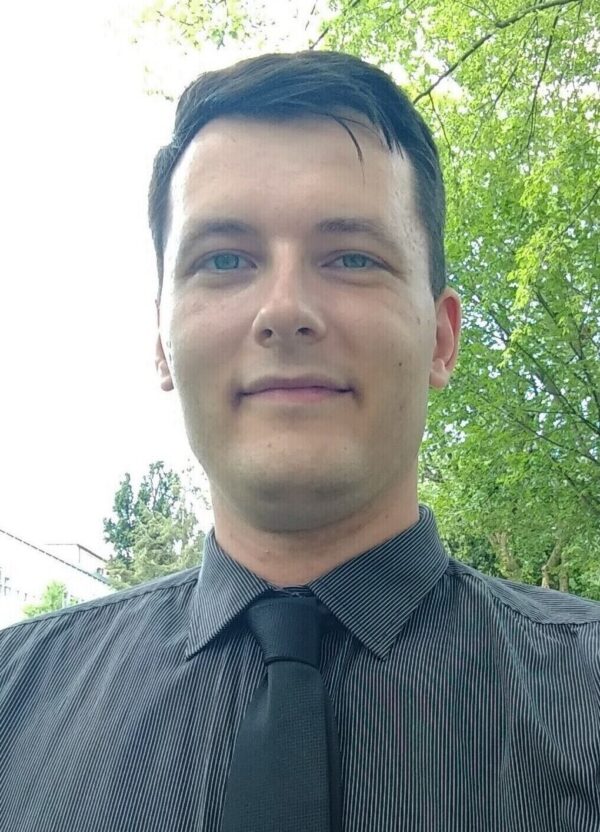 Logistics Specialist, United States Navy
David earned his Bachelor of Science in Finance and a minor in Psychology in 2021 from Penn State World Campus. He is a logistics specialist serving in the United States Navy, where he has provided customer service, operated financial accounting systems, and managed inventories of crucial supplies needed to support ships, squadrons, and shore-based activities. During his decade of military service, he has served at overseas assignments in Europe, Asia, and Hawaii and is currently assigned to Diego Garcia, which is a remote British Indian Ocean Territory. He plans to continue his education by obtaining a Master of Business Administration before he retires from the military. He enjoys spending time outdoors, which includes relaxing at the beach and going on hikes. He is an avid traveler and has been to almost 30 countries.
Michelle Buzzelli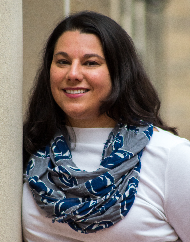 Population Health Program Manager, University of Maryland St. Joseph Medical Center
Michelle earned her master's in homeland security with concentrations in public health and hospital and health system preparedness in 2019 from Penn State World Campus and in 2020 from Penn State College of Medicine. She is a population health specialist for the University of Maryland St. Joseph Medical Center, where she has provided pioneering administration and analytics in population health. She also has a bachelor's degree from Duquesne University and a master's from Towson University. Michelle is a member of the Penn State Alumni Association – Baltimore Chapter board and a FastStart mentor. She has also previously served on Penn State's Alumni Council. She enjoys traveling, cooking, spending time on the water, and learning. She is a lasagna maker for Lasagna Love.
Marsha Cipollone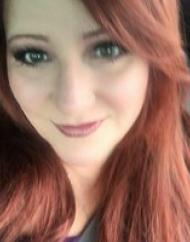 Solution Architect
Marsha has more than 20 years of experience as both an information technology engineer and in recent years as a solution architect in datacenter and cloud architecture solutions for large enterprises and universities. Marsha has a bachelor's degree in political science and Spanish from Purdue University, a master's in education from Duquesne University, and a Master of Business Administration from Penn State World Campus, which she earned in 2013. In her free time, she enjoys reading, playing with her dogs, archery, and helping advance STEM careers among women in her community.
Justin Gasbarre
Category Manager, Supply Chain Strategic Sourcing, Crown Castle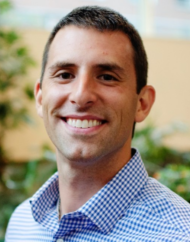 Justin Gasbarre is a two-time graduate of Penn State, earning his Bachelor of Science in Business Marketing and Management from Penn State Altoona in 2010 and his Master of Business Administration through Penn State World Campus in 2021. Justin works for Crown Castle in strategic sourcing, leading strategy development and procurement for its Tower business. To date, Justin's career has spanned professional services, technology, and supply chain. Justin and his wife, Leanna, have been married since 2016 and currently reside in Pittsburgh with his two children and their bulldog. Outside of work and family, Justin is an avid runner, having completed multiple marathons. He also enjoys giving back to his community through the local Big Brothers Big Sisters and Boys and Girls Club chapters.
Bryan Gates
Vice President of Human Resources, Lutheran Homes of South Carolina
Bryan Gates holds a bachelor's degree in business administration from the University of South Carolina and received a master's degree in human resources and employment relations from Penn State. Bryan has 24 years of human resources experience and is employed with Lutheran Homes of South Carolina as the vice president of human resources. He has served on the Columbia SHRM (CSHRM) Board since 2010 and is currently serving as the Immediate Past President. He also serves on the South Carolina SHRM State Council as the director-elect/conference chair. He was selected as the 2022 South Carolina Human Resources Professional of the Year. The HR Professional of the Year Award recognizes creative approaches and consistently high performance that benefits the nominee's company or organization and the business and professional community. The annual award is a joint venture of the state Chamber of Commerce and the South Carolina State SHRM Council. He believes in volunteering and giving back to his community. He is a current board member of South Carolina HOSA, which is a nonprofit, student-led organization of Future Health Professionals. Bryan is also a board member of the Midlands Special Needs Foundation. Bryan was born and raised in South Carolina and currently lives in Lexington, South Carolina, with his wife, Patricia; his daughters, Ava and Madilyn; and his sons, Bronson and Brantley. Bryan is very involved in the community through various activities and loves giving back by serving others and volunteering his time.
Kelsey Karpinski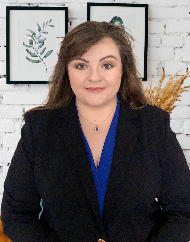 Solution Architect, Atos
A Western PA native, Kelsey graduated with a B.S. in Security and Risk Analysis, a minor in IST, and a certification of recognition in information assurance and cyber-defense from Penn State Altoona. She also has a master's in information systems from Minot State University. Now, Kelsey is a solution architect at Atos, working on the North American Siemens account. In her downtime, Kelsey enjoys cheering for Penn State football, walking, reading, and photography. Kelsey is eager to work with the Alumni Board and help give back to the students.
James "Jim" Lawrence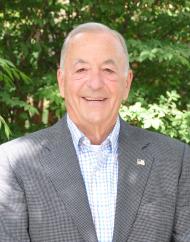 Journalist, American Metal Market /Fastmarkets
Jim spent more than 40 years in the stainless steel and high-temperature alloy scrap business as general manager, plant manager, VP & GM, VP of sales, and international technical manager for Asia Operations, taking him to Asia 70 times. He is currently a reporter/journalist for the American Metal Market/Fastmarkets, a worldwide price reporting agency in the metals and commodity-based industries. He received the Lifetime Achievement Award from the Institute of Scrap Recycling Industries, where he is a past president and continues to serve on the board. He is a past vice president of the Penn State World Campus Alumni Society and a United States Army veteran, having served during the Vietnam War. He resides in Franklin Park, Pennsylvania, with his wonderful wife, Barbara. He has two beautiful daughters, three terrific granddaughters, and, of course, two great sons-in-law.
Philip Neri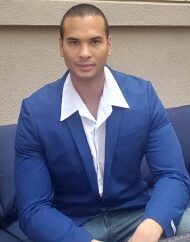 Army Officer, United States Army
Philip is a soldier serving in the United States Army. During his military career, he has served in operational assignments in Georgia, Washington, Florida, and Colorado and throughout the Middle East, Europe, and the Pacific. He currently resides in Colorado Springs while assigned to Fort Carson, Colorado. Phil has also served as a teaching support specialist for courses in the Smeal College of Business' OMBA program since the fall 2019 semester. Phil earned his undergraduate degree in aeronautics from Embry-Riddle Aeronautical University. He continued his graduate education by earning a Master of Business Administration from Penn State World Campus in 2012, an MA in international relations from King's College London in 2015, and an MA in military operations from the U.S. Army School of Advanced Military Studies in 2019. He enjoys exercising, writing, reading, traveling, and spending time with his wife, Andrea, and two daughters, Kennedi and Sydney.
William Roche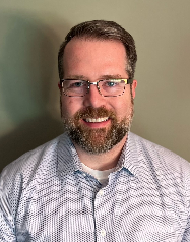 CEO, S. Clyde Weaver
William attended undergraduate school at the University of Illinois, where he studied history, played rugby, and started his career in the food industry. After many years of small business ownership, he decided to gain a broader perspective on business management and enrolled in Penn State World Campus. He received his master's in strategic management and executive leadership in December 2022. William utilizes many of the materials he studied in the program in his role as the CEO of S. Clyde Weaver, a food retail chain specializing in smoked meats and cheese with locations throughout Central and Eastern Pennsylvania. He also acts as the CEO of Old Quebec Aged Cheddars, an import and wholesale company of Canadian cheddar cheese that is expanding into grocery retailers nationally. When he is not working, he enjoys cooking for his family, reading, playing chess, spending time with his wife, and watching cartoons with his two sons.
Pat Romano Jr.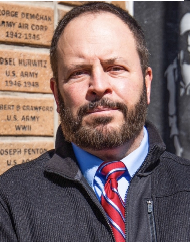 General Contractor and We Are Inn owner
Pat was raised in the Philadelphia area and founded a general contracting company in 1998. In 2005, the decision was made to relocate to Philipsburg, Pennsylvania, to be closer to State College and offer student housing "turnover services" to privately owned housing complexes. In 2010, Pat expanded his horizons and enrolled in courses through Penn State World Campus; he received an associate degree in 2012 with core classes geared toward pursuing a B.S. in Organizational Leadership in the future. In the fall of 2019, Pat and Jen Romano purchased a vacant motel situated on U.S. 322 precisely 24 miles west of Beaver Stadium. The full-service restaurant — The We Are Inn — is now a destination for food and lodging for Penn Staters, and it features an extensive collection of memorabilia that promotes Penn State pride. The business is expanding in 2023 to include two cheesesteak concession stands in Beaver Stadium. Pat is an elected supervisor of Rush Township in Centre County, has served on many other boards in the area, and is wrapping up his 5-year term on the Nittany Lion Fan Council.
Carol E. Snyder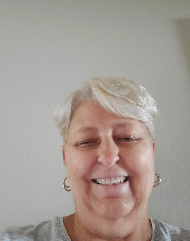 Human Resources, Ethicon, Inc. — a Johnson & Johnson, Inc. affiliate (retired)
Carol earned a bachelor's degree in organizational leadership from Penn State World Campus in 2012. She retired from Johnson & Johnson after 28 years in the human resources department of Ethicon, Inc., one of the largest affiliates of J&J. She primarily focused on compensation and benefits. During her career, she earned a Senior Professional in Human Resources (SPHR) certification from the Society for Human Resource Management and a Certified Compensation Professional (CCP) certification from World at Work. At times, she also held responsibility for other parts of human resources, such as compliance (I-9s, Sarbanes-Oxley, FMLA), HR policies, HR records, acquisitions, and recruiting. Carol was one of the founding members of the World Campus Alumni Society and served for several years as secretary. Carol is the recipient of the Penn State Outreach and Online Education Outstanding World Campus Alumna Award for 2016. Carol and her late husband sponsor the Charles E. and Carol E. Snyder World Campus Alumni Society Open Doors Scholarship in the World Campus to support students in need in taking full advantage of the educational opportunities opened to them.
Theresa Tama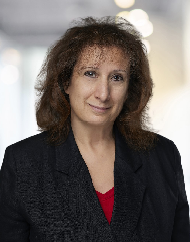 After starting her studies at Penn State Altoona, Theresa received a Bachelor of Arts in Letters, Arts, and Sciences in 2012 and a Graduate Certificate in Enterprise Architecture in 2014 from Penn State World Campus. She has also served as an alumni ambassador for Penn State World Campus since 2012. She has worked at a number of security software companies in sales, helping organizations achieve their business goals with her knowledge, dedication, and persistence. Theresa enjoys traveling and spending time with family and friends. She loves watching the Penn State Nittany Lions every Saturday during football season with her husband, who is also a diehard fan. Theresa is also a true Pittsburgh Steelers fan!
Juan Villar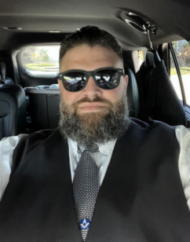 Law Enforcement Agent, Organized Crime Bureau, County Sheriff's Office, South Florida 
Juan "JC" Villar earned a master's in psychology of leadership from Penn State World Campus in 2021. JC is a law enforcement agent in the organized crime bureau at a county sheriff's office in South Florida. JC served on the Penn State World Campus student advisory board during his time as a student, giving him the passion to serve Penn State. He enjoys coaching high school wrestling athletes, when time permits. JC hopes to teach as an adjunct professor at a college in the future.