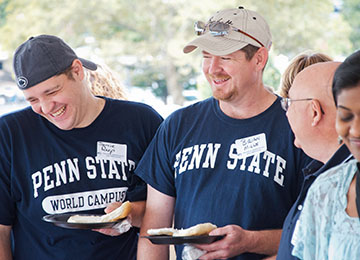 Penn State alumni are a part of one of the largest, most powerful alumni networks in the world. As a dues-paying member of the Penn State Alumni Association, you can receive support and stay connected to Penn State as you pursue your professional, educational, and personal goals.
Joining the Society
Join the Alumni Association and you'll automatically become a member of the World Campus Alumni Society. If you're already a member of the Alumni Association, you should receive information about Society events. If you've not yet received any information from the Society, please contact us at alumni@worldcampus.psu.edu. 
Society Membership Benefits
Members of the World Campus Alumni Society receive all the benefits of the Penn State Alumni Association. The Association produces a number of print and electronic publications for alumni and friends of the University, including the award-winning Penn Stater magazine and The Football Letter. The Association also hosts a diverse calendar of in-person and virtual events throughout the year featuring the accomplishments of our alumni, valuable resources, and further opportunities to connect.
The Alumni Association provides access to a number of online resources, including career support, an alumni directory, library services, and discount programs. The World Campus Alumni Society offers online networking events and other opportunities to connect World Campus alumni to one another and to Penn State.
View a current list of Alumni Association benefits
Contact Us
If you have any questions, or if you would like to confirm your membership in the World Campus Alumni Society, please contact 814-863-8790 or alumni@worldcampus.psu.edu.