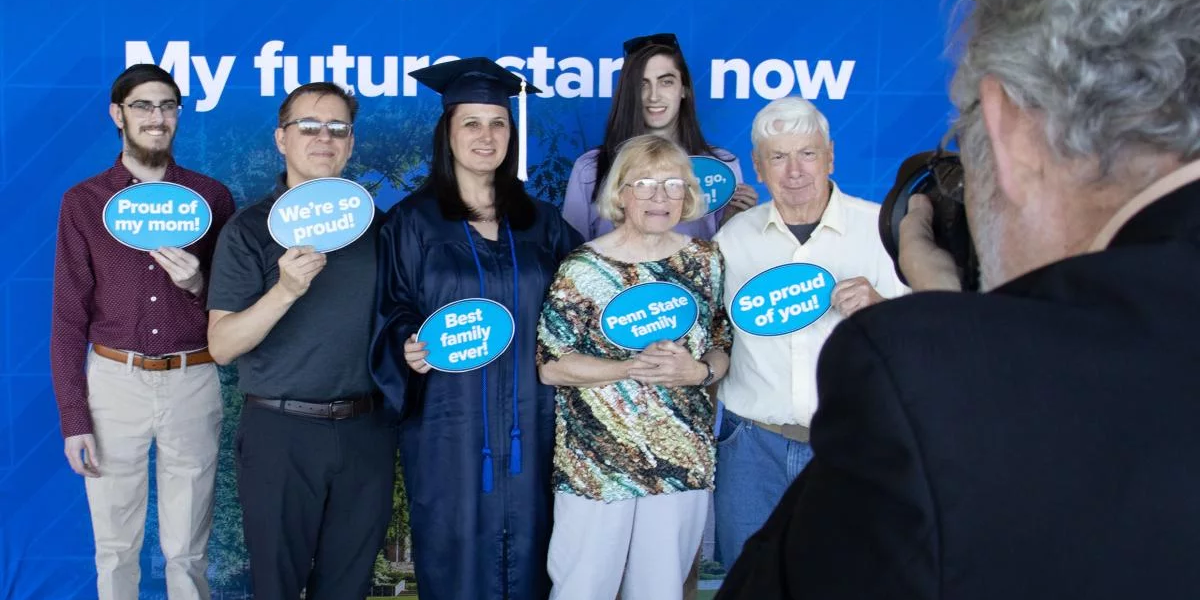 Almost 900 Penn State World Campus students will graduate this semester.
A total of 889 students will receive their Penn State diplomas and graduate during the commencement exercises on August 12. With this group of graduating students, the number of all-time Penn State World Campus graduates exceeds 36,000.
Each semester, Penn State World Campus students can attend the commencement ceremony at the campus that offers their degree program.
The big picture
The summer graduates of the Penn State World Campus Class of 2023 consist of 889 students from 93 different programs of the more than 175 programs that are offered online.
Students range in age from 18 to 81 and hail from 43 states, the District of Columbia, and 12 countries.
The tally includes 141 people with a military affiliation. There are 95 graduate students who have completed their second Penn State degree, and 41 are receiving their second degree through World Campus.
Students selected to speak at celebration event
Two students have been chosen to share their success stories in speeches at the Penn State World Campus Celebration on Saturday, August 12, at Medlar Field at Lubrano Park. The event is a reception for graduating students and their families and friends.
Kristen Reese is one of the two Penn State World Campus graduating students to speak at the event.
Reese is graduating with a Master of Business Administration, but her path was not this clear when she left Penn State as an undergraduate in 2009. She was offered a full-time job at The Hershey Company, and while a full-time job was not in her plans at that time, she wanted to take advantage of the opportunity.
It was not until she had her first child, a son, in 2017, that she started to rethink things.
"He changed my world; I wanted him to be proud of his mother," Reese said. "I also wanted something more out of my career — I wanted to be the people I was supporting. So, I went back to school."
Reese finished her undergraduate degree at a local college and wanted to get her MBA from Penn State.
"My end goal was always Penn State," she said. "Penn State's online program was perfect for me to balance being a mom, wife, friend, daughter, and co-worker."
Ryan Ryu is the other graduating student speaker.
More than 10 years after he got his bachelor's degree, Ryu decided to return to higher education for a Master of Project Management.
With an extensive background in engineering, Ryu connected much of the theory and practice he learned in his courses to improve his efficiency at work.
"The Project Management course was a practical discipline that connected theory and practice," Ryu said. "I learned a wider world through research, and my work efficiency improved by applying what I learned to the field."
He said his professors' guidance broadened his insights and the faculty's instructions supported effective academic direction.
"I was convinced that my choice was absolutely right," he said.
Master's in information science sees its first two grads
A milestone will occur this semester — the Master of Science in Information Science degree program will have its first two graduates.
The master's degree program opened in 2021 and is offered online in partnership with the Engineering Division of the Penn State Great Valley School of Graduate Professional Studies.
In the program, students take courses that include information systems architecture, data mining, business process management and integration, and web security and privacy. All students must also complete an integrative research topics course, which includes a master's scholarly paper.
25 years of education online
This year marks the 25th anniversary of the launch of Penn State World Campus. The offerings have evolved from the first course in turfgrass management to what is now a comprehensive selection of degree and certificate programs in business, health, technology, the liberal arts, and more.
Congratulations to all graduates! Welcome to the Penn State World Campus alumni family!
Media Contact:
Mike Dawson
mdawson@psu.edu