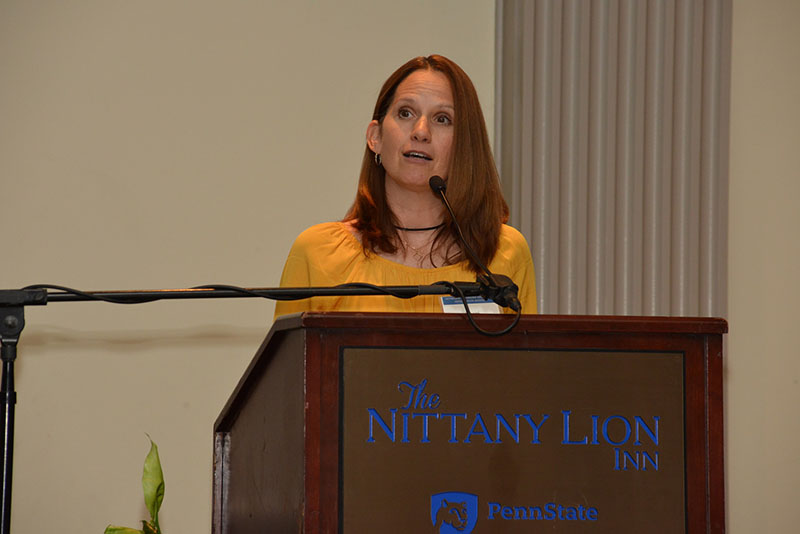 Penn State World Campus scholarships can be about second chances. That is very true for psychology major Sheri Price, of Jermyn, Pennsylvania, who is a recipient of the Steven and Brenda Schlotterbeck Trustee Matching Scholarship through World Campus.
"When people hear 'scholarship recipient,' I am certain the picture that comes to mind is not some 48-year-old mother of five, but rather a studious young adult, whose biggest challenge in life is the upcoming calculus midterm. Yet, here I am!"
Like many of her friends, when Sheri was that studious young adult, she had hoped to go to college. But her mother, who was diagnosed with bipolar manic schizophrenia, "lived in a world of fear." The possibility of college could not even be broached in Sheri's home. Instead, Sheri obtained a position at a local bank.
Yet, Sheri's dream was a career in health care, and when a position opened up at a doctor's office, she jumped at the chance.
"I may not have been a nurse or a doctor, but without an education, being an office manager in a medical practice was as close as I could get." For 25 years, Sheri worked at that doctor's office, until the physician retired, closing the doors on the practice at the beginning of last year.
With three kids in college, two at home in cyber school, and a reduced income, Sheri had one question: "What am I supposed to do now?" She had long thought herself too old to go to college.
The answer: First, take four part-time jobs — one as an accounts payable manager for a restaurant, another as an official for track and field meets, another as a house cleaner, and another as an assistant to a woman with a brain injury. Next, earn a degree through World Campus.
"If my eyes are open and I am not working, I am studying," she said. The scholarship means that she can carve out just a little family time from her multiple jobs and studies.
"Am I your typical student? Maybe not. But World Campus isn't for typical students. It is for people like me, who have families and jobs." Her goal: "I am pursuing a degree in psychology to help people with mental illness and people dealing with the stressors of life to not live in fear."
She added, "Because of Mr. and Mrs. Schlotterbeck, people like me, people with life experience and wisdom, can study for a degree — and succeed."