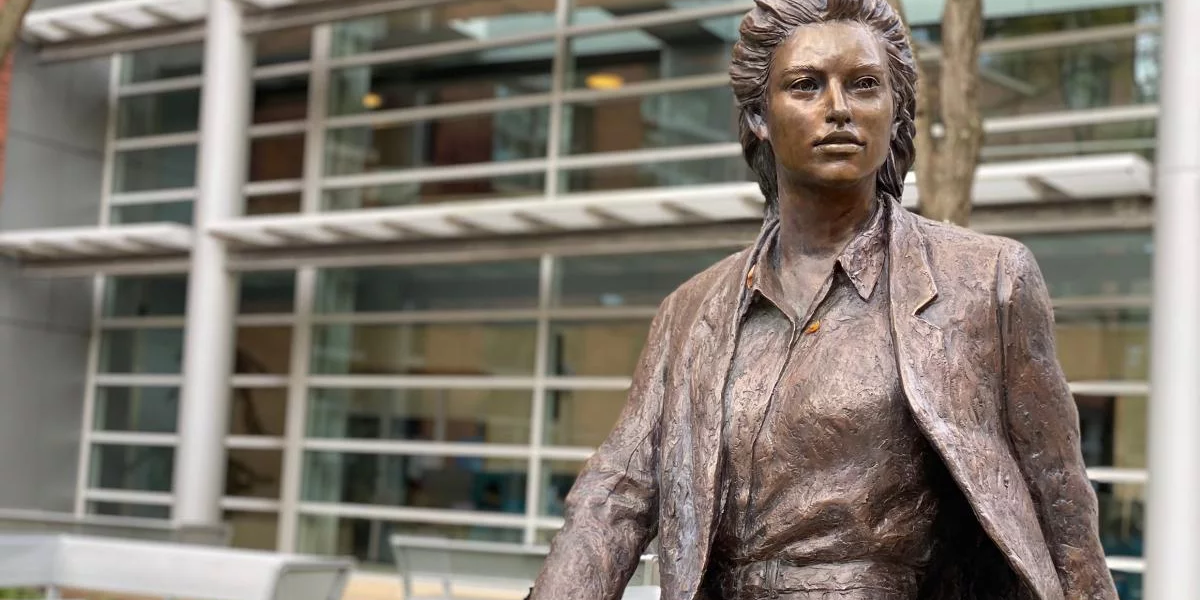 Women who work in male-dominated fields, such as business and engineering, face a unique set of challenges and hurdles in the workplace.
Being one of few women in the office, making sacrifices to balance personal life and career goals, and the pressure to constantly prove one's worth are among the most common challenges they face.
But as more women enter male-dominated fields and workplaces, finding support among women with shared experiences can be a helpful tool and motivator for success.
During the 2020–2021 academic year, 36% of students identifying as women were enrolled in the online Master of Business Administration program, which is led by the internationally ranked Penn State Smeal College of Business and offered in partnership with Penn State World Campus.
Below are stories from women enrolled in the online MBA program who are taking on the challenge of working in a male-dominated field and succeeding in their careers while balancing their personal lives.
Osyria Webster, engineering leadership and innovation management concentration
Webster, 43, went on to earn a bachelor's degree in biology and a doctorate in dentistry and worked as a dentist for several years. During that time, she said, she still had an interest in engineering and finally decided to pursue a new career path. She eventually enrolled in an engineering program.
In 2017, she graduated with a Bachelor of Science in electrical engineering and her new career quickly took off. Webster now works as a senior project engineer for an aerospace company in Illinois and oversees a team's schedule and budget.
To move into a leadership role within her organization, Webster said she knew she needed business experience, so she decided to return to school for a fourth time and earn an MBA.
Webster enrolled in the Penn State Online MBA for the fall 2019 semester.
Webster said she has used her experiences to prepare her teenage daughter for college and the workforce. She said that her advice to her daughter and other women who may be in male-dominated fields is to assert themselves.
"If you feel like things aren't progressing the way you think they should be or if you have an opinion about something, don't be afraid to take the lead and don't be afraid to give your opinion," said Webster. "Understand that we have as much value as our male counterparts."
Webster will be the recipient of the Technology Rising Star Award from the Women of Color STEM Conference in October 2021.
Nina Coates, business sustainability strategy concentration
Nina Coates, an agricultural economist at the Food and Agriculture Organization (FAO) of the United Nations, said her past has been her strength.
At 22, Coates left college to open an imported foods business. After successfully operating the business for eight years, Coates sold the business to re-evaluate her career and start a family.
Coates and her then-husband moved to Rome, Italy, where Coates has lived and worked ever since.
In 2014, Coates decided it was time to reignite her career and came across the FAO, which is headquartered in Rome. Coates said she immediately knew she wanted to work there because of her work history and passion for the food industry.
Coates said she regrets not completing her bachelor's degree, so she went back to school and graduated with an international relations degree in 2016. She then began volunteering at the FAO, developing business plans for small-scale investments. Her work as a volunteer eventually earned her a job as a consultant.
Coates decided to continue her education and completed two master's degrees, one in human development and food security and another in agricultural economics.
As she continued in her career at the FAO, Coates realized she wanted to work in the private sector and needed more education. She looked into MBA programs and said Penn State World Campus met her requirements. She enrolled for the fall 2020 semester.
As an agricultural economist, Coates works with international financial institutions in the design, implementation, and supervision of agricultural investment projects that support policy and responsible private sector investment. She said the program has opened her eyes to ideas and methods she'd never considered.
"Everything I've learned so far I've implemented straightaway in my work," said Coates, 44. "I've changed my management style, and I'm working with my teams in a much better way."
Coates said that working in a male-dominated field can be frustrating, but she emphasized the importance of using her strengths to show her individual value.
"Keep pushing through. Speak up and don't give up because things will change," she said. "Use your frustration as motivation."
Gale Hauck, corporate innovation and entrepreneurship concentration
Gale Hauck was no stranger to online learning when she enrolled in the online MBA program in 2017.
Hauck earned a master's degree in nuclear engineering from Penn State World Campus in 2011. But when she realized that she wanted to move into leadership roles, she decided to return to online education.
While taking her concentration-specific courses, Hauck said she discovered new ways the nuclear engineering field was progressing and found a new direction she wanted to take her career.
She credits the course work for helping her find a career path she wouldn't have found on her own and helping her through the interview process.
"I was talking about these advanced technologies that I hadn't necessarily worked on in the past, but I wanted to work on in the future," said Hauck, 39. "But the research I did as part of the MBA course work really helped me to be able to stand up in those interviews and just speak intelligently about that subject matter."
Several months before graduating with her MBA in August, Hauck began working as a senior research and development staff member at a national research laboratory in Tennessee.
In her previous roles, Hauck had the opportunity to travel to more than 30 countries. Most recently, she lived in the United Arab Emirates for three years.
She said that during especially demanding times in her career, finding a support system of other women in the field was beneficial.
"The best part about it is really the sisterhood of all the other women that have lived the same experience," said Hauck. "We've all been through the same things, so we instantly connect over the shared experiences that we have."
Lisa Pritchard, finance concentration
For Lisa Pritchard, a former U.S. Marine Corps Sergeant and Department of Defense employee, working in a male-dominated field is nothing new.
After serving four years, Pritchard left the Marine Corps and went back to school to earn a bachelor's degree in finance. Weeks after she graduated in 2016, her family moved to Okinawa, Japan, for her husband's commitment with the Marines.
In fall 2017, Pritchard enrolled in the inaugural class for the newly redesigned online MBA program offered through Penn State World Campus. During this tour, she balanced a career with the U.S. Air Force, going to school, and raising her children while her husband was deployed for months at a time.
She said balancing her family life, career, and education in a time zone 14 hours ahead of her peers had its challenges, but that focusing on her course work was her way to stay busy while her husband was away.
In 2019, Pritchard returned to the U.S. and got a finance job as a budget analyst in the Department of Defense, working on the president's budget.
She said her experience in the Marine Corps and working in a male-dominated field and organization have been similar.
"In order to receive credit in a male-dominated world, you have to work a little bit harder than your male counterparts to gain their respect," said Pritchard.
Having women as peers and mentors has helped Pritchard keep her morale and motivation.
"In the past I have oftentimes witnessed men being promoted over women when it was clear that the woman was more capable, more talented, and they had more experience. Now, I see women getting promoted and recognition for a job well done, and it's a wonderful thing to see how far we've come," she said. 
With only weeks left until she graduates in December, Pritchard said she has already leveraged her education into a promotion. She accepted a new position with the Marine Corps, where she will be responsible for managing a $2 million portfolio starting in November. 
Resources for women online MBA students
The Smeal College has resources and affiliated organizations to support women in business.
Through a partnership with the Forté Foundation, students can attend exclusive events, gain access to the organization's job posting and résumé database, and tap into Forté's extensive network of women business leaders. The organization's goal is to empower women to advance in the workplace.
Students can also join several organizations dedicated to supporting women in this field: Penn State Women in Business, Penn State Women in Supply Chain, and the Smeal College of Business Women's MBA Association chapter.
Learn more about the program on the online MBA website.