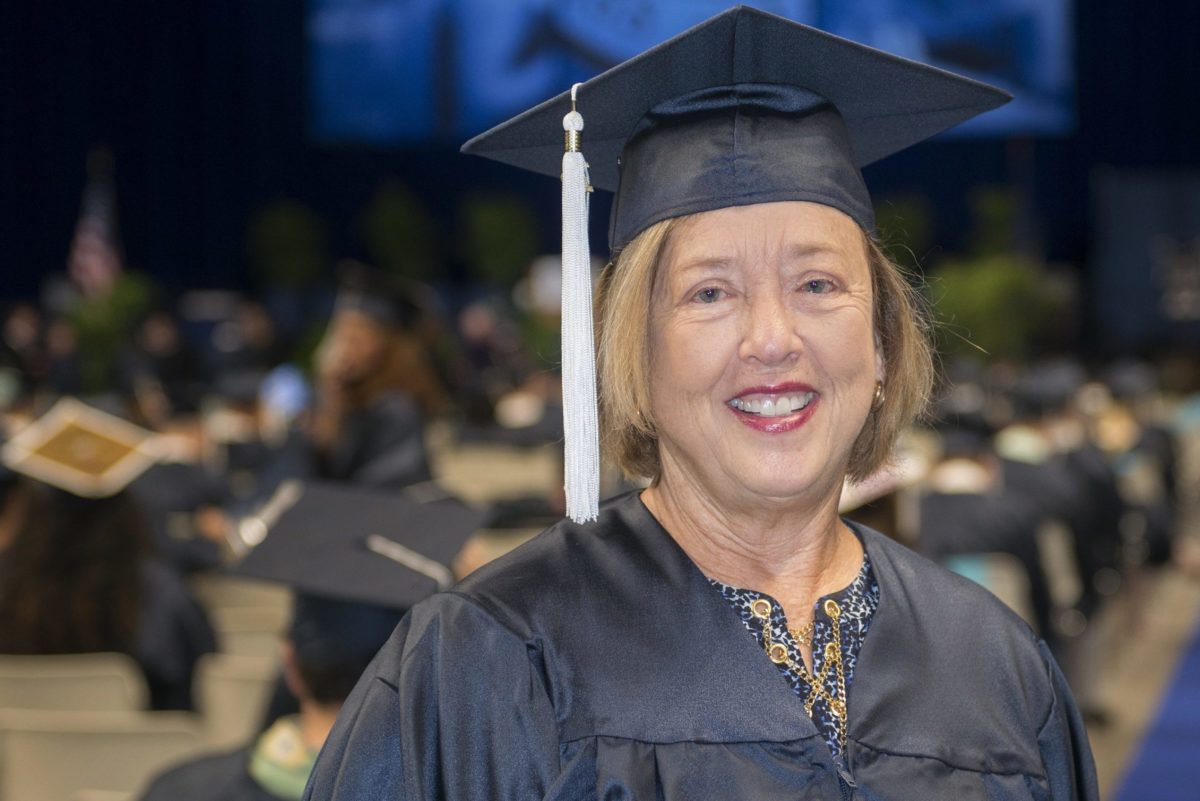 Nearly 40 years ago, Star Magazine reporter Mary Ann Norbom was on the trail of Dolly Parton, who was crossing over to mainstream pop from country music.
Later, in the 1990s, Norbom appeared on the television show Hard Copy to lend her expertise on celebrities. In the 2000s, Norbom worked at OK! Magazine when it launched in the United States.
Now, after a career in celebrity journalism spanning five decades, Norbom is no longer looking for celebrity news scoops. Instead, she's taking care of unfinished business from 47 years ago and getting her college degree.
Norbom, 67, graduated from Penn State on Saturday, August 13, with a bachelor's degree in political science, which she began in 1967. She finished the degree online through Penn State World Campus.
"It was unfinished business — that's what I've said to people," said Norbom, who has worked full-time as the lifestyles editor for the Santa Ynez Valley News, a newspaper in Solvang, California, while completing her degree online. "It's just something that I decided to do for me."
Norbom got married in 1969, left Penn State halfway through her junior year, and moved with her husband to Philadelphia. Her first job was with TV Guide, compiling listings.
Working as a reporter came next, when she moved to New York and got hired at Star Magazine. One of her most memorable stories was about Parton, the country singer. The magazine sent Norbom to the singer's town in Tennessee, where she interviewed her friends and family, including her husband.
"Her people flipped out afterwards that he had invited me in for lemonade," Norbom said.
Norbom's stints on TV had her producing segments on baseball legend Mickey Mantle and actor Robert Mitchum on Entertainment Tonight. At Hard Copy, she did on-camera interviews as the go-to expert on late actor Chris Farley.
It was in 2010, when her husband died, that she decided to slow down her fast-paced life. She moved to a community outside Santa Barbara, California, and worked part-time for RadarOnline.com, a celebrity news website that was just launching.
She'd also been looking into finishing her college degree.
"One day, I just put the Penn State website up, and it was like the lightbulb went off," she said. "Maybe I could do this online."
In the summer of 2014, she re-enrolled in Penn State through the World Campus with all 75 credits she completed in the 1960s. She started with a few credits, but then took more and more while working at the local newspaper.
By the end of spring 2016, graduation was just a few months away.
But she still wanted the classroom experience she left behind years ago. When she found out Penn State offered classes in May called "Maymester," she was sold.
She worked remotely from State College while living in a hotel and took two classes on campus. She returned to California in June to finish out her last class to get her degree.
Norbom said she's had "an amazing experience" returning to Penn State, so much so that she flew back to State College to attend graduation. She was even invited to be a guest speaker at a reception for World Campus students the day before the University-wide ceremony.
She also rented a house to throw herself a graduation party for her family and friends.
"When I made this decision, after I re-enrolled and told my sisters, one of them said, 'You are going to walk, aren't you?'" Norbom said. "And I said, 'Of course I am.'"