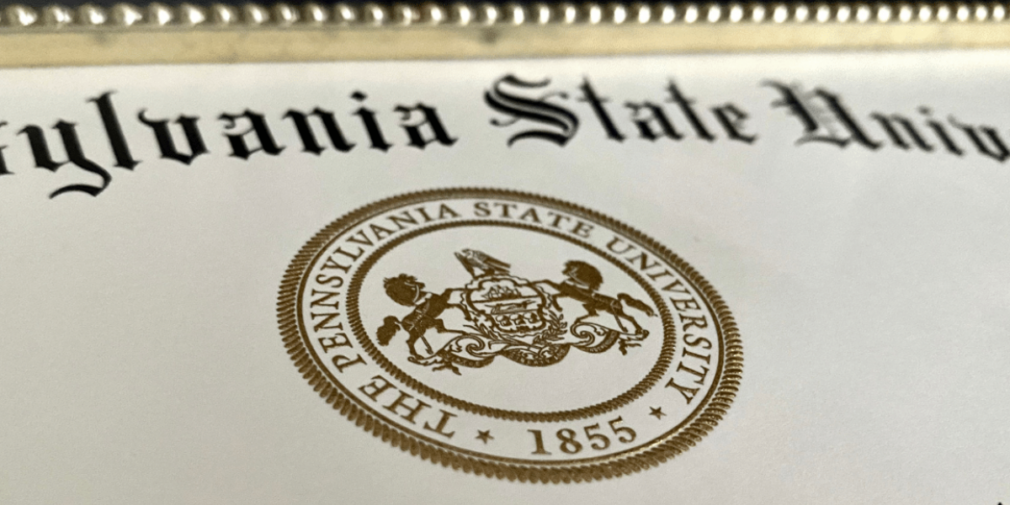 UNIVERSITY PARK, Pa. — When Jona Hall graduates this weekend, she will close out her Penn State career as a prolific organizer and volunteer among her fellow Penn State World Campus students.
The 25-year-old from Peoria, Illinois, said she has been a part of 11 Penn State–affiliated clubs and organizations over the year and a half she's been an online learner. For instance, she has been the vice president of the World Campus Student Government Association, helped create a homecoming committee for World Campus students, and formed Zeta Mu Phi, a service sorority.
"I just wanted to make sure Penn State World Campus students have the same opportunities to become involved," said Hall, who has juggled her activities with a full-time course load, a full-time paralegal job, and raising her 4-year-old son.
Hall will receive a Bachelor of Arts in Digital Journalism and Media on Saturday, August 14, during Penn State's summer 2021 commencement exercises. She is among 1,060 graduating Penn State World Campus students.
Here is a look at the summer graduates from the Penn State World Campus Class of 2021.
The big picture
Of the 1,060 graduates, 615 will receive a master's degree, 382 will receive a bachelor's degree, 62 will earn an associate degree, and one will graduate with a doctoral degree. Graduates range in age from 19 to 65.
Overall, 91 Penn State World Campus degree programs will have graduates.
The students hail from across the country and globe — 44 states, along with the District of Columbia, are represented, as are 19 countries, including South Korea, Japan, India, United Arab Emirates, and China.
The class includes 178 students who are active-duty service members, veterans, reservists, in the National Guard, or military spouses.
94 graduates who are getting their master's degrees have already earned a bachelor's degree at a Penn State campus.
40 students are already Penn State World Campus alumni earning another degree online.
IST major is student marshal 
Alayna Spriggle, of Reedsville, Pennsylvania, will serve as the student marshal for the College of Information Sciences and Technology during the undergraduate commencement ceremony. Spriggle will graduate magna cum laude with two degrees, a Bachelor of Science in Information Sciences and Technology and a Bachelor of Design in Digital Multimedia Design.
Though she initially enrolled at University Park in a different major, she changed majors and campuses to find the combination of programs and opportunities to help her achieve her goals.
"About halfway through my freshman year, I realized that creative experimentation and opportunity was the main thing that was lacking from my academics," she said. "I came up with a goal to find a career that would include both STEM and the arts, and I discovered user experience design."
After graduating, Spriggle will pursue a master's degree in management and organizational leadership through the Penn State Smeal College of Business and hopes to work as a user experience project manager.
U.S. Army Sergeants Major Academic Fellowship
Ten of this summer's graduates are sergeants major in the U.S. Army participating in a prestigious fellowship that is a partnership between the military and Penn State World Campus. 
The U.S. Army Sergeants Major Academy Fellowship Program gives senior enlisted service members the chance to complete a Master of Education in Lifelong Learning and Adult Education while they are stationed at Fort Bliss, Texas.
This year's group is the sixth graduating cohort.
Sgt. Maj. Jason Levy said the cohort bonded like a family.
"We formed our own community because of all the challenges we faced with COVID," he said. "It wasn't just a cohort, it was a family of learners who came together to ensure everybody graduated, and I'm sure we'll all be lifelong friends." 
Congratulations to all graduates
Hall, the student who participated in 11 University-affiliated clubs or organizations, plans to take a year off to travel and prepare for law school. First, though, she will travel to Penn State University Park to attend commencement and meet several of the friends she's made from her courses and clubs. 
"It's important to acknowledge our accomplishments and celebrate milestones with our peers," Hall said.
Congratulations and welcome to our Penn State World Campus family! 
Media Contact:
Mike Dawson
mdawson@psu.edu