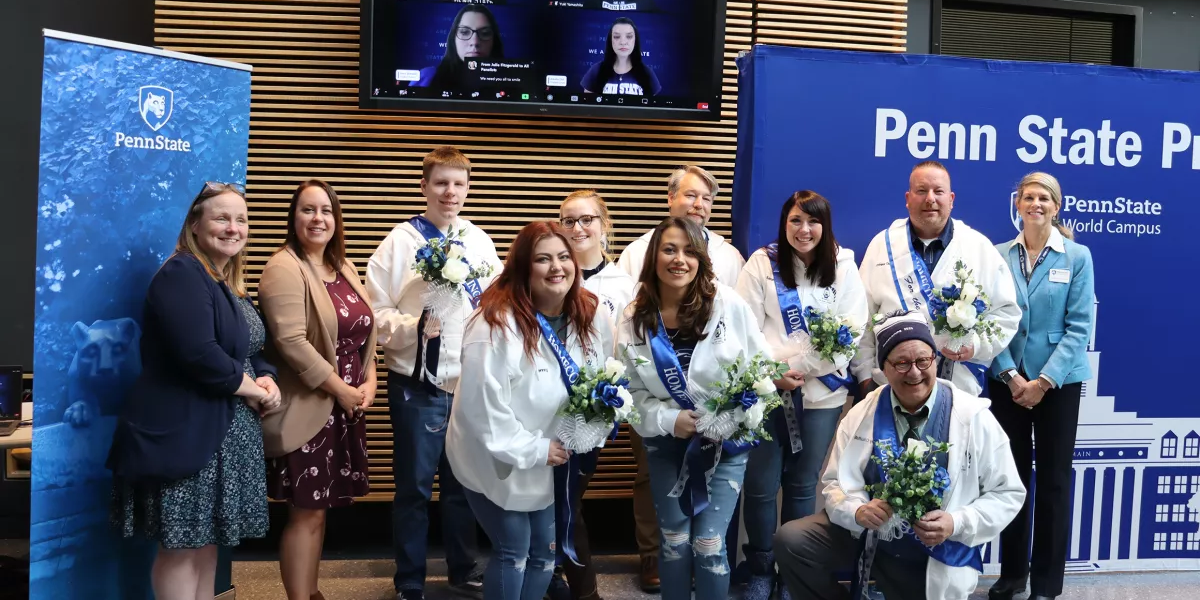 Penn State World Campus honored its third Homecoming Court with a celebration on the University Park campus of Penn State on October 13.
Court members received bouquets of flowers and sashes during the ceremony held in the Outreach Building at University Park. The court is composed of current students, alumni, staff, and faculty. These individuals were selected because they embody Penn State's values — including integrity, respect, and responsibility — and have strived for excellence in academics, student involvement, community service, or leadership.
Penn State World Campus Homecoming Committee executive director Erica Armstrong commended the individuals on this year's court.
"They are leaders and they're inspiring the next generations of World Campus students," she said.
Undergraduate human development and family studies student Erica Elizabeth Rey was excited to represent World Campus students and celebrate with other Penn Staters.
"It's genuinely been a dream come true," she said.
Academic adviser Sarah Peacock expressed gratitude for being nominated for the court.
"It means so much because as an adviser, you give a lot of yourself to your students. Studying remotely can leave a student feeling isolated, and it is important to support them wholly so they are comfortable coming to you. I try to share a lot of the experiences I had as a student, in my past careers, and in my personal life — be it health struggles or as a mom," she said. "For me, when I heard that someone thought I was deserving of something like this, it just really touched my heart. It makes all the extra hours and time we spend even more worthwhile."
During the ceremony, Shayana (Shay) Bennett and Matthew Duncan were recognized with the "For the Glory" award, which is given to two of the court's members. Bennett is working toward a bachelor's in psychology, and Duncan is enrolled in the Undergraduate Certificate in Turfgrass Management.
The court members are students: Kylie Henning, Erica Elizabeth Rey, Cassandra Barr, Amelia Old, Jennifer Sheasley, Shayana (Shay) Bennett, Yuki Yamashita, Anela Burg, and Matthew Duncan. Alumni court members are Brayden Caraynoff-Huber and Jennifer Zeares. Faculty and staff court members are Sydney Klainberg, William Horton, Sarah Peacock, and Anthony Crisafulli.
Other Homecoming events included a virtual paint night, virtual escape room, alumni ice cream social, tailgate, and Penn State's win against University of Massachusetts on Saturday afternoon.
Learn more about other news and activities of interest to the Penn State World Campus alumni community.
Media Contact:
Mike Dawson
mdawson@psu.edu