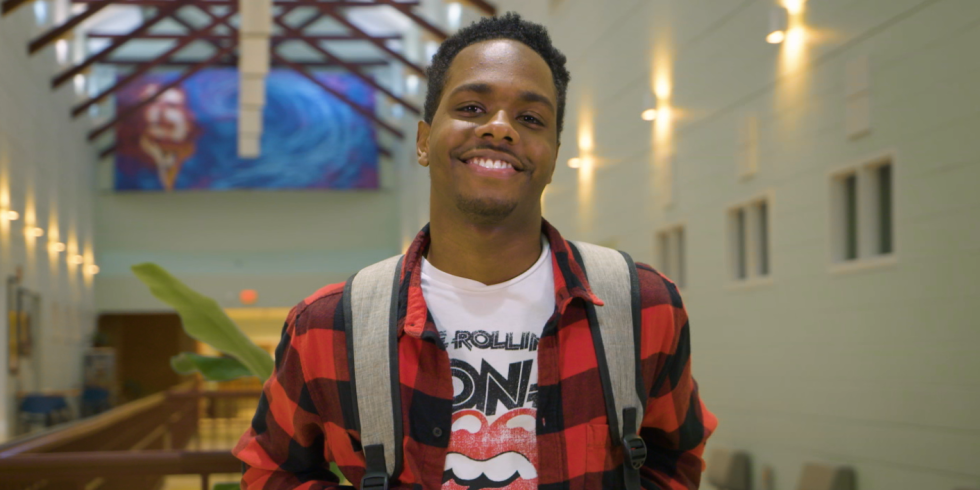 BEHREND, Pa. — As a tour guide for the Office of Admissions at Penn State Erie, The Behrend College, Alexander John was often asked why he chose to enroll at a campus so far from his home in Brooklyn, New York.
"I like to say that Penn State Behrend chose me," said John, who was one of the first students to benefit from Pathway to Success: Summer Start (PaSSS). Launched as part of President Emeritus Eric J. Barron's Achieve Penn State initiative, which aims to help students graduate on time and on track to success, the PaSSS program offered John academic and social support in making the transition to college — and scholarship funding to ease the way.
"It got my foot in the door. It got me in touch with the campus, got me in touch with engineering, got me in touch with the community here," said John, a recipient of the Toniatti Open Doors Scholarship and a 2022 graduate of Penn State Behrend's computer engineering technology program. "From there I was golden, and I decided there was really no other place as much like home for me."
John is among the hundreds of students who have benefited to date from scholarships created by alumni and friends during the University's recently concluded campaign, "A Greater Penn State for 21st Century Excellence." The impact of the effort for students, faculty, and staff at the University has been immediate, and it will continue far into the future. Structured around the three key imperatives of a modern land-grant institution, the campaign's top priority was opening the doors of higher education to students from every background, and Penn State donors rose to the challenge, creating a total of 2,045 new scholarship endowments — an increase of more than 35% over the course of the six-year effort.
"So many Penn Staters I have met during my time at the University have expressed profound gratitude for the opportunities made possible through their education, and that gratitude drives their support for scholarships which will open doors for future generations," said President Neeli Bendapudi. "As both the University and families struggle with the rising cost of providing a world-class education, scholarships will be essential to keeping those doors open and fulfilling our commitment as a public institution."
Several "Greater Penn State" matching programs leveraged gifts from alumni and friends with University funds, making donors and Penn State partners in creating new scholarship endowments:
The Open Doors Scholarship Matching Program targeted support to students, like John, enrolled in initiatives designed to help them overcome every challenge on the way to a degree, whether they are the first generation in their family to attend college or members of communities historically underrepresented in higher education; making the transition from a Commonwealth Campus to University Park; pursuing an online degree program through World Campus; or facing unexpected hardships during their final semesters. More than 6,750 students have already received Open Doors Scholarships.
The Educational Equity Scholarship Matching Program was launched in 2020 in response to the national conversation about equity and inclusion in higher education. Directing support to students whose backgrounds and identities enhance the diversity of the Penn State community, the program resonated with donors, raising more than $11 million in gifts matched by $13 million in Penn State funds.
Matching programs for first-time scholarship donors, scholarship gifts of $1 million or more, and scholarships created through estate plans helped to secure additional Penn State funds to establish endowments that will continue to benefit students in perpetuity.
It really makes me happy that I chose a place like Penn State Behrend. The resources here have made me realize that I can only stand to gain from giving back to those who gave to us.
Quote from Alexander John, 2022 graduate of Penn State Behrend's computer engineering technology program.
While the matching programs offered powerful incentives for alumni and friends to support scholarships, Penn State donors stepped forward for many reasons.
"We wanted to set something up for a long, long time so that more students who deserve to be at Penn State but can't afford to go will be given the opportunity to go. We really wanted to make a major impact," said Gene Chaiken, a 1962 Penn State business alumnus and, with his wife, Roz, the University's 2021 Philanthropists of the Year. During the campaign, the Chaikens' gifts to grow their endowments in the College of the Liberal Arts made them the most generous supporters of scholarships in the University's history.
"I still remember the day I opened my acceptance letter from Penn State," said Casey Sennett, a Schreyer Scholar and Paterno Fellow who will graduate next spring from Penn State's integrated undergraduate-graduate program with a master of arts in anthropology. "But I remember even more vividly the day I was offered scholarship support from the College of the Liberal Arts and Gene and Roz Chaiken. Right then and there, I saw the doors to my Penn State experience open wide. Scholarship support has helped me to attend Penn State, but it's also allowed me to experience it."
A desire to help students excel, regardless of their financial circumstances, fueled an estate commitment from Steven and Donna Overly that will create full-tuition scholarships and academic opportunities at Penn State Harrisburg and in the Schreyer Honors College.
"We know that the cost of a college education can prevent students from reaching their personal potential," said Steven Overly. "We want to remove that barrier for students so they can focus on their academic achievement first and foremost, and then to give them some extra experiences that will build their character and help them to become engaged citizens and leaders."
Penn State donors at every level joined together in supporting students. Alumni and friends contributed to Educational Equity Scholarships created by college and campus leaders as well as to scholarships for student-athletes whose final seasons were cut short by the pandemic. During the campaign, the Renaissance Fund, which has been honoring community leaders and creating scholarships for talented students with financial need since 1969, had two of the most successful years in its history with endowments honoring the Penn State Alumni Association and President Eric J. Barron and Molly Barron.
The Barrons also invited donors to join them in addressing another barrier to success faced by Penn State students. The Eric and Molly Barron Student Food Security Endowment helps to offset the cost of meal plans for some of the 35% of Penn State students who responded in a 2019 survey that they faced some level of food insecurity. The Barrons' endowment built upon the University's success in the Tackle Hunger Challenge against Ohio State, which raised support for campus food pantries.
Penn State Altoona student Tyliyah Vereen found herself struggling to afford healthy meals as she pursued her degree in human development and family studies.
"Eventually, I came across a flyer for Ivyside Eats, Penn State Altoona's food pantry," said Vereen. "There, I found the resources and community of support I needed to keep my college experience on track. And the more I talked with other students about their access to healthy foods, the more I saw I wasn't alone." Vereen used her social media to raise awareness of the food pantry, which benefited from a 2021 gift from Steve and Nancy Sheetz.
Like Vereen and other students who have benefited from philanthropy, John is now thinking about how he can help his Penn State community. John, who has launched his career at database giant Oracle after graduating in May, said, "It really makes me happy that I chose a place like Penn State Behrend. The resources here have made me realize that I can only stand to gain from giving back to those who gave to us."
To view a video of John telling his own story and learn more about the success of "A Greater Penn State for 21st Century Excellence," visit greaterpennstate.psu.edu.
With the record-breaking success of "A Greater Penn State for 21st Century Excellence," which raised $2.2 billion from 2016 to 2022, philanthropy is helping to sustain the University's tradition of education, research, and service to communities across the commonwealth and around the globe. Scholarships enable our institution to open doors and welcome students from every background, support for transformative experiences allows our students and faculty to fulfill their vast potential for leadership, and gifts toward discovery and excellence help us to serve and impact the world we share. To learn more about the impact of giving and the continuing need for support, visit raise.psu.edu.
About the cover photo:
With the help of scholarship support, Alex John graduated from Penn State Behrend's computer engineering technology program in May 2022. Credit: WPSU. All Rights Reserved.