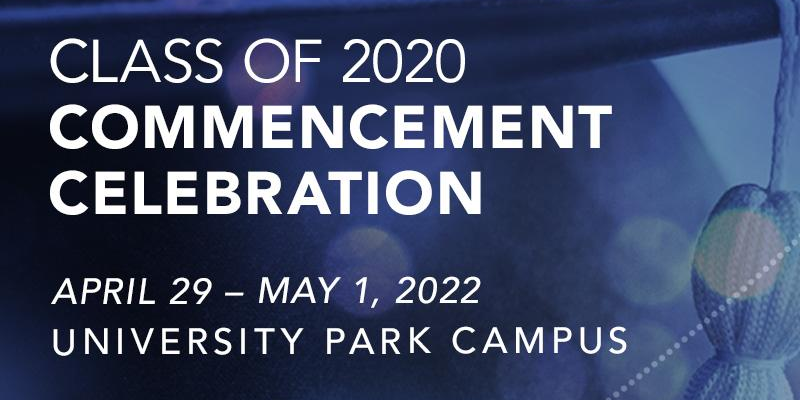 UNIVERSITY PARK, Pa. — A schedule and registration portal are now available for Penn State's Class of 2020 Commencement Celebration Weekend that will take place April 29 to May 1. The weekend will feature commencement ceremonies on April 30 along with other activities to provide a special opportunity for the Class of 2020 and their parents, friends, and families to celebrate in person, following the virtual ceremonies that first took place in 2020.
Members of the Class of 2020 who are planning to attend commencement celebrations and other scheduled events throughout the weekend are required to register by April 8. Additional information is provided below.
"I'm thrilled to be welcoming the Penn State Class of 2020 and their parents, families, and friends to University Park for the in-person celebration of their academic achievements," said Penn State President Eric J. Barron. "To the class of 2020 — I am so proud of all that you accomplished as students at Penn State and I cannot wait to see you here on campus to celebrate you, your Penn State academic accomplishments, and all that you have done now as Penn State alumni."
This weekend of celebration is open to Penn State graduates from spring, summer, and fall 2020, including undergraduates from all campuses (including World Campus) and Graduate School graduates from University Park, Behrend, Great Valley, Harrisburg, and World Campus, and their parents, friends, and family members.
While these celebrations won't be traditional commencement ceremonies, they will include pomp, circumstance, presidential remarks, and recognition of the Class of 2020. Graduates in attendance will have their names announced while they cross the stage platform and may choose to wear regalia for their celebration, though it is not required.
"We are excited to welcome the Class of 2020 home to celebrate their achievements," said Paul Clifford '20g, chief executive officer of the Penn State Alumni Association. "These graduates are prepared to lead and change the world and they won't make this journey alone. Our alumni family — more than 740,000 strong — is excited to celebrate with them and support them in whatever way we can." 
Schedule 
The weekend's commencement celebrations are scheduled for Saturday, April 30, in the Bryce Jordan Center at 9 a.m. and noon for those who earned undergraduate degrees (associate or bachelor's) and at 4 p.m. for those who earned graduate (master's or doctoral) degrees. 
In addition to the commencement celebrations, 2020 graduates, parents, friends, and family members may enjoy additional events and activities throughout the weekend, including:
The Movin' On Festival on Friday, April 29. 
College-hosted open houses/receptions around campus on Saturday, April 30. 
Photo stations at various campus locations and a Welcome Home Tailgate hosted by the Penn State Alumni Association on Saturday, April 30. 
The full schedule of events may be found online. As new activities, including those hosted by recognized student organizations, are finalized, they will be added to the schedule. Graduates and their families and friends are also encouraged to visit their favorite places on campus and in the State College community while they are in town for the celebration weekend. 
Registration 
Registrations from 2020 graduates planning to attend are required by April 8 and may be completed online in the event registration portal. Upon accessing the registration portal, 2020 graduates may select any of the weekend's events they would like to attend. Parents, friends, and family members should not complete their own registration, but they should be added as guests on their 2020 graduate's registration.  
Undergraduate celebrations: Two commencement celebrations — one at 9 a.m. and one at noon — will be offered for graduates who earned an associate or bachelor's degree. Graduates may choose to attend the ceremony that works better for their weekend schedule and should register their attendance in the event registration portal. 
Graduate School celebration: A 4 p.m. celebration will be held for those 2020 graduates who earned a master's or doctoral degree. Those planning to attend should register their attendance in the event registration portal.
Commencement celebrations 
The following provides additional information: 
Celebration length: Each celebration is expected to last approximately 90 minutes. 
Attire: Graduates are welcome to wear traditional caps and gowns, but it is not required. Penn State or other blue and white gear is encouraged! 
COVID-19 protocols: At this time, in accordance with University measures, masks are required to be worn indoors by all individuals, regardless of vaccination status, in attendance at commencement ceremonies and other indoor activities in campus buildings. 
Livestreams: For graduates and guests who are not able to attend in person, but are interested in watching any of the ceremonies, livestreaming will be available on the Commencement website. Please note that names will not be announced for Class of 2020 members who are not in attendance.
For more information, including frequently asked questions, visit the Celebration Weekend registration site.