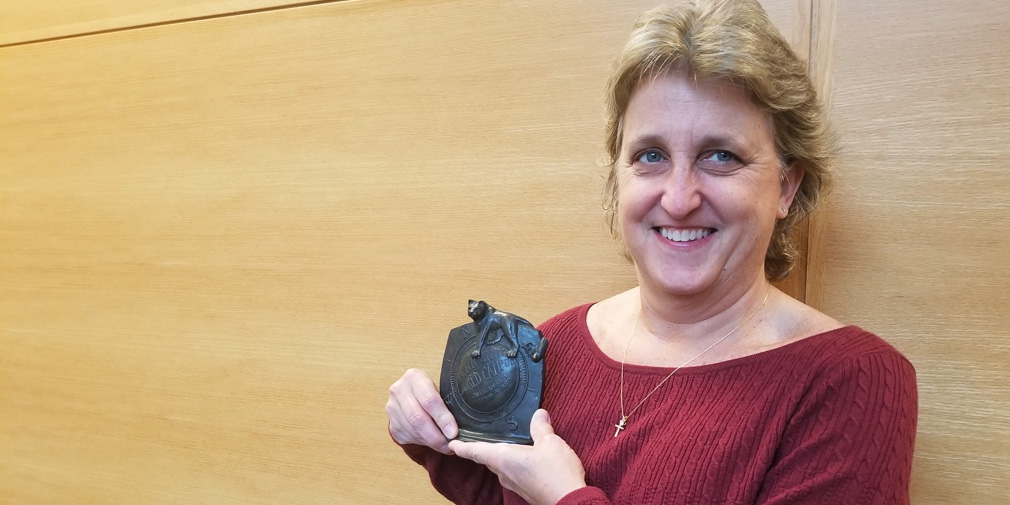 Beth Berna is senior manager for North American warehousing at Hasbro in Providence, Rhode Island, and she is the recipient of the Outstanding Penn State World Campus Graduate Alumna Award.
Berna earned her Graduate Certificate and Master of Professional Studies in Supply Chain Management through Penn State World Campus, which she said opened many doors of opportunity to not only finish her degree, but to advance in her career.
"Having the Penn State certificate and degree, and earning them while working at Ocean Spray, provided opportunities that I may not have had as quickly during my career," Berna said. "Following the completion of my master's, I was moved from corporate over to Ocean Spray's manufacturing plants to manage supply chain and be a part of the plant senior leadership team for two years. From there, I returned to corporate to oversee North American warehousing and logistics support services. In August 2018, I left Ocean Spray to join Hasbro."
Berna said she had many starts and stops along her journey through higher education.
"I spent 25 years trying to complete my degree after having to drop out due to finances. Penn State World Campus programs provided me with the flexibility to get my master's while managing work, travel, and personal time," Berna said. "While it was intense and included weekly team case work, having the technology and support to do this remotely was key to balancing work, school, and personal commitments."
Berna received the Outstanding World Campus Alumna Award for her success as a leader in her field and contributions to society. Berna is the first World Campus alumna selected to serve on the Penn State Alumni Council.
"Participating as a Penn State Alumni Council member gives me the chance to meet twice a year with all members and network during council functions in State College," Berna said. "At Ocean Spray and at Hasbro, I've been in the position to encourage and support individuals seeking to complete their education and even continue towards a master's. Through Penn State World Campus, of course!"