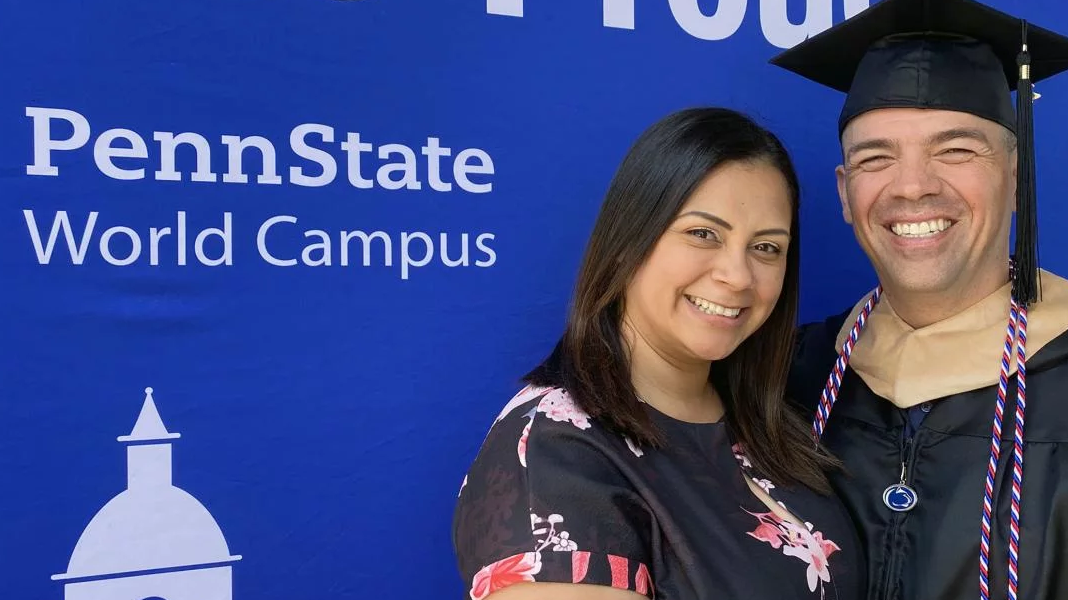 When Joshua Celis finished his MBA online through Penn State in 2020, the COVID-19 pandemic had forced the University to hold virtual ceremonies for graduates. 
In the past two years since his graduation, Celis has been promoted to a sergeant major in the Marine Corps, where he has been serving for the past 22 years, and he is working to develop new Marines. Someday, he would like to be a CEO.
Saturday, April 30, was the chance for Celis, who earned a Master of Business Administration online, and his fellow Class of 2020 graduates to come to Penn State's campus, walk across the stage in their caps and gowns, and receive their diplomas. 
The graduates were invited to an event that Penn State World Campus hosted for them and their families. 
"I am absolutely euphoric today because we get to celebrate and because we get to be together," said Renata Engel, the vice provost for Online Education at Penn State, in remarks welcoming the graduates and their families. "We are very proud and grateful that you persisted."
Here are some updates about the alumni and scenes from the Class of 2020 Celebration.
Walking across the stage for the first time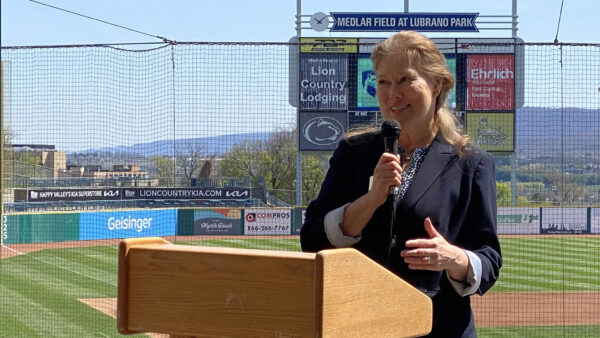 When Grace Hussein finished her undergraduate degree, she was active duty with the Marine Corps and could not walk across the stage during her school's graduation ceremony. 
When she had the chance to cross the stage in a cap and gown for the Master of Professional Studies in Data Analytics that she received in 2020, she did not want to miss out on the chance again.
"That was a big reason for coming back today," she said. "I'm excited for the actual ceremony."
Hussein lives in Chicago and works as the head of U.S. digital marketing for a financial planning company. She said her degree has helped her expand on the expertise she has in her role.
Alicia Douglas made the trip from Washington, D.C., where she works in human resources for the U.S. Department of Defense.
Douglas graduated with dual degrees, a Bachelor of Science in Labor and Employment Relations and a Master of Professional Studies in Human Resources and Employment Relations.
She started as an intern, then moved into its graduate program before her current role. Douglas shared her gratitude for professor Antone Aboud, who wrote a letter to the Department of Defense that confirmed her graduation and enabled her to start her full-time position sooner.
Douglas said her master's degree allowed her to obtain a higher classification working for the federal government. 
This month, she will start in a new position in recruiting and onboarding with the Department of Veterans Affairs. 
This grad just couldn't miss out
For Artie Cressman, who lives in the Dallas, Texas, area, it was too hard to pass up the opportunity to walk during commencement. Cressman is a graduate of the Bachelor of Science in Business degree program.
Cressman praised his professors — including one with whom he did a Zoom session at midnight to work through some questions he had. He also praised his enrollment coach, and he wants to pay it forward by being a mentor for future online learners.
"World Campus gives so many such an opportunity to complete something that honestly, I thought it was an unachievable," said Cressman, who is working in sales and business development.
Raphael Cuthbertson II gained confidence through the completion of his Master of Project Management. Cuthbertson previously earned associate and bachelor's degrees at Penn State. He celebrated his 18-month master's journey, during which he worked full-time and achieved a 4.0 GPA, on Saturday afternoon with his family.
Once he found out Penn State offered a master's in project management, his decision was made. Cuthbertson said he worked in the field for the past two decades and wanted to fill the gaps in his knowledge.
"I had that feeling of second-guessing myself," he said. "That's gone."
Grad grateful for University community
Victoria Freed knew Penn State was the right choice for her Master of Science in Nursing. She and her family are football ticketholders, her husband is an alumnus, and her stepdaughter is finishing her junior year. Freed fell in love with Penn State and all it has to offer. 
"I fell in love with the school, I fell in love with the culture, in love with the people and just the whole feel you get when you're here," she said.
Attending school and working in health care during the pandemic was stressful, but Freed said it has allowed her to take every opportunity. She now educates and mentors bachelor-prepared nurses at a level-one trauma center in Connecticut and is ready to advance her career.
"Right from the beginning, my instructors were very engaged in our learning," Freed said. "It was definitely a rewarding experience, and I got the best out that I could of my education here."
Saturday's ceremony and celebration was an important point of closure for Bachelor of Science in Integrated Social Sciences grad Ayshia Sigler. Sigler's daughters witnessed their mother finally don the cap, cords, and gown.
"They pushed through everything with me, dealt with me doing homework in the middle of the night and being a little bit grumpy when things were tough," the U.S. Air Force technical sergeant said. "But my girls are 11 and 12 and having them see me walk across the stage and be a part of that moment — it's not something that your kids always get to be a part of."
Sigler took full advantage of student leadership opportunities, serving with the Student Advisory Board and Smart Track to Success Mentor program.
She mentored first-year military students, a highlight of her time at Penn State.
"This is my community now — I don't want to go anywhere else," Sigler said.
30,000 alumni strong
The Class of 2020 graduates are part of the more than 30,000 people who have graduated with a degree they earned online through Penn State World Campus since 1998. They are members of the Penn State community.