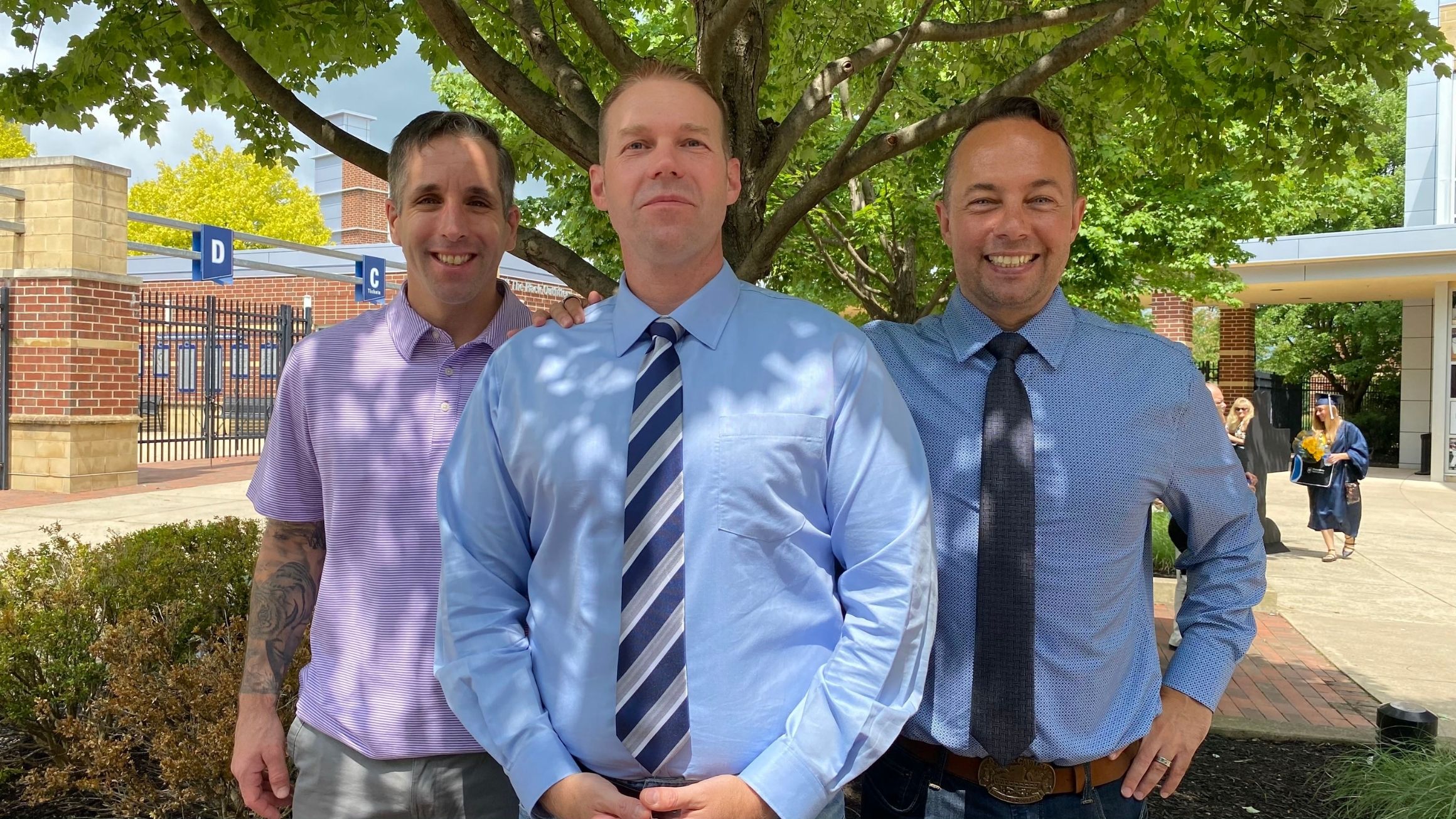 UNIVERSITY PARK, Pa. — When U.S. Army Sgt. Maj. Dale J. Dukes was around 10 years old, he only knew Penn State from the Nittany Lions logo on a pair of hand-me-down sweatpants he wore. The Pacific Northwest native said that looking back, he never would have believed he would one day be a Penn State graduate.
"I had no idea what it was, no idea what it meant. I thought it was a cool pair of sweatpants with a Nittany Lion logo on the leg, and I wore them until they fell off," he said. "And now looking back, I laugh because I never would have imagined that I would be going to that university. I didn't even know it was a school back then. Now I'm like, 'Wow this has been an incredible experience.'"
Dukes is one of 10 Army sergeants major who graduated this summer with a Master of Education in Lifelong Learning and Adult Education through Penn State World Campus, thanks to a partnership among World Campus, the College of Education, and the U.S. Army's Sergeants Major Academy.
The Sergeants Major Fellowship Program has graduated six cohorts and 98 sergeants major, and the most recent graduates will be recognized at a celebration at Fort Bliss in El Paso, Texas, on Tuesday, August 24. A seventh cohort arrives this week.
After completing their master's degrees in one year, fellows teach three years in the Sergeants Major Course, which prepares the military's next generation of leaders with the skills they need on and off the battlefield.
Graduates have also pursued doctoral degrees, been promoted to other Sergeants Major Academy and Army leadership positions, and become business and community leaders after retirement from the Army, according to William Diehl, academic adviser for the fellowship program and associate teaching professor of education and coordinator of online graduate programs at Penn State.
"We are honored to help the Army educate its future leaders, and these sergeants major are exemplary students," he said.
The academy trains more than 750 newly selected sergeants major for future service in the Army.
Graduate Sgt. Maj. Dave Cox was once one of those students.
"My instructors were making an honest effort to teach me something, and I wanted to do that for another set of soon-to-be sergeants major," said Cox, who has served 23 years. "It's just been a continuation of the same positive learning atmosphere I had at the academy. Each of my professors was an absolute professional. They provided mentorship, and I want to be that person for my students."
The partnership is a part of an Army strategy to help soldiers learn and adapt from civilian instructors and students, according to Sgt. Maj. Jay Levy.
"We are taught a different point of view from all of our fellow classmates, and it widens our aperture so we can look at problems and situations in a different manner and bring a different perspective to our classrooms," he said. "Our values in the Army are based on selfless service. We're getting a world-class education, but sharing that with our students is selfless service."
Dukes, who has been in the Army for 21 years, said that learning from Penn State instructors will make the Army stronger.
"You have to conceptualize things and think about technology, the environment, and the students you're teaching. We learned about all this and how it ties into Army planning," he said. "When you get new people and new perspectives, you start to understand why we do certain things. We got a great education, and now we give back to make our Army stronger."
Levy, a 25-year service member, said the cohort bonded like a family. 
"We formed our own community because of all the challenges we faced," he said. "It wasn't just a cohort; it was a family of learners who came together to ensure everybody graduated, and I'm sure we'll all be lifelong friends."  
Those who are interested in supporting scholarships to benefit veterans and active military students can visit the Give to Penn State World Campus webpage for more information. 
Media Contact:
Matt Caracappa
mnc5000@psu.edu