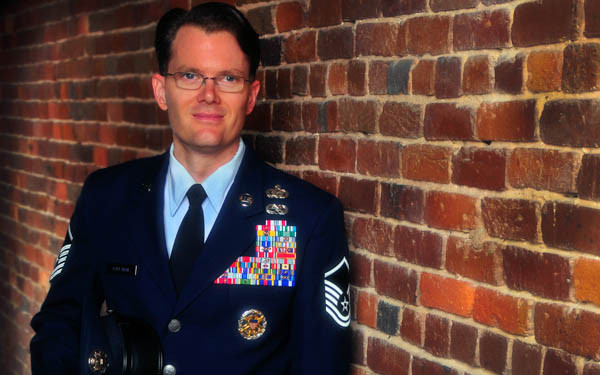 Air Force Master Sgt. Nathan Gallahan has been deployed to the Middle East and served in the Pentagon. He has led, trained, and equipped countless enlisted personnel. But he wanted a bachelor's degree as he prepared for life after the military.
That's why Gallahan turned to Penn State, which provided him with the necessary tools.
"I knew I needed a university that challenged me academically and provided a robust program that would prepare me for the private sector," he said. "Penn State has given me the knowledge, skills, and abilities I need to be successful."
Gallahn, 39, will graduate on Saturday, May 5, with a Bachelor of Science in Organizational Leadership, which he completed online through Penn State World Campus. He will be one of the more than 1,200 World Campus students to be awarded their degrees during the University's spring commencement.
Gallahan retired from the Air Force in April after 21 years of service and most recently served as the superintendent of public affairs for Air University at Alabama's Maxwell Air Force Base. He served in South Korea and was deployed for more than 900 days in Afghanistan, Iraq, and other locations in the Middle East. He also worked for nearly three years in the Office of the Chairman of the Joint Chiefs of Staff at the Pentagon.
Gallahan said he enrolled in the organizational leadership program in 2014 after searching for a program that aligned with his goals.
"I love people and critical thinking, and it was important to me that I understand the operational, decision-making side of management," he said.
Gallahan said his first course was a wake-up call for the academic rigor of online education at Penn State. He said he took two classes per semester and completed school work almost exclusively during the weekends.
Although finding a work-life balance was challenging at times, Gallahan praised his wife, Edna, for supporting his passion and his decision to complete his degree.
"Education is so very important to the rest of my life and has been the highest priority," he said. "She's been so caring and understanding." 
For the next phase of his life, Gallahan and his wife will move closer to his hometown in northern Idaho. He will then start a master's program in communication and leadership to build on what he learned at Penn State.
"My life up to this point has been dedicated to serving society," he said. "I have no plans to discontinue that, although I am retiring. While my service will look a bit different since I will not be wearing a military uniform, the goals will remain the same — to help those around me and improve society."