UNIVERSITY PARK, Pa. — Penn State's 11th annual Military Appreciation Week honors all active-duty and veteran service members, and this year highlights University faculty and staff members who serve or have served in the U.S. armed forces.
Military Appreciation Week features a series of events starting November 4 and concludes at the Penn State military appreciation football game against the University of Maryland on November 12. Both Centre County and State College Borough also have presented proclamations in support of Military Appreciation Week to recognize veterans and active-duty service members.
Penn State community members submitted "Profiles of Service," which are all available online. Some of those individuals also are featured in downtown State College on banners during the month of November.
Along with the 5,600 students who have military ties as either service members, veterans, or military dependents across all of Penn State's campuses, including World Campus, Penn State faculty and staff members who serve or have served in the military are an ever-present and important part of the Penn State community. Below are two Penn Staters who shared their stories for Military Appreciation Week.
Navy Corpsman Maggie Kwok, veteran, Penn State World Campus disability coordinator
Navy Corpsman Maggie Kwok was a teenager in a Houston, Texas, high school wondering what path she would choose to pursue after graduation. Her friends were entering the workforce or attending college, and her family
expected her to pursue higher education.
"It just didn't feel like I was ready for college," Kwok said. "I wanted to do something different."
After a conversation with a peer who shared his Navy recruiter's contact information, she joined the Navy as a corpsman in 2002. A corpsman, sometimes called "Doc" as a sign of respect, provides a wide range of medical care to sailors and marines.
While working alongside other corpsmen, Kwok learned to diagnose patients, apply stitches, provide combat first aid, and more.
"A corpsman within a Marine Corps, you are everything," she said. "It's a team of us. We learn from each other and ask each other for help."
Kwok served a temporary duty assignment in Guantanamo Bay for six months in 2003. She was then stationed in Twentynine Palms, California, with Combat Logistics Battalion 7 and deployed to Iraq from September 2006 to April 2007.
Kwok left the Navy in December 2007 to pursue her bachelor's degree at the Penn State University Park campus. She and her husband chose the school after hearing high opinions from nurses with whom Kwok worked. Kwok completed her application while deployed in Iraq.
She graduated in 2011 wanting to work for the U.S. State Department or another government entity, but an ongoing government shutdown deferred her plans. At the suggestion of a supervisor in the Office of Veterans Programs, Kwok applied for a job at Penn State World Campus to gain experience.
Almost 12 years later, Kwok still works for World Campus as a disability coordinator. She also served as adviser to the Penn State Veterans Organization, where she was the student president for two years. She credits the Navy for helping her develop leadership skills.
"Those can be translated across whether you are military or civilian," she explained.
One thing Kwok said she wishes people understood about her as a service member is that she doesn't necessarily fit the stereotypical or expected "mold." She said she sometimes faces questions or disbelief of her service and must convince people to believe her.
Kwok also noted that transitioning out of the military to civilian life is difficult, which can leave veterans questioning who they are outside of their service.
"You kind of have this identity and then it kind of goes away and then it kind of comes back," she said.
Army Sgt. Robert Gavlock, veteran, Penn State Department of Chemistry facilities coordinator
Sgt. Robert Gavlock did not initially plan to join the Army. After graduating from Penn State in 1996, he was working in Centre County when a peer suggested he check out the military. It was a suggestion that led to more than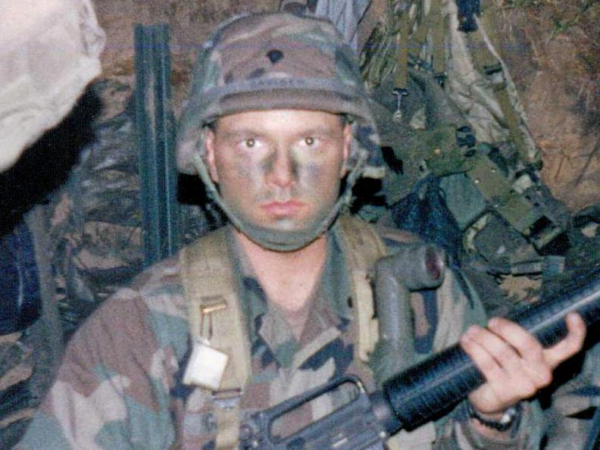 six years of active-duty service with the 10th Mountain Division in Fort Drum, New York; South Korea; and the Middle East.
Gavlock served his initial three-year contract as a 63W — wheeled vehicle repairer with the 10th Mountain Division at Fort Drum — and enjoyed the work before reenlisting and facing a change of duty station. Gavlock again served as a 63W but this time with the 2nd Infantry Division at Camp Casey in South Korea. His departure date from New York was to be September 11, 2001.
After a two-week delay, Gavlock arrived in South Korea as the world completely changed.
"Everything was really on high alert," he said, recalling challenges he faced while stationed in South Korea.
Gavlock returned to the U.S. with some time remaining in his contract and planned to transition to civilian life. Instead, he faced stop loss, meaning his tenure in the Army was extended. Gavlock's unit deployed with maintenance company and battalion in support of Operation Iraqi Freedom in 2003.
Despite the sudden change of plans, he wanted to set an example to others in his unit, striving to be a good leader. Gavlock credits his own mentors and leaders in showing him the value of selfless leadership.
"It's something that was ingrained in me," he said.
Gavlock is proud to have served and said everything he and his peers did during their day-to-day service and while deployed helped to support the greater good.
A highlight of Gavlock's career was his promotion to sergeant and position as a squad leader. The opportunity showed him servant leadership in action, something he still practices today in his position as facilities coordinator for the chemistry department at the University Park campus.
"Penn State's been big in my life," Gavlock said. He grew up an athletics fan and played baseball at Penn State DuBois. His father also retired from the University.
The biggest thing he misses from the Army is the camaraderie among his peers, but he is grateful for Facebook and other ways he can connect with other service members and veterans near and far.
Gavlock's family history includes Army service during World War I by his great-grandfather, World War II service by his two grandfathers, and his father's time as a reservist in the Vietnam era.
"Our family has had a close association with the Army," he said.
Military appreciation at Penn State
Penn State has a long-standing and proud tradition of serving the men and women of our military through education benefits, resources, support, and more. This year, Penn State faculty and staff members who serve or have served will be honored during a series of campus events, including the military appreciation football game on November 12. Through Penn State's Seats for Servicemembers program, supporters can provide an opportunity for a service member to attend the game by purchasing a ticket to be donated. Tickets are $35 and can be purchased online or by calling 1-800-NITTANY. Penn State students, faculty, staff, and alumni with military connections can submit a profile of service for the opportunity to be featured on the University's Military Appreciation website and other materials. Visit militaryappreciation.psu.edu to learn more.