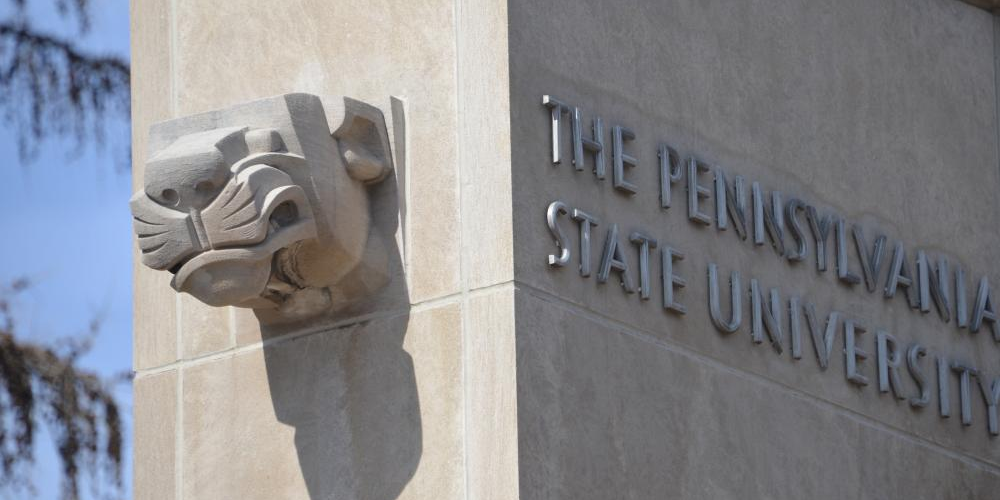 UNIVERSITY PARK, Pa. — In the early 2000s, some students taking an online acoustic engineering course from Penn State wanted to show their appreciation to their professor for a great semester. They arranged to travel to State College, Pennsylvania, to surprise him.
"The students said to their professor, 'We came to see you and thank you for everything you've done for us,'" said Jim Ryan, who was present for the surprise; Ryan is an administrator who led the launch of Penn State World Campus. "It was very special, and it was fascinating to me because it told me they had a very powerful educational experience."
That moment marked an important point in the early days of online learning: Students knew they could be successful as online learners.
This year marks 25 years since the launch of Penn State World Campus in 1998 with its first online courses. Those initial courses have expanded to more than 175 degree and certificate programs, and almost 34,000 students have graduated with a Penn State degree they earned online.
Most importantly, over that time, World Campus has solidified its place in the fabric of the University and has helped students find success thanks to this flexible way to learn.
The foundations of online learning at Penn State
In the 1990s, University leadership was exploring how to offer courses and entire degree programs using the latest advancement, the internet, according to Ryan, who retired in 2003 as the vice president for Penn State Outreach, then the administrative home of World Campus.
Several factors signaled the emerging demand: The Alfred P. Sloan Foundation was offering millions in grant funding to institutions to start online programs. The U.S. Armed Forces were investing heavily in video and computer technology for instruction. Executives in business and industry were welcoming this kind of learning because of the flexibility it provided employees to complete their courses.
A few departments or colleges at other universities began offering master's degrees in engineering, though no university had fully committed to an online enterprise.
It was different at Penn State.
Through a grant from the AT&T Foundation, senior faculty members began developing a pedagogy of how to teach online. This was significant, Ryan said, because the movement had support from the whole University — not just those in one academic department.
Ryan said the University's leadership launched World Campus by leveraging the external funding and momentum within the institution. The first course was in turfgrass management, taught by faculty from the College of Agricultural Sciences, and other courses that opened later that spring semester included noise control engineering from the College of Engineering and geographic information systems from the College of Earth and Mineral Sciences.
Ryan said the University was committed to having full-time faculty teach so that the quality of the instruction students received matched that of a traditional classroom.
Early years and the initial growth
Turfgrass professor Al Turgeon was an early adopter and champion of online learning. He taught the first course of 13 students that opened the week of January 19, 1998.
"We learned in the early days that online teaching is a little different from resident teaching, and over time, through practice and experience, we learned how to optimize the online learning experience so that the education outcomes were identical to the resident program," said Turgeon, who retired as a professor emeritus in 2011.
In the subsequent semesters, Penn State added new courses in acoustics, supply chain management, and nuclear engineering. The courses expanded into certificates and degree programs, giving students credentials for their achievements.
Within the first decade, the University launched more than 20 associate, bachelor's, and master's degree programs. Students who wanted a Penn State degree but could not go to a campus had options in business, liberal arts, law and public policy, education, nursing, and more.
Online learners lived throughout the U.S. and the world, even one who was working in Antarctica. It was clear that online learning had arrived and that students wanted a degree from such a renowned institution online.
Finding success and taking care of unfinished business
Shawna Begley-Peck dreamt of getting a diploma from Penn State, but she never saw herself as a classroom learner. That's why Penn State World Campus was perfect for her — she had the flexibility of learning online and the prestige of earning a Penn State degree.
She enrolled in 2004 as a liberal arts major, taking courses part-time for six years while working and raising her son. Then, as many adult learners can relate to, life got in the way, and she took a break that ended up lasting 14 years.
Motivated by her son and her mother, Begley-Peck re-enrolled in 2021. She's taking one course each semester while working full-time for a municipal parking department.
She is beyond proud: She got an A in her latest course and has received scholarships from World Campus that she said motivate her to succeed even more.
"I work, I go to school, I'm trying to show him that it can be done," said Begley-Peck, who expects to graduate in 2024.
Learning specialized skills to advance one's career
Pediatrician Duane Williams sought an online program for a different reason — to gain specialized knowledge through a graduate degree to advance his career.
Williams, who already earned a medical degree, works at Penn State Hershey Medical Center and attends to children who need intensive care. He wanted to learn the business side of medicine and health care while still working.
He enrolled in the accredited online version of Penn State's Master of Health Administration program, which is administered by the College of Health and Human Development.
"There's a whole other language that relates to the business side of medicine," Williams said. "With wanting to be impactful to those who are taking care of patients, it would help me to understand this other language."
He graduated in 2021, and the degree has helped Williams take on new responsibilities at work, he said. He serves as the medical director of patient throughput, which looks to improve patient flow and reduce excess days for the medical center. Part of the daily work he performs was part of his capstone project of his MHA program.
Commitment to student success
Throughout the past 25 years, the leadership of World Campus has remained dedicated to helping students to reach their goals.
Under Craig Weidemann, who was vice president and vice provost of Outreach and Online Education from 2003 until his retirement in 2016, World Campus added dozens of new degree and certificate programs, such as a Doctor of Nursing Practice that was its first doctoral program. He oversaw an expansion of services to assist the growing community of online learners, such as the creation of a student affairs office and a dedicated support team for military and veteran students.
In addition, during his tenure, World Campus was among the first institutions of its kind to offer its students scholarships.
The current leader, Renata Engel, the vice provost for Online Education, is guiding an institution that has become solidly embedded in the fabric of the University, the vision of those who launched it 25 years ago.
Today, many of the faculty who teach online still teach at a residential campus like University Park. The students they teach, which numbered nearly 15,000 at the University's last census in the fall of 2022, bring a vast array of experiences to the courses and, in many cases, apply what they're learning in the courses to their jobs and their communities.
At the end of each semester, Penn State World Campus students culminate their Penn State experience. They can hear their name called as they cross the stage during commencement.
Engel makes it a point to talk to as many World Campus grads as she can at a special reception each semester at the University Park campus. At the event in December, she spoke to a graduating business major who traveled with her mother all the way from Brazil.
"You can see how much this moment means to these graduates," Engel said. "Whether they are completing an unfinished goal from an earlier stage in their lives, advancing their career, or changing directions professionally, Penn State World Campus provided a path to quality education in a flexible manner. Their tenacity and resilience inspire those around them.
"Online learning enabled their success," Engel added. "It's helped thousands of Penn State students find success they may not otherwise have been able to reach."
Visit the Penn State World Campus website to find out more information about the degrees that are offered online.