In Renee Dorer's job with a jet engine manufacturing company, her work involved modeling fire in combustors, a problem that involves both thermodynamics and turbulent air flow. She decided to learn more about air flows in her online master's degree program in engineering, and she took a course in fluid dynamics to increase her knowledge on this topic that was such a fixture in her work.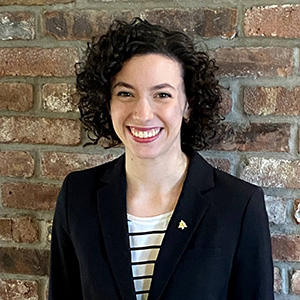 The course gave her new insights that she was able to apply not only to her work modeling the fluid mechanics portion of the combustion process but also to a research project on unsteady air flow for her master's degree.
"It was beneficial to think about the same principles in several different ways through both work and school, and it's made me a better engineer," said Dorer, who has been working full-time while working toward her master's degree.
Dorer expects to graduate in August with a Master of Science in Mechanical Engineering she has been completing online through Penn State World Campus. She has praise for professors and her experience, and she said the flexible nature of the degree program has allowed her to balance her job with her schooling.
The master's in mechanical engineering is just one of the many online degree programs in engineering that are available from Penn State through Penn State World Campus, which has been offering courses online for 25 years.
Students and graduates of these engineering programs say the flexible online degree programs and the knowledge they have acquired from them have helped them be successful in their careers.
Penn State online engineering degree programs
The engineering faculty at Penn State were among the early adopters of online education at the University when World Campus launched in 1998 with its first courses.
Among the earliest programs to be offered online were acoustics and nuclear engineering.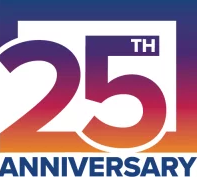 Over the years, Penn State engineering faculty members from the College of Engineering, the Penn State Harrisburg campus, and the Penn State Great Valley School of Graduate Professional Studies expanded the suite of engineering programs with new master's degrees.
Master's in electrical engineering, industrial engineering, and mechanical engineering give students the chance to specialize their knowledge in these traditional disciplines. The master's in software engineering focuses on software development and computer science. Those seeking leadership skills in this field can study engineering management, and those who want a project management and interdisciplinary focus may be interested in the master's in systems engineering.
The master's in additive manufacturing and design explores the emerging field of 3D printing.
Faculty from Penn State Behrend launched the first undergraduate degree, a Bachelor of Science in Software Engineering, in 2017. The College of Engineering opened the Doctor of Engineering in Engineering program in 2022.
"Online engineering programs offer incredible flexibility and time savings," said Robert Gray, the professor in charge of the master's program in electrical engineering. "Students can access professors, knowledge, and labs from any location in the world."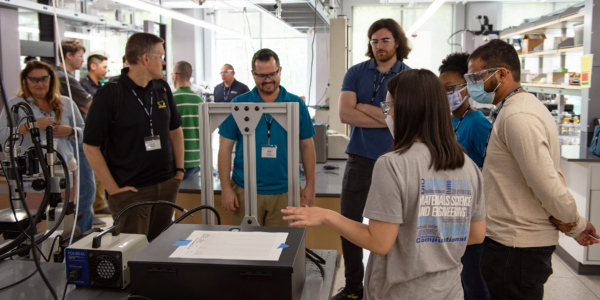 Getting a master of science in engineering from Penn State while working full-time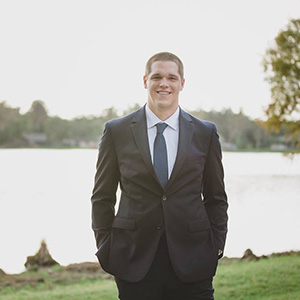 Carter Hamlin graduated with a mechanical engineering master's degree in 2022 and has been working as a senior mechanical engineer for a gas turbine manufacturing company.
He has always had a passion for understanding how things work, which made a career in engineering a natural fit for him. When he decided to get a master's degree, it was imperative that it be through an online program.
He works full-time, so he needed the flexibility to do his course work in his free time outside of his job, which focuses on the ancillary systems that support power generation in gas turbines.
"I wanted to get a master's degree for the career opportunities that it would open up, as well as the intellectual challenges and growth that graduate school provides," Hamlin said. "I was drawn to the online program as it let me attend Penn State even though I don't live near the campus."
Online engineering programs let you apply what you're learning at work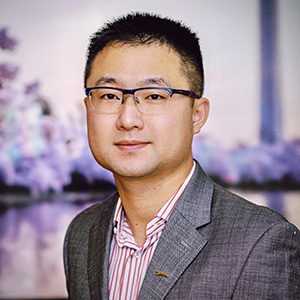 Tony Wong is an electronics engineering manager in the power and control department of a global aerospace and security company. His primary role is a technical one, overseeing day-to-day operations such as employee development and mentoring, technical support for programs and technology, and business development.
A master's degree was a personal and professional goal of his, as he wanted to become a better engineer. He enrolled in the Master of Engineering in Electrical Engineering.
"I have been able to apply the tools I learned and knowledge I gained in my master's program into my job," said Wong, who graduated in 2021. "I have modernized the existing analytical approach on circuit simulations and failure mode analyses up to today's standards. They help to improve the product delivery schedule and increase operational efficiency."
Raed Gasim is a project manager in the oil and gas industry. He said he believes the master's degree he earned in engineering management will help him advance his career and already has helped him at work.
Any engineer with 7 to 10 years of experience will start managing teams and dealing directly with clients, he said — and that's where the need for the master's program came in for him.
"In the last two years, I've been more successful in dealing with people," he said. "You need to understand people to succeed in management."
Gasim said courses in organizational behavior and negotiation helped him understand more about human psychology and why people act in certain ways. A course on creativity helped him understand the cognitive diversity of people and their ideas.
Customizing a master's in engineering to fit career needs
A master's degree gave Rebekah Everett the chance to take a deep dive into specialized subjects of engineering that she began learning about in her undergraduate program.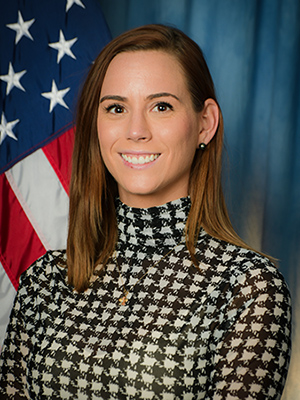 Everett is a power and wiring subject matter expert for military aircraft for an aerospace company and sought a master's degree in electrical engineering to take those courses.
"I decided to tailor the courses to what interested me the most, which is renewable energy and large-scale power generation," said Everett, who graduated in 2022.
"I hope I can leverage my newfound knowledge to make me a more attractive candidate for the power industry, which is a new direction I'd ideally like to work toward within the next few years."
Meaghan Frawley, a 2021 graduate of the mechanical engineering master's program, had the same goal.
"After working in industry for a year, I wanted to dive deeper into the technical topics related to my field of work," said Frawley, who is a senior air systems engineer for a jet engine manufacturer.
"The Master of Science in Mechanical Engineering specifically offered a wide breadth of classes within my professional discipline to choose from in addition to having an established online program identical to on-campus instruction."
Using a master's degree for career growth
Andy Park is a radar systems engineer and manager for a defense contractor. His job involves analyzing the performance of signal processing algorithms and modeling sensor capabilities, and he also manages a team of 10 engineers for whom he is responsible for developing careers.
"I knew I needed a master's degree to keep moving upward, and it was an easy decision to get a master's in a field that I have already been investing my time and energy into," said Park, who enrolled in the master's in electrical engineering. "During my search for online programs, Penn State was unquestionably the top choice for me given its reputation and affordability."
Just a year after graduating in 2019, Park worked his way to his upper-level engineering position and leads multiple teams and multibillion-dollar projects within his organization.
Park said the sky is the limit moving forward in his career.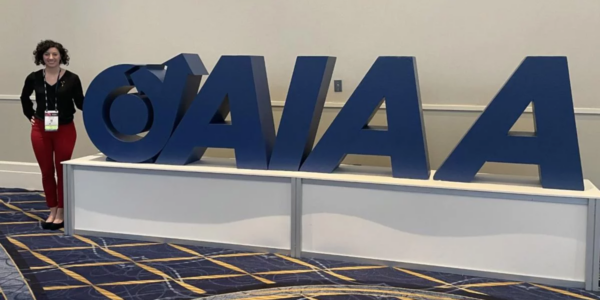 Research opportunities for engineering students
Dorer, the engineer who explored an interest in combustion in her master's program, got to contribute research on a study that identified that regions in an interacting wake configuration were sensitive to disturbances.
Dorer submitted a proposal to present her research at the 2023 SciTech Forum in Maryland, and her work was accepted.
"This is a scenario where I was given an opportunity and decided to take it," Dorer said. "It was neat to be able to present my work in front of so many different people as well as network and listen to the research happening at different institutions."
Dorer said she is working with her professors to publish her research in a scholarly journal, too.
"It's been a very rewarding experience to be able to set and accomplish these goals as a distance student," she said.
Learn more about the engineering degrees that are offered online through Penn State World Campus.
Media Contact:
Mike Dawson
mdawson@psu.edu