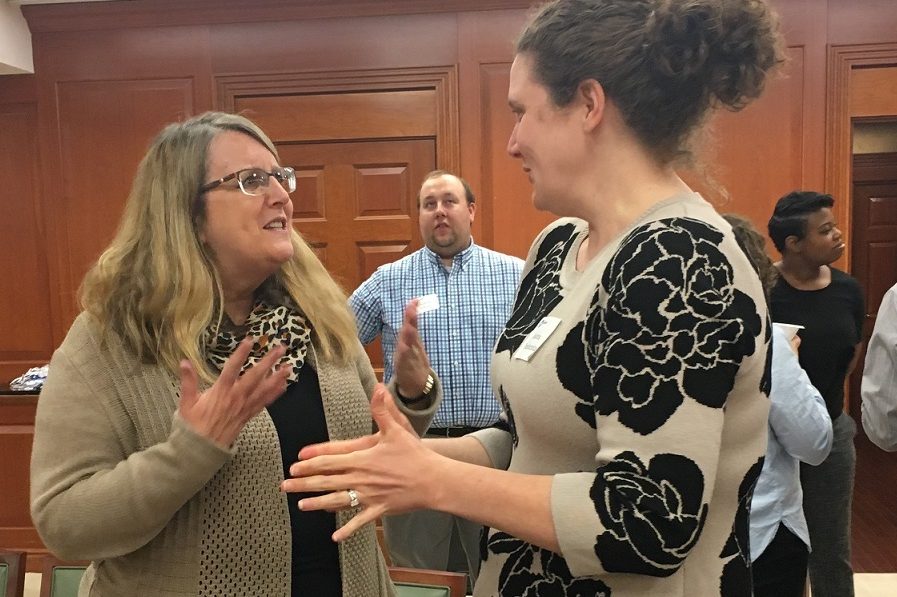 Penn State alumni and Penn State World Campus students gathered in Washington, D.C., on April 24 to hear an inspirational talk by Jose Morales, winner of the 2017 Penn State World Campus Outstanding Alumnus Award. Jose received his MBA through the World Campus in 2005 while assigned as a naval attaché to the Republic of Panama. Today, he is the owner of Saviesa Solutions, helping leaders and teams advance their performance and manage change.
Jose led the group through several exercises to help them discover their passion. This session included a short meditation, during which attendees visualized themselves engaged in work that energized and inspired them. Jose asked them to answer these questions:
What's important to you?
What do you do better than anyone you know?
What would it take to start the journey?
The attendees engaged in meaningful conversation about career challenges and opportunities, built relationships with other Penn Staters in the D.C. area, and enjoyed Penn State Berkey Creamery ice cream.
This event, sponsored by the World Campus Alumni Society and the Penn State Alumni Association Alumni Career Services, was made possible with support from BakerHostetler, the Metro D.C. Chapter of the Penn State Alumni Association, and the Penn State Professional Women's Network of D.C. 
Nittany Networking events take place throughout the year in both face-to-face gatherings as well as in convenient online formats for Penn State alumni who are unable to travel to specific locations. Check out the Penn State Alumni Association event calendar to find more events.