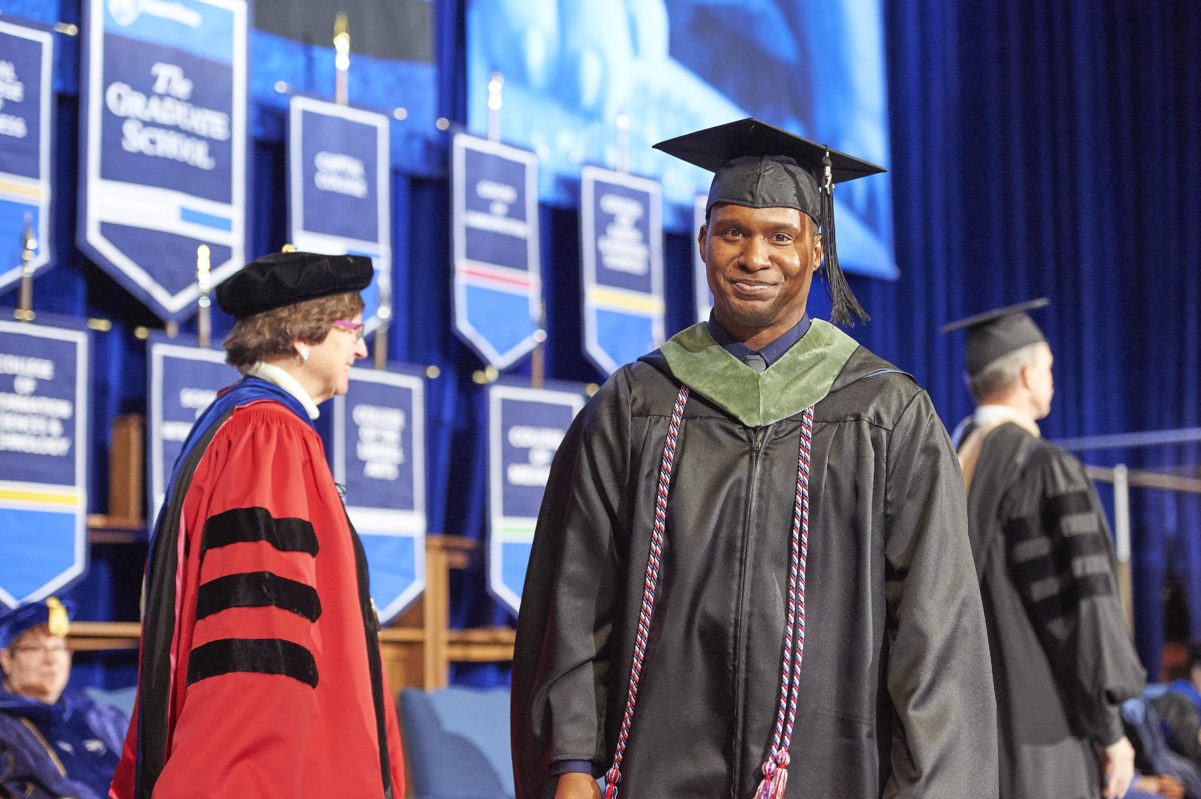 Chief Petty Officer Kevin Hunt spent eight months aboard an aircraft carrier in the Persian Gulf helping keep pilots alive. He also completed course work on his way toward a Penn State degree.
The Navy hospital corpsman graduated in December 2016 from the 28-month master of health administration program offered online through Penn State World Campus. Hunt spent 18 of those months either preparing for deployment or aboard the USS Harry S. Truman supporting the battle against Islamic State forces in Iraq and Syria.
"It was very difficult, especially going into the Persian Gulf and if there were situations that shut down the internet connection," Hunt said. "I was able to get through it by communicating with my professors before my deployment and letting them know that there was the potential that I might go dark and not log in to an assignment."
Throughout the program, Hunt worked ahead, sometimes staying up 16 hours a day, to submit assignments early. He credited his instructors' flexibility in turning in assignments late when necessary, and his classmates sending him readings or assignments when he could not access the Penn State online learning management system.
The 34-year-old served on the Truman with more than 4,500 sailors and staff. As an aeromedical safety corpsman, he instructed tactical pilots on the medical aspects of ejection, how to survive in combat or in survival situations, and about the physiological aspects involved in aerospace medicine.
Being deployed came with its own challenges to completing his degree, he said. The most difficult time was when he was sent off the carrier to Oman for three weeks as part of a medical detachment and also had to submit a 10-page final project for his health economics class.
"There was no internet connectivity whatsoever," Hunt said. "I had to drive maybe 20 minutes into the city and purchase a SIM card that I could put into my cell phone, and that SIM card would give me the limited connectivity to go onto my webmail and submit an assignment."
The Florida native is now stationed at the Naval Air Station Whidbey Island in Washington and has since been selected to intern at a nearby hospital as a health care administrator. He started in March.
With the master's degree, Hunt can now also apply for commissioning as a naval officer.
"The biggest thing now is that I can go into the health care administrative field for naval health care," Hunt said. "It allows me to do more of the managerial oversight, the CEO-type portion of the job. Right now I'm still more of the store manager, but I'll be more of a corporate, district manager overseeing health care operations, whether it be with the Marine Corps or strategic operations on the ship."
Hunt chose Penn State due to the program's strong reputation and for giving him a traditional college experience.
"I'm 14 years active duty as a hospital corpsman in the Navy and as a manager in the Navy's medical services. It made sense to continue that progression," Hunt said. "It was a match made in heaven for what I wanted to do and what Penn State was offering."