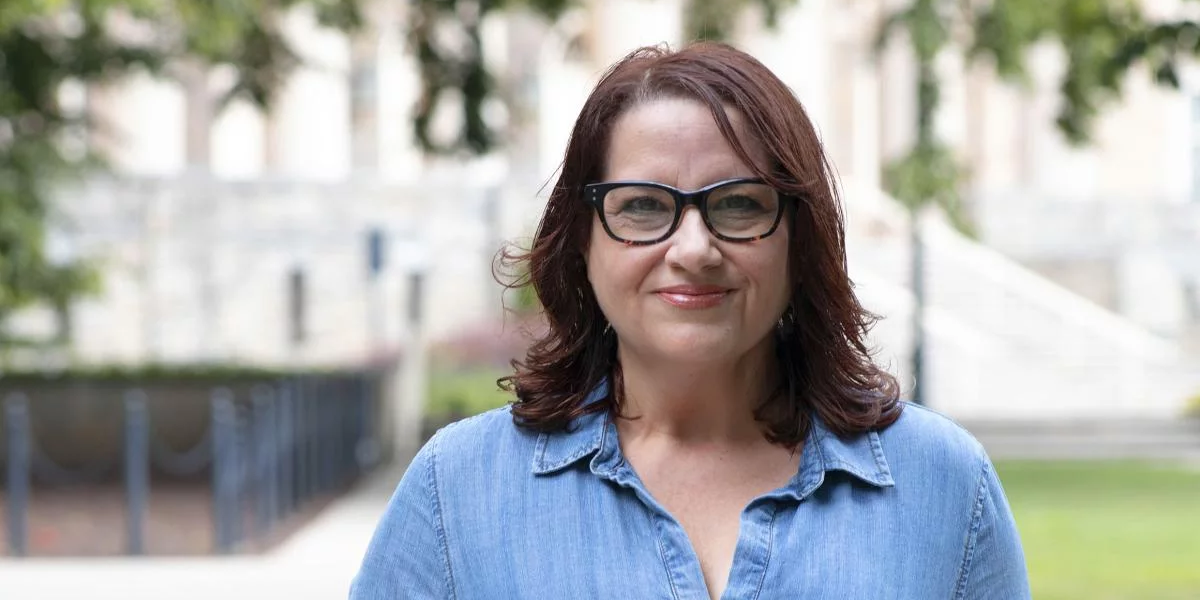 Lourdes Mestre began her collegiate career at 17, but life circumstances led her to place her education on the back burner.
"I always wanted to return to college; it was a goal that I knew I had to complete along my journey in life," Mestre said. "I was just waiting for the right time."
Now, 30 years later, Mestre is preparing to don a blue cap and gown and graduate from Penn State with her Bachelor of Arts in Psychology that she earned online through Penn State World Campus. The degree program is taught by faculty members from the College of the Liberal Arts.
"The only way to achieve this was through an online program like World Campus," Mestre said.
The first-generation American and soon-to-be college graduate saw Penn State World Campus in an online advertisement. Mestre thought an online program would be perfect, as it offered the flexibility to manage work and school, provide for her family, and take care of her own health.
Mestre enrolled in August 2020 in the Bachelor of Arts in Psychology, which is designed to teach interpersonal interaction and valuable problem-solving skills for any field. Graduates can enter a variety of settings, including human services and laboratories, or continue in a master's or doctoral program.
Mestre said she plans to continue to graduate school but ultimately wants to make a difference in her community. She wants to help individuals navigate mental health disorders and reduce the stigma surrounding mental health. Mestre's passion lies in social psychology through supporting marginalized and underrepresented communities, noting her own experience as a young mother without a college education.
"I didn't have all of the answers. It would have been good to have someone in the community as an ally for support," Mestre said.
Mestre is a research assistant and teaching assistant and was involved in various student organizations during her undergraduate years. Mestre said being involved can make a world of difference in the student experience, and she encouraged all students to find ways to get involved.
"There are many opportunities to engage virtually with students at World Campus. The key is for you to take the first step," she said.
Scholarship gifts inspire Mestre to push to the finish line
Mestre is a member of multiple honor societies and repeatedly achieved Dean's List recognition during her academic tenure. She also is the recipient of multiple scholarships and grant awards, including the:
Tunno Family Trustee Scholarship (2022)
Dr. Lawrence Young Educational Equity Scholarship (2021–22)
Penn State Academic Grants (2021–22)
West/Morello Trustee Scholarship (2021–22)
Summer Success scholarships (awarded in 2021 and 2022)
Mestre said she is grateful for being selected as a scholarship recipient. She credits the generosity and support of the donors for keeping her motivated.
"We've had some difficult family circumstances in the last few years," Mestre said. "These life-changing scholarships inspired me to believe in myself and push harder."
Mestre said she's experienced severe medical flare-ups every semester and questioned how she could complete all her assignments, leading to feelings of self-doubt.
"As a scholarship recipient, being recognized for my hard work and perseverance over the past few years is extremely rewarding and uplifting," Mestre said. "They [scholarships] propelled a desire in me to do more and give back to the Penn State community."
Mestre thanked her professors and liberal arts alumni mentor, Abby Paine, for supporting her every step of the way.
"They helped guide me on the unknowns of college as a first-generation student," she said.
Mestre recently began volunteering for the community at thinkwenotme.org, a Penn State Extension–sponsored program. She and her daughter, who is also a World Campus student, joined this summer after moving to State College.
As Mestre finishes her final undergraduate classes, she continues to visualize walking across the stage at commencement ceremonies on August 13.
"I finally accomplished my goal, at 50, after all of these years," Mestre said. "I'm an educated woman."
Other Penn State World Campus students are greatly in need of scholarships. Consider how you can help.