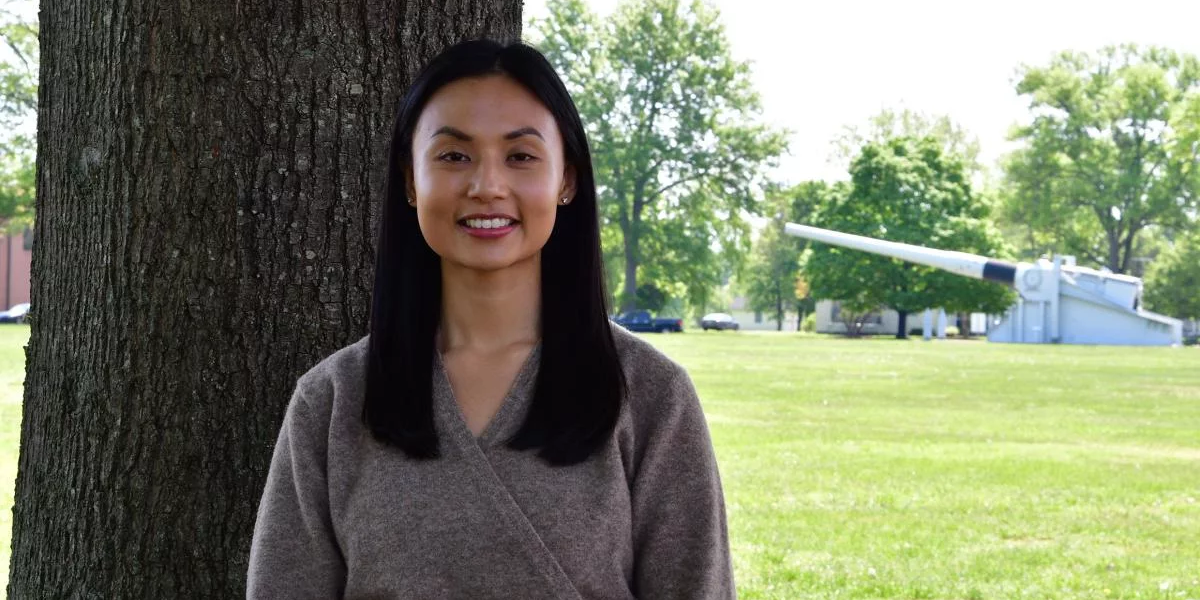 Penn State World Campus graduate student Daisy Young found her calling in mathematics at an early age.
When Young was 13, her family had the opportunity to move from their home in Indonesia to the United States. After the family settled in Virginia, Young quickly learned that she had a knack for the STEM field.
"I have always gravitated toward math and science," said Young, who is a U.S. Navy civilian employee and is enrolled in the Master of Applied Statistics program offered online. "When I came to the States at age 13, I did not speak very much English, so I found that math was a universal language."
Young earned her bachelor's in applied mathematics from a university in Virginia in 2009. Shortly after graduation, Young and her husband, who was active military in the U.S. Army, moved around stateside and also lived in Germany.
While her husband was on active duty, she began to teach mathematics at the high school level.
"I taught secondary math. It was everything from geometry, algebra, calculus, and stats. Pretty much all of them," Young said. "I was always the new teacher since we moved around so much, so I was given really any class that needed a teacher."
After a few years, Young and her family moved back to the U.S.
"When we came back stateside, I had the opportunity to pursue a career in STEM."
Young learned about the opportunities at the Naval Surface Warfare Center Dahlgren Division (NSWCDD) in Dahlgren, Virginia, through her younger brother, who was working as an intern at the time.
In early 2020, Young joined the workforce supporting the Warfare Analysis and Digital Modeling Department.
"It was a challenge for me at first," Young said. "My work is mostly all designated classified, so when we were in telework status during the pandemic, it was quite a challenge for me because I was so new and I was still learning the ropes."
Young is a mission analyst and currently supports the Naval Integrated Fire Control effort. She completed a rotation with the Weapon Control Systems Engineering Branch, where she supported the Battle Management System Initial Concept Review and Final Concept Review milestone events. She also completed a rotation with Submarine Launched Ballistic Missile Planning, Analysis, and Research Branch, working in the Accuracy and Test Flight group analyzing fire control error model changes.
"The math side of things drew me into being a mission analyst, but what keeps me motivated is the collaboration with physicists, scientists, and engineers. It is all very interesting how we collaborate to conduct research and development," said Young.
Young expects to graduate with her master's in applied statistics in the spring of 2024.
"I think coming here as a first-generation immigrant and being the oldest child in the family, you get do a lot of 'firsts,' and that can be very daunting," Young said. "But once I have accomplished the goals that I set for myself, it feels very fulfilling. So, if I could speak to my 13-year-old self, I would tell her to keep going out of her comfort zone, not to worry so much about making mistakes, live in the moment, and tell her she is doing awesome!"
Learn more about the Master of Applied Statistics and the more than 175 degree and certificate programs offered online through Penn State World Campus.
This article was reposted with permission from the Naval Surface Warfare Center Dahlgren Division (NSWCDD).
Media Contact:
Mike Dawson
mdawson@psu.edu