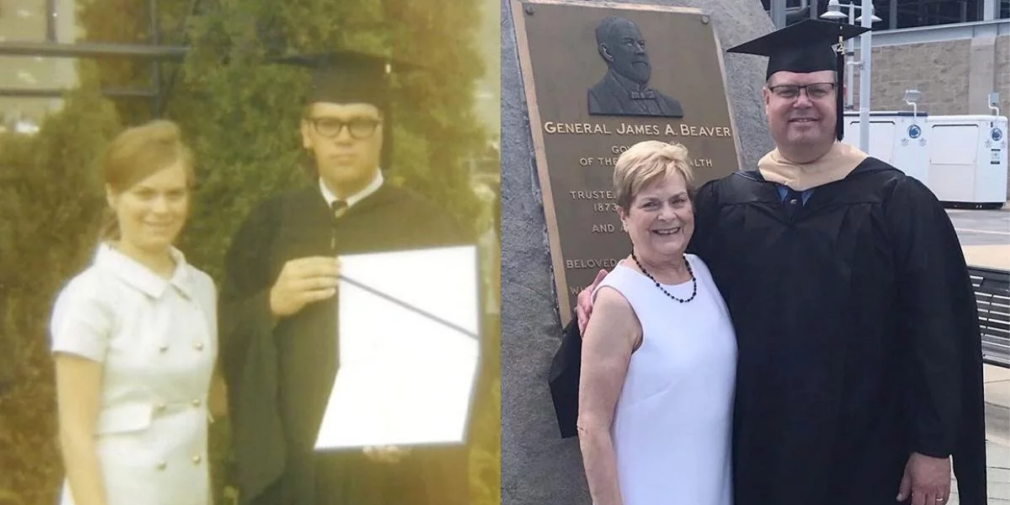 John Phillips III has a photo of his parents that was taken outside Penn State's football stadium on the day his dad graduated in 1969. When Phillips graduated this summer, he re-created the photo with his mother.
Phillips' father died in 2013, so the trip to State College for commencement on August 14 was special for him and his mother.
"It brought back some memories since it was the first time she's been back since 1969," said Phillips, who lives near Houston, Texas.
In the 1969 photo, Phillips' father and mother were photographed outside Beaver Stadium at a historical marker for former Pennsylvania governor and University president James A. Beaver, the stadium's namesake.
"I decided to take the same pictures in front of that memorial," Phillips said. "I thought it was pretty cool to find the same place and snap a picture. My mom pointed out that my dad and I are almost identical in our pose, down to our hands. Like father, like son!"
Phillips graduated from the Penn State Online MBA with a concentration in corporate innovation and entrepreneurship. His father graduated with a bachelor's in psychology.
He said Penn State's reputation and the online MBA's top-10 ranking by U.S. News & World Report drew him to the program.
Phillips is an operations leadership consultant with a Fortune 500 chemical company and has more than 20 years' experience in the chemical industry. 
He said his undergraduate degree is in chemical engineering, and he returned to school after recovering from a stem-cell treatment for leukemia in 2016.
"I needed to retool my skill set and pursue my MBA to change the trajectory of my career," he said. 
He said his long-term plan is to start a technology-based business that his children can take over once he retires.
Media Contact:
Mike Dawsonmdawson@psu.edu