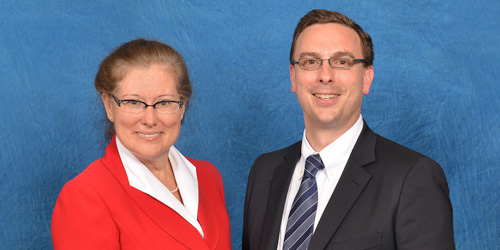 Jonathan Dambrot, a 2005 iMBA graduate, is the first recipient of the Penn State World Campus Outstanding Alumnus Award. In accepting the award, Jonathan, who is the CEO and co-founder of Prevalent, an information technology security company based in New Jersey, spoke about his journey as an entrepreneur. He noted that he had always been business-minded, having paid for his first car and most of his undergraduate degree by working as a magician. He also took an extended break in his undergraduate career to train as a chocolatier with his grandfather and even started his own chocolate company while in college. 
But longing to do something more cerebral, he sold his business, joined the corporate world, and eventually enrolled in the Penn State World Campus iMBA program. Halfway through this course of study, Jonathan took the risky step of starting Prevalent with the initial goal of "helping to deliver information anywhere and security everywhere." Says Jonathan, "The combination of great professors, an excellent cohort, and wonderful residencies allowed me to move into the information security field and finish my degree at the same time." Since then, the company has grown significantly: it now develops software, threat intelligence, and services for some of the largest businesses in the world. Gartner, Forrester, and 451 Research have all named Prevalent a leader in the technology security space.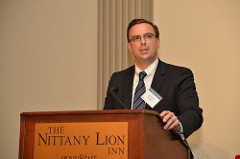 Eager to share his success and experience, Jonathan is currently spearheading the creation of the IT Security Industry Scholarship in the iMBA in the Penn State World Campus. His hope is "that the scholarship will lead more security professionals to receive a strong business education and build the tools necessary to become leaders in business." 
A member of both the Outreach and Online Education (OOE) Advisory Board (OOE is the unit within Penn State that is home to the World Campus) and the Penn State World Campus iMBA Advisory Board, Jonathan also gives generously of his time to the World Campus in regard to data security and other areas of expertise. 
It is for all these reasons that Jonathan has been named the first recipient of the Penn State World Campus Outstanding Alumnus Award, which recognizes outstanding World Campus alumni for their success as leaders in their field and for their contributions to society. The award is sponsored by the Office of the Vice President for Outreach and Vice Provost for Online Education.