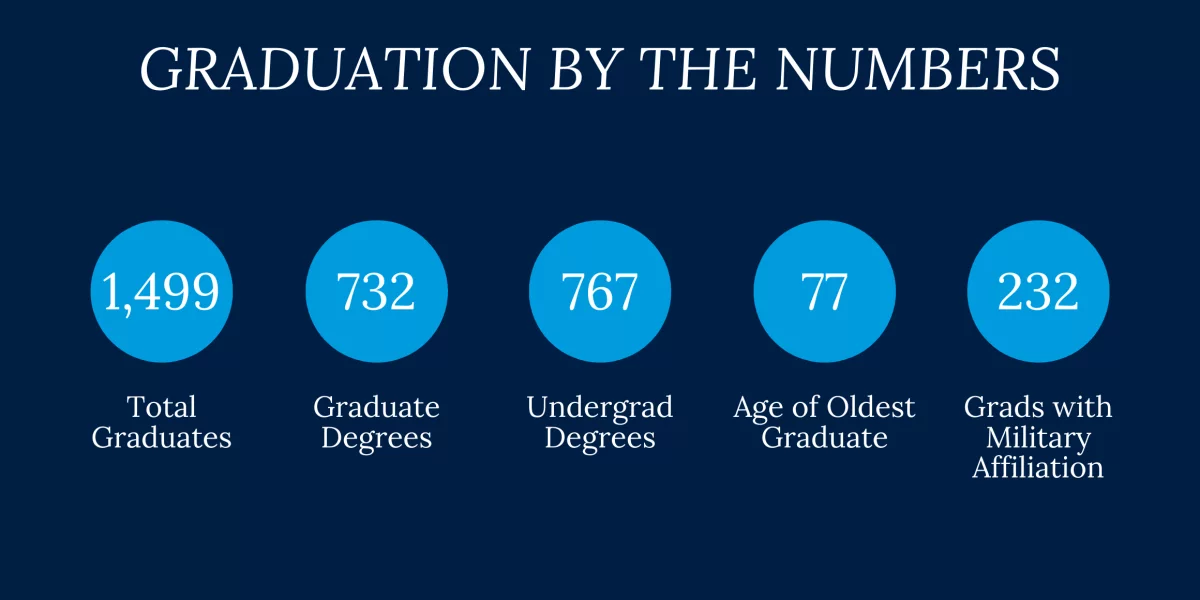 When Jace Edwards returned to college five years ago, the prospect of graduating seemed like a daunting task. This weekend, though, he will achieve his goal of graduating from college.
More than a year ago, Karen Dedinsky started taking graduate courses instead of hitting the job market during the COVID pandemic. This weekend, she will graduate with a master's degree that helped her land her first job.
They are among the almost 1,500 Penn State World Campus students set to graduate during Penn State's fall 2021 commencement exercises on Saturday, December 18.
Here are some facts and figures about this semester's graduating students.
The big picture
The exact number of fall grads is 1,499: 732 will receive a master's degree, 671 will receive a bachelor's degree, and 96 will receive an associate degree. Graduates range in age from 20 to 77.
Overall, there are 94 degree programs represented by the graduates.
The students hail from 47 states and the District of Columbia and 22 countries around the world.
This group includes 232 students who are active-duty service members, veterans, reservists, National Guard members, and military spouses.
146 students will receive their second Penn State degree, and 56 students will receive their second degree through Penn State World Campus.
Celebrating the graduates and their families
Graduates and their families have been invited to attend the Fall 2021 Penn State World Campus Graduation Celebration before or after their commencement ceremony. The celebration is being held at the Mount Nittany Club at Beaver Stadium on December 18.
Three students have been selected to share remarks about their personal journeys to obtaining their degrees.
Edwards, who will receive a Bachelor of Science in Business, came back to school after a nine-year break. He said it was difficult at first, but he found his footing and went on to participate in several activities for Penn State World Campus students.
He said the Penn State World Campus Student Leadership Conference changed the direction of his life, as he met other adult learners like himself.
"It was wonderful and energizing," he said. "After I got home, I knew that I needed to keep investing in myself and looked for similar opportunities."
Lisa Pritchard, who will receive a Master of Business Administration, is another speaker. She will talk about how far she has come from dropping out of high school and fearing math classes to joining the Marine Corps, getting her bachelor's degree, and now finishing graduate school.
Blaise Michna, who will receive a Master of Engineering in Electrical Engineering, will share his journey of how he returned to school to advance his career as an engineer.
He said he made connections in his courses with fellow students from across the country and the world. 
"I am proud to now call myself a Nittany Lion, and it's something I will carry with pride for the rest of my life," Michna said. "The Penn State World Campus experience has really helped me make invaluable connections and has made taking this next step in my life a great experience."
All three speeches will be streamed live through the Penn State World Campus Facebook page and recorded for later viewing.
Program milestone
It opened in 2020, seeking to address the increasing demand for geospatial scientists who have the technical skills to leverage location data and create predictive models about spatial patterns.
During her time in the program, Dedinsky created a variety of geographic visualizations such as a web map for a bike path in her hometown and maps showing the geospatial response of natural disasters over the past decade.
In her last course, she wrote a scholarly paper using publicly available data to see if she could predict where sharks would be found off the coast of Cape Cod, Massachusetts, and compared that with the locations of sharks that had been tagged by scientists. 
After graduation, Dedinsky will begin working as a natural hazards data specialist with a research facility at the University of Washington in Seattle.
Congratulations to all 1,499 of this fall's Penn State World Campus graduates! Welcome to the Penn State family!
Learn more about the degree programs and certificates offered online through Penn State World Campus.