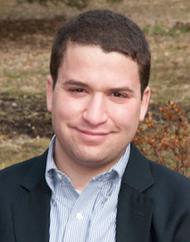 The World Campus Alumni Society was chartered by the Penn State Alumni Association in October 2014 with the purpose of connecting alumni to each other wherever they may be located. The society offers a variety of opportunities for alumni to get involved with virtual networking events and other social events to expand their connections. Andrew Karasik, Com '12, the president of the World Campus Alumni Society board, provides a brief overview of the organization, how you can get involved, and a glimpse of what the future holds. 
1. What is the mission of the Penn State World Campus Alumni Society? 
The World Campus Alumni Society serves to reconnect World Campus alumni to the University by creating a global network of World Campus alumni; encouraging alumni engagement with the University to inspire prospective and current student interaction with alumni; fostering a connection among alumni, students, and friends of the University; and sponsoring social and professional activities that meet the unique needs of World Campus students and alumni worldwide. The World Campus Alumni Society strives to ensure that "WE ARE" is an inclusive feeling that all World Campus students feel, and because our membership is literally scattered across the globe, we are always searching for new and innovative ways to connect Penn Staters back to Dear Old State.
2. What are the benefits of being a member of the society? 
The benefits of membership in the society are numerous. All members of the Penn State Alumni Association who have completed a World Campus course are automatically members of our society and still get to take full advantage of the great benefits of general membership in the Penn State Alumni Association. Unique to our society, members have access to a myriad of World Campus Alumni Association events and resources, including our monthly online "speed networking" events, regional get-togethers, and annual tailgates.  
3. Why and how did you get involved with the society? 
I spent most of my college career on the University Park campus as a traditional student. In my last year, however, I wanted to pursue career and internship opportunities around the country and so I left University Park and became a World Campus student. World Campus allowed me to complete my studies and earn my degree. It also allowed me a special opportunity to pursue career goals while finishing my degree. Because of Penn State World Campus, I was able to gain real-world, out-of-classroom academic experience in my field, which was invaluable. 
After graduating, I was feeling Penn State withdrawal and looking for ways to re-engage with the University, but I was at a loss. I wanted to find a way to engage with the World Campus population, in addition to keeping in touch with my classmates from University Park. I learned that the World Campus Alumni Society was just forming and looking for members of their inaugural board to help shape the future of the organization. I jumped at the opportunity. Seeing the gaps in opportunities for World Campus alumni to be engaged in the University, I was determined to work with my colleagues on the board to create new programs and initiatives to actively include them. In the past two years, the World Campus Alumni Society has grown by leaps and bounds, and we are honored to be the newest chartered campus alumni society by the Penn State Alumni Association.
4. What type of programming can alumni expect over the next two years? 
The future is very bright for the World Campus Alumni Society! We are hard at work on a chapter "handbook" to assist chapters worldwide with welcoming and incorporating nearby World Campus alumni into their activities and initiatives. We are rapidly expanding our online networking events to once a month and working to feature more specialized opportunities for networking in specific geographic locations and among specific academic populations. We will also be hosting more events than ever before at University Park and other locations to provide World Campus alumni with new ways to join the Alumni Association and network with fellow Penn Staters. Stay tuned!
5. What advice do you have for World Campus alumni looking to stay connected to Penn State throughout their lives?  
The best way to stay connected is to stay informed. Follow the Penn State World Campus Alumni Society on Facebook and visit our website often. There, you can learn about upcoming World Campus online events and events in your area. Also, seek out your local chapter. Local chapters are always looking to get their nearby World Campus alumni more involved. And most importantly, join one of the World Campus Alumni Society committees. Here, you can help to shape the very future of the society and work with us to expand our alumni reach and work to include more alumni than ever before. And don't forget about applying for the World Campus Alumni Society board! Look for the application later this spring!