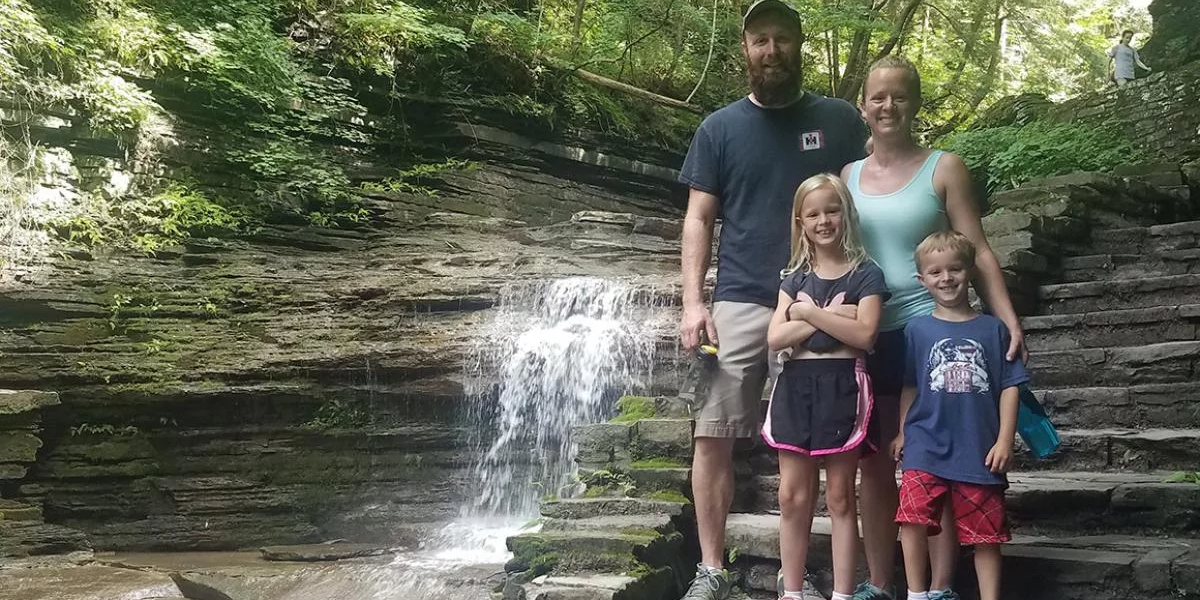 UNIVERSITY PARK, Pa. — Amanda Christ wanted to pursue her life's passion. Colin Burlison was looking to prepare for his life's next chapter. Both will graduate this weekend after turning to Penn State World Campus to help them achieve their goals.
Burlison and Christ are among the first group of graduates from the Smart Track to Success program, which assists Penn State World Campus students during their first two semesters in adjusting to the demands of being an online learner. In all, four World Campus students who participated in the Smart Track program will graduate as part of the University's spring commencement.
Christ, who will earn an associate degree in human development and family studies, said her passion for learning about the intricacies of relationships stemmed in childhood after her parents divorced. As an adult, she realized she could turn her passion into a career.
"I always wondered what happened in my parents' relationship that caused them to divorce, and it put me on this track where I don't want this to happen to me," said Christ, who is married and a mother of two. "I started learning about relationships, what makes them work, what makes them dysfunctional, and that developed into doing this for a living. I put that interest into work."
Burlison, a U.S. Marine stationed in Dublin, Ireland, said he realized he needed to earn a degree after thinking about life outside of military service. He said he pursued a Bachelor of Science in Biobehavioral Health because he's always enjoyed learning about health and fitness and the Penn State World Campus program provided him the opportunity to take a variety of classes to see what interested him most within the field.
"It's my next step in my evolution as a person," he said. "I came into my current job and was like, 'I need to get my degree.' I researched Penn State, and it was the best place to go online. There's a big alumni network, recognizable name. I was like, 'Let's go for it.'"
Smart Track to Success, established in 2017, offers scholarship support, a two-semester course on academic and life skills, mentoring from peers and faculty, and assistance in becoming an engaged member of the Penn State World Campus community.
Christ said the financial and mentoring support were critical for her success.
"They designed the program very thoroughly. It really set me up that if I had a question, I had a resource to find the answer," she said. "Having the ability to ask someone a question in the spur of the moment. It helped me feel so much better knowing I had a resource on the other end of the phone." 
Burlison said the Smart Track courses helped him learn important time management and study skills as a first-time college student. He was stationed in The Gambia, Nigeria, Sweden, and Vietnam while taking courses and said learning those skills helped him "sharpen the axe."
Following graduation and exiting the military, Burlison will move to England with his partner, Raeesa, whom he credited for helping him during this transition period in his life, and begin a one-year master's degree program in public health. He said the timing of all these milestones feels like the end of one life chapter and the start of another.
"I try to recognize when the chapter's closing, and I feel like getting my degree is kind of the closing of this chapter, and it happens weeks, literally weeks, before I get out of the military," he said. "It's like one of those last pieces of taking the next step into what my life is — kind of the next step in development and moving forward, and it opens the door for whatever chapter comes next." 
Christ said she'll be looking for an outreach position in the domestic violence sector of human development. She said it's hard to describe the overwhelming emotions of earning her degree.  
"The struggles I've gone through to get to this place, it's hard to put into words," she said. "It's going to be an accomplishment that I'll be able to look back on and remember the struggles and coming out on top."
Many World Campus students like Christ and Burlison are adults and/or represent the first generation in their families to attend college and would benefit greatly from your generosity. Consider making a gift.
Media Contact:
Matt Caracappa
mnc5000@psu.edu