Recent Penn State World Campus graduate Bryan Hill was beyond appreciative that he was able to watch his August commencement ceremony from his home in North Carolina; it was livestreamed due to the COVID-19 pandemic. 
Coincidentally, COVID-19 is what disrupted Hill's original plans to travel to State College for his commencement ceremony.
A 2nd class petty officer in the U.S. Navy, Hill was deployed domestically this past summer, overseeing a COVID-19 vaccination clinic in Philadelphia. Over the course of 12 weeks, Hill led a team that inoculated thousands of individuals in the region. In addition to preparing vaccinations and managing people, supplies, and logistics, Hill himself delivered more than 6,000 shots.
 
"COVID-19 has definitely been an enemy that we have been underestimating," Hill said. "Hearing the stories of those people who have been lost to the disease was really a wakeup call for me, realizing the importance of people needing to get vaccinated."
He added, "Being able to give those shots and help those people, but also being able to listen to their stories and knowing that you were able to make that difference in their lives, is a powerful feeling."
All the while, Hill was completing his final courses to earn his bachelor's degree in security and risk analysis, one of the information technology degrees offered online through Penn State World Campus. He would give vaccinations during the day, then work on his course work at night. 
"The military schedule was quite brutal for those 90 days," he said. "We didn't have a lot of free time, and I had to sacrifice quite a bit of sleep, but I was determined to finish the semester. Being able to balance a full course load was a unique challenge with the various capacities I was serving as part of the mission." 
Building on a unique skill set
Driven by a desire to find a stronger purpose in life and by a will to help others, Hill joined the military in 2010. Born and raised in Utah, Hill also wanted the chance to see the world. He was motivated by his desire to serve and pursued a path in military health care — ultimately becoming a hospital corpsman and behavioral health specialist.
In those roles, he's been tasked with using quantifiable data and qualitative analysis to help recommend potential placements of Marines into positions that best match their skills and backgrounds.
"Being able to identify that unique operator or potential future operator and get them into a potential pipeline helps lead to overall organizational success for a mission by finding the right talent and the right person for a job," he said.
Recently, his responsibilities have shifted to focus on operational stress control and readiness. As a behavioral health technician, Hill helps soldiers to work through stressors, including behavioral, family, relationship, and financial issues.
"I help them find ways to overcome adversity and give them tools and skills so that they can be successful," he said. "I serve as an embedded mental health asset to help mitigate and build resilience as a whole, from a command perspective."
In 2017, a psychologist and mentor recognized Hill's talents in the field — especially his natural aptitude for understanding information workflows. The mentor suggested that Hill consider pursuing higher education to supplement and combine his previous training in emergency medicine, his background in psychology, and technical skills he'd honed in the military.
He found Penn State World Campus, which offered a flexible curriculum and military-friendly schedule, and through that, one of the top information schools in the country — the Penn State College of Information Sciences and Technology.
"I thought, 'well, maybe this is something I can tap into through World Campus,'" he said. "And that's exactly what I was able to do."
Bringing people and technology together
Hill initially set out to complete a certificate program, but naturally progressed through his education and earned an associate degree in information sciences and technology, followed by a bachelor's degree in security and risk analysis.
Through the IST program, Hill learned programming languages, how to develop applications and analyze data, and how to use tools and methodologies to conduct organizational cultural analysis. In SRA, he learned about cybersecurity and risk analysis, exploring threat actors and how they can impact physical, information, and personal security. He was especially interested in the psychology behind those threats, which he blended with his medical background and proficiency in workflows to develop a unique skill set that has strengthened his impact in the Navy.
Among many military duties and achievements, Hill has been able to identify potential risk factors of individuals participating in the Navy and Marine Corps' Survival, Evasion, Resistance and Escape training. He has conducted risk assessments for suicidality in a clinical setting. He's overseen the psychiatric care of military patients, contributing to a 98% return-to-duty rate. He led a successful process improvement initiative that reduced clinic no-show rates and increased appointments.
On his own initiative, he fundamentally transformed the data collection process for the psychological screening of Marine Forces Special Operations Command candidates by transitioning the background data collection packet to an entirely digital format. That work led directly to the development of algorithms to identify high-risk candidates and dramatically reduced errors in the evaluation process. 
"Finding a way to bring people and technology together is one of the most critical elements, and I believe cornerstones, of IST," Hill said. "It's about being able to find essential workflows for people to work with to make life easier and make processes faster and more effective."
Flexibility and commitment lead to success
In addition to earning his Penn State degree, Hill was presented with a Navy Achievement Medal for his work this spring for his significant contributions at the COVID-19 vaccination clinic. But that's not the first time he has been honored for outstanding military service. He has earned a total of five achievement medals, a commendation medal, and an award nomination for innovative contribution to special operations — Hill directly connects many of the achievements to the application of skills he learned at Penn State.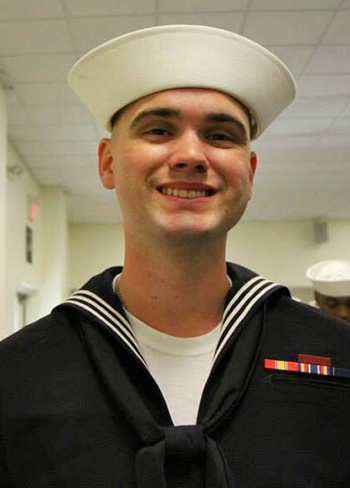 With a decorated history of dedication to and impact through his military service, Hill has exceled in his career while simultaneously attending Penn State full-time.
"It wouldn't have been possible without the overall flexibility and support that I have received from World Campus professors and advisers over the years, through natural disasters, operational commitments, and deployments," Hill said. "Having that flexibility and understanding of unique circumstances was critical to me being able to finish both degrees in a four-year period."
The support that Hill has received comes from beyond Penn State. Hill's husband, Cory, whom he married in 2014, has been Hill's rock throughout deployments, military duties, and academic requirements. Hill said his husband is his strongest moral supporter and a proponent of his pursuit of Penn State degrees.
"Cory has sacrificed a lot for us over the years, and I am looking forward to enriching our lives together and making him a priority," Hill said. "Having the support of your spouse like I did with Cory kept me going, as well as having the community and university support. In many ways, Cory is an honorary Nittany Lion in my eyes."
Being able to participate in the virtual commencement celebration served as a fitting capstone for both Hill and his husband.
"It was a very powerful moment for me to see the summation of everything I've been working to accomplish," said Hill. "Even if it was virtually from afar, I got to see the physical representation of that milestone. And that was the most important thing to me." 
Learn more about the resources and services available to military students through Penn State World Campus.
The appearance of U.S. Department of Defense (DoD) visual information does not imply or constitute DoD endorsement.