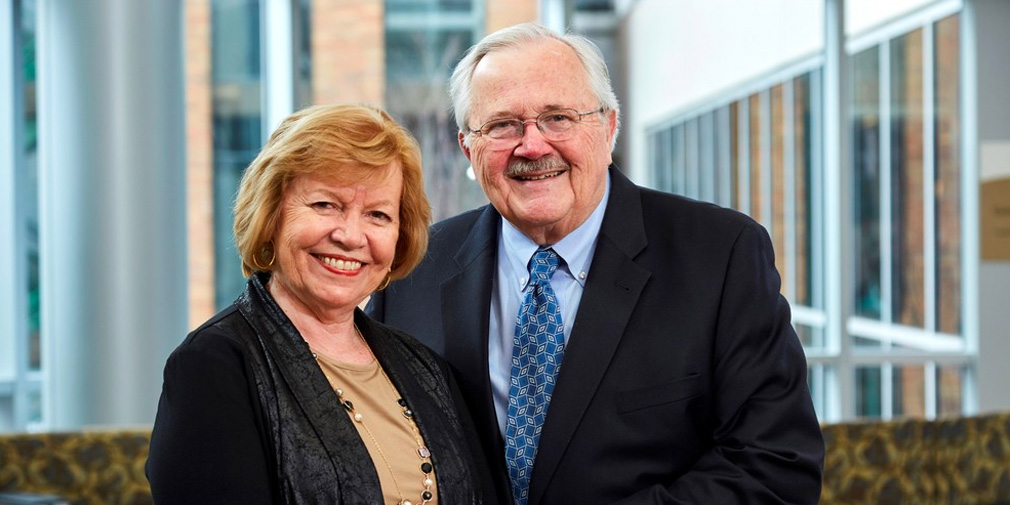 UNIVERSITY PARK, Pa. — Richard and Claudia Fischer originally met on their first day of freshman orientation at Penn State. Although they both built academic careers in higher education outside of Penn State, Richard served for a number of years on the Penn State Outreach and Online Education Advisory Board and the couple have been long-time supporters of the University. Richard and Claudia wanted to further a family legacy of assisting students, so they decided to work with the University to create a $3 million scholarship to assist adult students pursuing a degree through Penn State World Campus.
"Throughout our academic careers, we learned the importance of helping students negotiate the intricacies of completing a higher education degree," Richard said. "We witnessed firsthand the challenges that can face students while working toward their degree, and we want to help."
The couple made a $1 million gift to the University to create the Richard and Claudia Fischer Open Doors Scholarship in Penn State World Campus. Through the Open Doors Scholarship Matching Program, which is part of A Greater Penn State for 21st Century Excellence campaign, the University will provide a permanent 2:1 matching contribution of $2 million. The Fischers designated the scholarship to give priority to World Campus students who are participating in Smart Track to Success, RaiseMe, Complete Penn State, or additional programs created by the University under its Open Doors initiative.
Claudia said she knows the challenges students often face while earning a degree.
"Appropriate support, encouragement, and monitoring are critical to the success of students who may have competing priorities — whether it be a full-time job, family, or other financial responsibilities," Claudia said. "We chose to support the Open Doors Scholarship Program because it can greatly enhance the possibility of success for students who might otherwise struggle or fail. It is our way of paying it forward."
The Fischer family has created a legacy of philanthropy and other commitments at Penn State. The couple's son, Robert, along with Richard's parents, Dr. Floyd and Naomi Fischer, and his grandfather, Fred, earned degrees at Penn State. Floyd Fischer was a former vice president of Penn State Continuing Education; Fischer Road, located near the Nittany Lion Shrine on the University Park campus, is named in his honor. Over the years, gifts from the family have included scholarships and fellowships in the Colleges of Education, Engineering, and Liberal Arts; the University library; WPSU; and various athletic programs. Floyd and Naomi are among the founders of the Nittany Lion Club. The last gift established by Naomi was the Fischer Family Scholarship for Continuing and Distance Education.
Renata Engel, vice provost for online education, said financial support can make all the difference to students balancing their studies with family and career responsibilities.
"The Fischer family has a long history at Penn State of helping students who have aspirations, but perhaps not the resources to make their aspirations a reality," Engel said. "This gift offers an opportunity for those students to pursue high-quality education, while reducing financial pressure through the array of support Penn State World Campus provides."
This gift will advance "A Greater Penn State for 21st Century Excellence," a focused campaign that seeks to elevate Penn State's position as a leading public university in a world defined by rapid change and global connections. With the support of alumni and friends, "A Greater Penn State" seeks to fulfill the three key imperatives of a 21st-century public university: keeping the doors to higher education open to hardworking students, regardless of financial well-being; creating transformative experiences that go beyond the classroom; and affecting the world by fueling discovery, innovation, and entrepreneurship. To learn more, visit greaterpennstate.psu.edu.
For more information about financial aid and scholarship opportunities for students, visit the Penn State World Campus scholarships webpage.