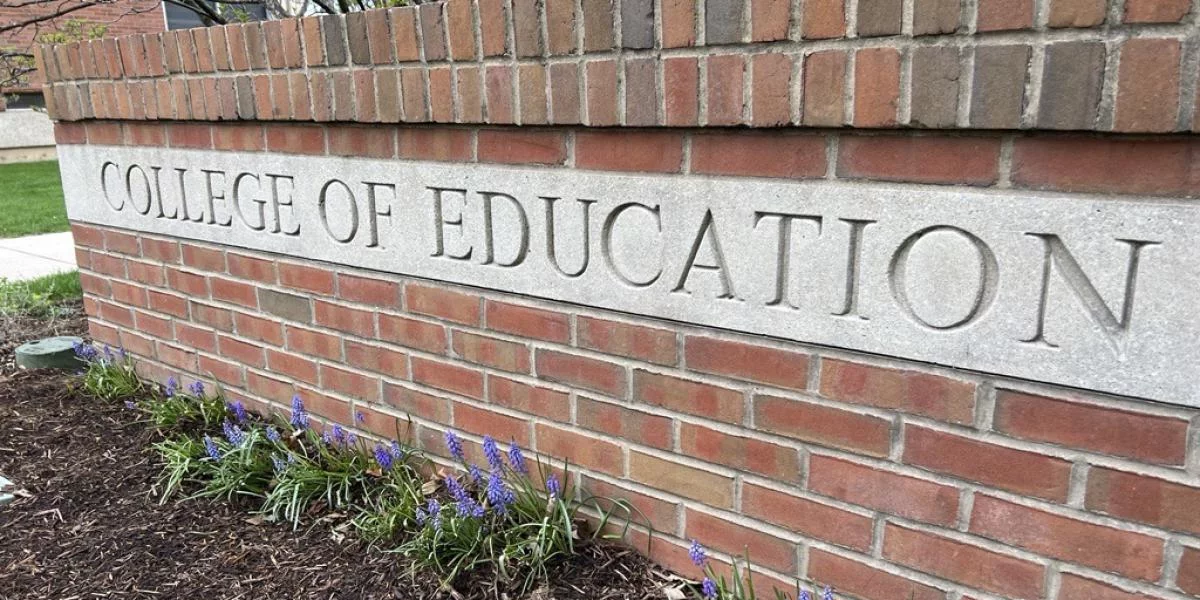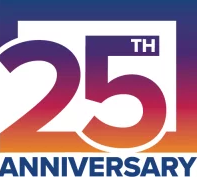 The Master of Education in Curriculum and Instruction course work has opened up new ways for Jeni Kocher Zerphy, a K–5 gifted support teacher, to connect with her students.
She often finds herself sharing what she is learning about with her students.
"I know I can take whatever I learn from studying and apply it immediately," she said. "We have made connections together."
After researching online options, Zerphy found the graduate curriculum and instruction program and was drawn to its children's literature track, one of six customizable learning pathways.
Zerphy is one of many adult learners who chose a graduate degree in education offered online to help them achieve their personal and professional goals. Penn State World Campus in collaboration with the College of Education at Penn State offers more than 20 graduate degree and certificate programs in education.
A legacy of offering graduate degrees in education online
This year, Penn State World Campus is celebrating 25 years since it began offering degree programs online. For students wanting to pursue careers in K–12 education, higher education, counseling, and human services, there are 22 programs online, including the most recent addition, a Doctor of Education program, which will begin accepting applications later this month.
Master's degree programs in special education, curriculum and instruction, and educational leadership broaden students' leadership skills and knowledge in teaching and educational supervision. Other programs, like the master's in higher education and lifelong learning and adult education, teach students the practical skills needed for careers in postsecondary education and teaching adults as a teacher, trainer, or leader.
The learning, design, and technology graduate program teaches students the impact of technology on learning, while the master's in organization development and change develops students' practical skills and knowledge needed to effectively lead change in corporations, government agencies, and nonprofits.
Learning new techniques to teach the next generation
Zerphy, the K–5 gifted support teacher, completed her undergraduate degree at Penn State and, once she learned of opportunities for graduate school, knew she wanted to continue at the University.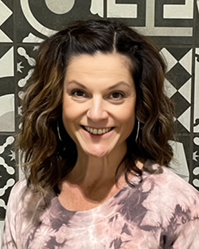 "I always wanted to go back," she said. "I just have an insatiable love of learning."
Zerphy said her experience in the graduate curriculum and instruction program has been remarkable.
She praised the program's accessibility for all types of learners and the support from faculty members.
"I've had the pleasure of learning with amazing instructors and peers of all ages — and from all over the world," she said. "[Dr. Elisa Hopkins] is great. I don't know that I've ever had that kind of support, and she gives it to everybody."
Zerphy hopes to earn a doctorate after she completes her degree in 2024, but her educational goals lead back to the gifted children she teaches. For her, teaching is about supporting and building up the children in her classroom.
"I want to continue to be somebody my students connect with, and I can be there for them," she said.
Helping students change their lives
Brianne Gridley is an academic adviser and outreach specialist at Howard Community College in Columbia, Maryland. She began working at Penn State in the Office for Summer Session in 2016 and quickly realized higher education was her calling.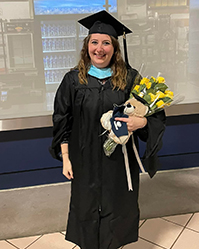 After completing her second undergraduate degree, a Bachelor of Arts in Organizational Leadership online through Penn State World Campus, she enrolled in the Master of Education in Higher Education. She liked Penn State World Campus because it felt more accessible, allowing her to maintain a work-life balance.
"I wanted the ability to get a graduate degree in a highly respected program, but I still wanted the flexibility," she said. "You could tell that the work was put in to give the World Campus program students the same quality and level of experience as the on-campus students."
Gridley praised the commitment of the faculty, calling them some of the most passionate people she's met.
"You could tell they are there because they want more people to share their passion," she said.
During the program, Gridley discovered her passion for serving first-generation and underrepresented student populations. She focused her capstone project on student challenges, which furthered her drive to impact others.
"I knew I always wanted to help people change their lives," she said.
Incorporating technology to enhance learning opportunities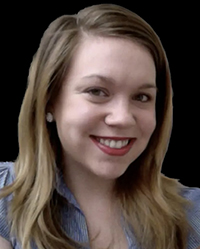 Samantha Cinque works as an instructional designer at a credit union and is nearing completion of her Master of Education in Learning, Design, and Technology degree, in fall 2023. She pursued the program, seeking new teaching techniques with the incorporation of technology.
"I actually started as only seeking a [educational technology integration] certificate but enjoyed my time in the program so much I decided to pursue my master's degree," she said.
Cinque found what she was learning online was often immediately applicable to her duties at work. She incorporated a "Learn-Do-Connect" process she learned in one of her courses into a new-hire training program.
"So far, the new hires love it and feel like they have learned a lot. Even a trainee with previous banking experience said she thought she learned more in a week with our training than she did in a 10-week training with her old company," Cinque said.
Developing skills to evoke change
After starting her first job, Leila Farzam discovered a master's degree would be necessary for future advancements. So, she began researching online degree programs, as she needed to balance academics with working full-time and thought Penn State World Campus could be the right choice for her. Farzam was impressed by the course work and the experience brought by faculty members in the Master of Professional Studies in Organizational Development and Change program. She learned about theories and foundational concepts, but what made it special was the sharing of professional experiences by faculty members.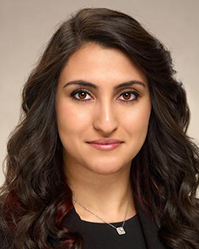 "It allowed us to have really robust dialogues by putting theory into practice," she said.
Farzam worked full-time and completed the program in one year, graduating in 2016. She credits a lot of hard work as a student and support from her professors for her success. Farzam said the program provides opportunities for research and projects with alumni and industry leaders, to write and publish academic papers, and more.
"That degree program changed the trajectory of my life. I knew I wanted to be in the human capital realm, but the organization development program provided me with a whole new outlook of impacting whole-system change. I ultimately fell in love with learning organization development and was lucky enough to create a successful career in this line of work," she said.
She ultimately left her job to enter a Ph.D. in workforce education and development through the College of Education.
Farzam earned her doctorate in 2021 and now serves as the director of organizational development for AARP, where she provides leadership and focus to the enterprise on modernized approaches to identify organizational needs and develop innovated solutions to attain desired results and outcomes.
"Connected" online learning, anytime, anywhere
Sean Rankin is a self-described lifelong learner. He always loved learning and believes it is important to keep challenging oneself academically. When he decided to pursue a graduate degree, he wanted a university that embraced a flexible approach to learning, as he works full-time for a global organization.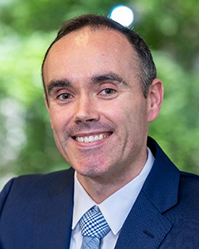 "Penn State was not only a pioneer in the online distance education space but continued to evolve its practices through utilizing new technologies," said Rankin, who is in the Master of Education in Lifelong Learning and Adult Education program.
He expects to graduate in 2024 but has already applied theory to practice in his full-time position.
"The deeper you get into the program, the more you appreciate the way it has been developed," he said. "As someone who heads two global teams, overcoming the transactional distance barrier is critically important. The theories and practices I have experienced in this course work have helped me improve my global working practices."
Rankin describes his online learning experience as "connected." He said his peers and professors do a great job of being accessible and contributing to discussions.
"Each course I am in, I feel supported and challenged by my peers," he said. "It is part of the culture of Penn State World Campus courses, and we all embrace it."
Penn State education faculty members encourage connections with program, peers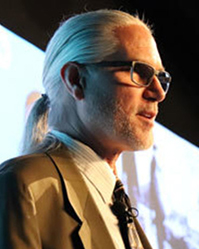 The online graduate education programs are often taught by the same faculty members who teach residential students at the University.
Dr. William Diehl leads and teaches in the lifelong learning and adult education program, which includes a distance education option and certificate program. Diehl said distance or correspondence education as a field began to serve learners who could not get to a physical classroom.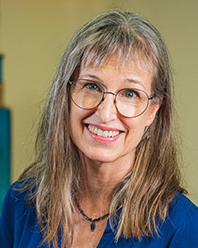 "It was always about the non-traditional learning in providing equity to diverse populations who did not have opportunities that other people have," Diehl said. He added that Penn State World Campus students must have tenacity and drive to complete course work while balancing numerous responsibilities.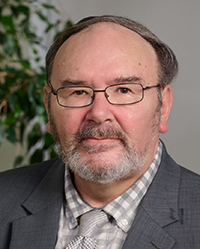 Students across the world come together on discussion board assignments, where they bring a vast number of perspectives and experiences. Those assignments act as a crossroads of information and interaction, according to Dr. Elisa Hopkins, who teaches in the curriculum and instruction program.
"When I go into those discussions, it feels as though everyone is there," she said. "And there's an opportunity to reflect, to revisit, to go deep into the content."
Dr. William Rothwell, distinguished professor of education, said the organization development and change program is based on research conducted over more than 20 years in 54 countries and provides a solid foundation for future practitioners. He enjoys interacting with students across the world.
"I have the opportunity to experiment with new approaches to build student engagement online," he said.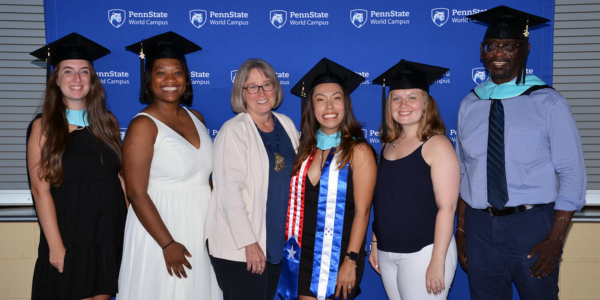 Higher education program professor and coordinator of online programs and teaching Dr. Karen "KP" Paulson said the program emphasizes peer connections for students, encouraging them to get to know their cohort members for networking, as well as professional and personal support.
She said the bonds forged in the program make the Penn State World Campus graduation celebrations, which are held at the end of each semester, special to witness.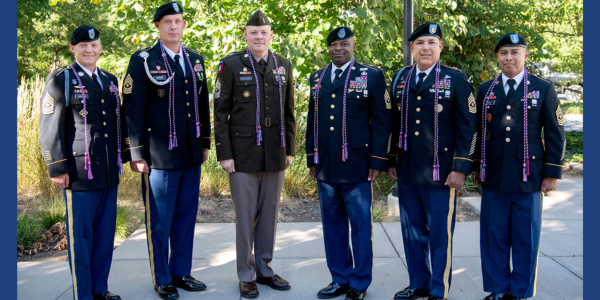 "It's just a lot of joy. It's not expected that everyone will have a bachelor's degree or a master's degree," she said. "Everybody has worked their butt off and they're really great role models for their families and their communities."
Partnerships benefitting military learners
Penn State World Campus provides flexible learning opportunities and financial aid to members of the military who are seeking higher education. Through partnerships like the U.S. Sergeants Major Academy Fellowship, this group of learners is achieving their educational goals while continuing their service.
The fellowship program provides scholarships for up to 15 sergeants major to enroll in the online Master of Education in Lifelong Learning and Adult Education program while they are stationed at the academy at Fort Bliss, Texas. Upon graduating, the fellows will teach the Sergeants Major Course, which prepares the military's next generation of leaders with skills they need on and off the battlefield and helps them earn college credit. Since the fellowship program began in 2015, 125 soldiers have graduated and 15 more are expected to graduate this summer.
Using education to make a difference in the lives of others
Jennifer Pencek completed her Master of Education in Higher Education in 2016 while working as a programming coordinator at the Penn State Gender Equity Center.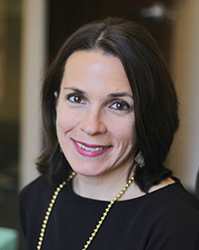 "Everything I learned in the program helped me very well at the Gender Equity Center, and it helps me now," Pencek said.
Pencek transferred the skills to her next jobs, first as a director of an office for interpersonal violence prevention at a college and now as executive director of Centre Safe. Centre Safe provides free and confidential counseling, shelter, and other support services to individuals and families in Centre County, Pennsylvania.
Her work often still includes the Penn State community, but knowing how to communicate, research and analyze data, engage with people, and help them navigate difficult situations has been vital to her success in making an impact.
Pencek encourages others to not limit themselves to the name of their degree program.
"Just because your degree is in a certain area doesn't mean you have to take the literal definition of what that degree means," she said. "No matter what field you go into, you can certainly take everything you learned in a certain program, and it all has an impact no matter that career path you go down."
Learn more about the education degree programs that are offered online through Penn State World Campus.
Media Contact:
Mike Dawson
mdawson@psu.edu