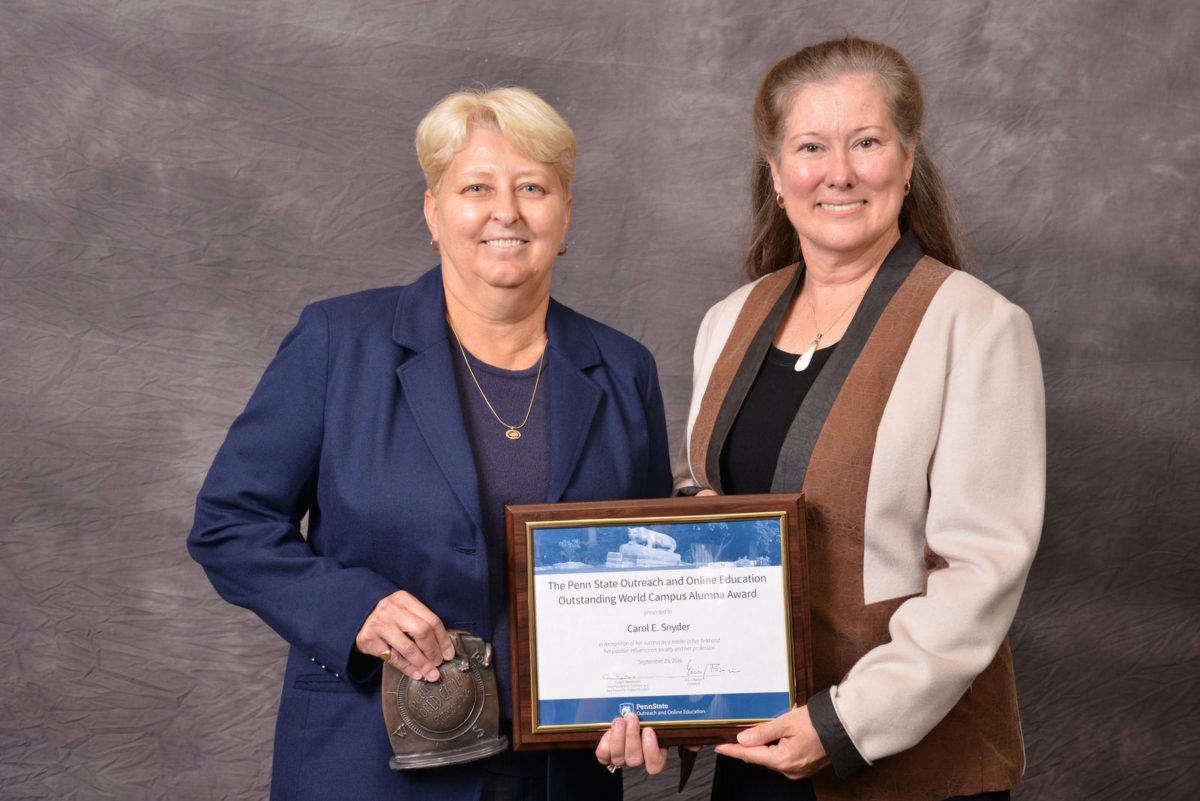 Carol Snyder was the 2016 recipient of the Penn State World Campus Alumna Award at the Penn State Outreach and Online Education Appreciation Dinner in September. She received the award not only for her academic and professional accomplishments, but also for her tireless efforts to reach out to other World Campus alumni and students.
"We are Penn State; we may have attended a campus other than University Park, but we are Penn State, and it's important to rally these feelings for Penn State World Campus students," Snyder said.
Snyder began her career in human resources for Ethicon, one of the largest divisions of Johnson & Johnson. She spent 28 years building her career without finishing a degree she had started at Rutgers University. When she retired, she said, she thought about that degree again.
"I always wanted to finish it," Snyder said. "My goal was to earn my degree for my personal accomplishment, learn about what interested me, and use the experience I had gained in the business world."
Snyder's husband, Chuck, graduated from Penn State with a Bachelor's Degree in Business Administration. When she began to research options to earn her degree, she included Penn State World Campus.
"I was assigned a very knowledgeable academic adviser who led me step-by-step through the initial phases of transferring credits that I had earned from other institutions, choosing a plan of study, and enrolling in the right courses to earn my degree at my own pace."
Snyder earned her Bachelor's Degree in Organizational Leadership from the College of the Liberal Arts through Penn State World Campus in 2012. She is currently the secretary/treasurer for the Penn State World Campus Alumni Society Board and says she is always looking for ways to create experiences for other students who are not located at one of the traditional Penn State campuses.
"Penn State World Campus is unique from other campus environments, and I think it is important that alumni have a way to connect with others," Snyder said. "As World Campus continues to grow, so should the Alumni Society's support through providing networking, outreach, up-to-date communication methods, and mentoring support for current students."
Snyder also volunteers her resources to helping animals, which is another passion of hers. She and Chuck founded the Simon and Shermon Angel Fund — designed to provide financial support to pet owners who are unable to pay for critical care needs for their pets — in her hometown of Mount Dora, Florida.