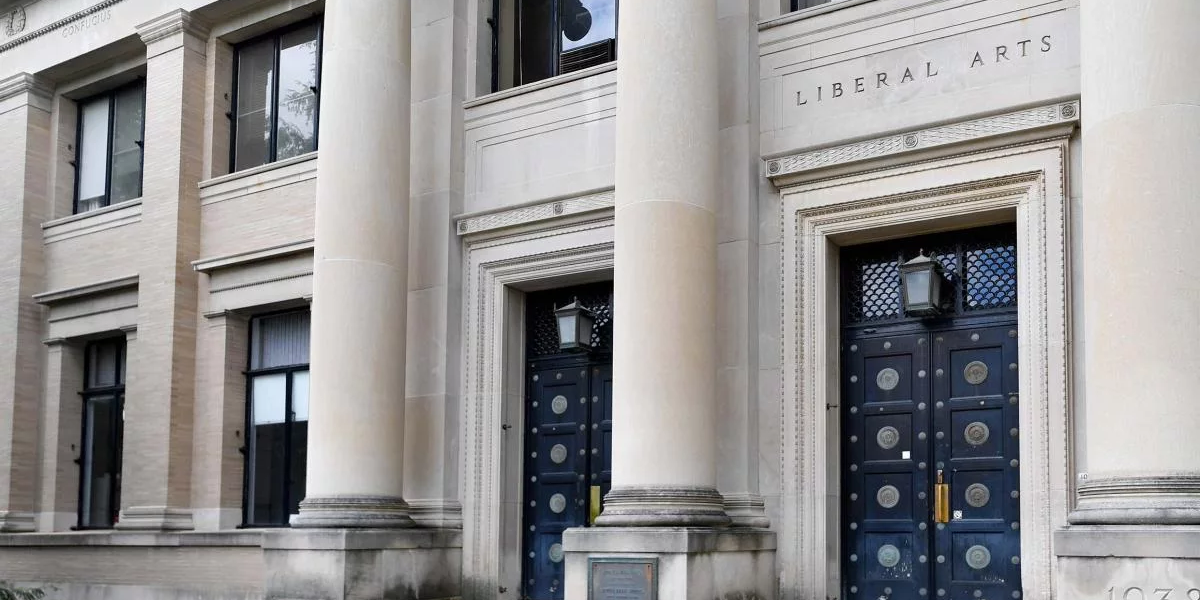 When Ariel Hinojos returned to college, she wanted to learn about the legal and criminal justice systems and prepare for law school.
Hinojos said Penn State's Bachelor of Arts in Law and Society was the perfect fit. The degree, which is offered online through Penn State World Campus in partnership with the Penn State College of the Liberal Arts, gives students the chance to learn about the law and explore subjects that match their career interests.
For the past 15 years, the law and society major has helped students like Hinojos prepare for a legal career.
"Law has been my passion since the age of 7," Hinojos said. "I knew I wanted to be a lawyer. It has taken me longer than I anticipated, but I'm getting there."
What is the law and society degree?
The Bachelor of Arts in Law and Society is a fully online degree program that opened in 2006. It is one of the law and public policy undergraduate degree programs offered through Penn State World Campus and, when it opened, was Penn State's first bachelor's in arts to be offered online. 
Avis Kunz, senior assistant dean for online programs in the College of the Liberal Arts, said the degree was an important offering, as the college wanted to extend access to students who otherwise would not be able to attend Penn State. 
Kunz said the curriculum aims to give students a broad understanding of legal issues through required courses in history and political science. Students can also choose from courses in critical thinking, logic, criminology, and communication arts and sciences.
Bryan McDonald, faculty director of the law and society program, said students choose electives that align with the kind of law they hope to practice. For instance, students who want to argue in court may choose speech courses, or if they want to work in family law, they may take human development and family studies courses.
"Law is a living, breathing institution," McDonald said. "Fights over laws aren't always just reading a document to determine what it means in our current context. The law and society degree really focuses on not just the interpretation of the law but how it has emerged out of the historical context."
On this milestone, students shared how the degree is preparing them to take the next step toward their professional goals.
Student voices
Hinojos, who enrolled in 2020, lives in Wyoming with her husband and three children. She hopes to open her own criminal defense practice and has been able to take courses in constitutional law, criminal justice, and forensic photography.
Khary Kyle, a member of the Navy and flight attendant, wanted to build on the international experiences he's had in the military and for work, as he hopes to go to law school. 
He said he would eventually like to be appointed to the International Courts of Justice. He highlighted courses in critical thinking and leadership in a global context and an independent studies course in which he focused on the integration of the legal systems during the colonization of Africa.
"These courses are examples of the type of education I had hoped to receive because the courses were designed to provide an understanding of the world and the people within it and how they relate to one another," said Kyle, who expects to graduate in December.
Another student, Donna Butler, hopes to be a congressional adviser and plans to attend law school after graduation next spring. 
Butler took courses in constitutional law and political science to help her prepare for that career. She also researched the three branches of government for an independent studies project, interviewing a judge, a congressional representative, and two Pennsylvania deputy general counsels.
Butler has served as the student leader of Phi Delta Phi, a pre-law honor society that provides members a variety of resources in preparation for law school. She said the camaraderie with her fellow students in the organization and in her courses has been a tremendous benefit.
"There is an undeniable sense of closeness at Penn State World Campus, as if we are one Penn State family," Butler said. "Though we are spread out all over the globe, we easily connect."
Congratulations again to our Penn State World Campus alumni who graduated from this program. Please feel free to share information about your online Bachelor of Arts in Law and Society with others.