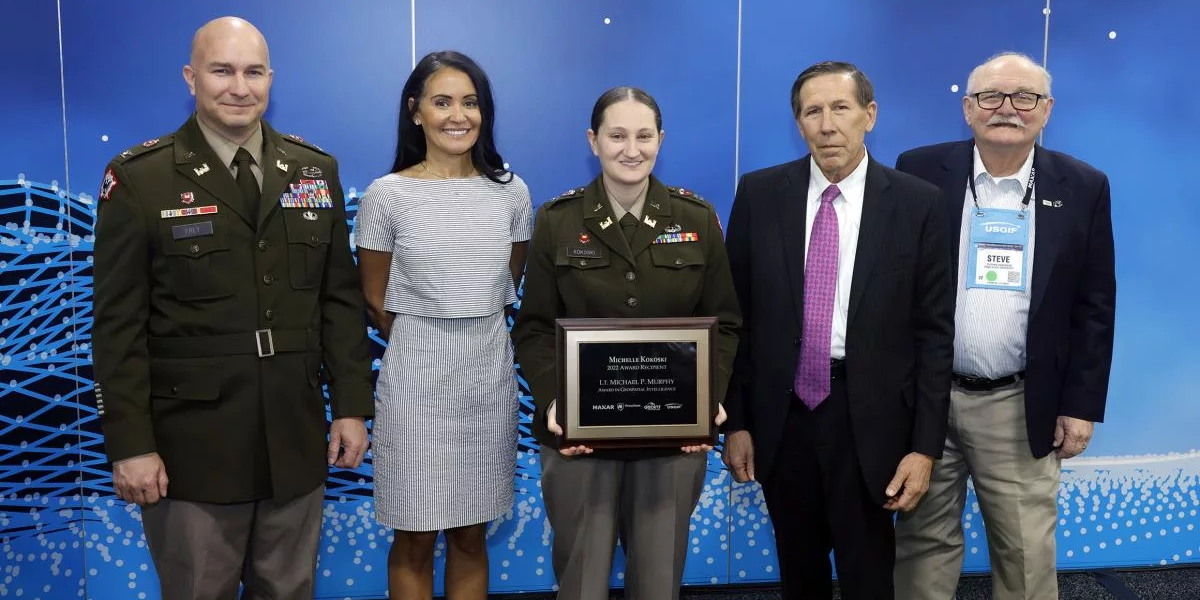 A U.S. Army Corps of Engineers officer who is a Penn State World Campus student has received this year's Lt. Michael P. Murphy Award, which recognizes outstanding contributions to the geospatial intelligence community.
Capt. Michelle Kokoski is stationed at Fort Leonard Wood, Missouri, where she is a company commander. In a previous assignment at Fort Leonard Wood, she conducted research and developed products that contributed to the Army Corps of Engineers' geospatial intelligence mission with the Training and Doctrine Command Proponent Office – Geospatial.
Kokoski is enrolled in the intelligence and geospatial analysis option of the intercollege Master of Professional Studies in Homeland Security degree program that is offered online at Penn State. She received the Murphy Award at the U.S. Geospatial Intelligence Foundation's annual GEOINT Symposium in April.
"It was a stark reminder of what I do every day. At the end of the day, everything is about the warfighter," Kokoski said. "My whole goal is to make that soldier's life better, and the research that we're doing in my office helps ensure we understand the geospatial technologies and capabilities that exist to aid in modernizing the force. Receiving this award was a reminder of that."
The award was established in honor of Murphy, a Penn State alumnus who was killed in Afghanistan and posthumously awarded the Medal of Honor for his valiant acts as a Navy SEAL there.
Each year, Penn State presents the Murphy Award to a member of the military or U.S. intelligence community who is a master's degree student in one of Penn State's programs with a geospatial intelligence emphasis. The award recognizes a demonstration of exceptional contributions to the discipline. The award was made possible by the generosity of Maxar, the U.S. Geospatial Intelligence Foundation, and Penn State faculty.
Helping the Army's modernization efforts with geospatial intelligence training
Kokoski said she was inspired to study geospatial intelligence and homeland security after two experiences in her life.
She remembers that her home area in Florida had to deal with and recover from hurricanes and other disasters. Later, when she was stationed at Fort Hood in Texas, she oversaw a search and rescue platoon and worked with homeland security agencies.
The intelligence and geospatial analysis option of the homeland security program gave her the chance to blend her two interests by taking courses on spatial data science and geographic intelligence while learning the foundations of homeland security.
Kokoski said what she has learned throughout her courses she's been able to apply directly to her military job.
Since starting her degree online in 2021, Kokoski has worked closely with the National Geospatial-Intelligence Agency, the U.S. Army Engineer Research and Development Center, the Army Geospatial Center, and other government agencies to assist with Army modernization efforts and integration of 3D geospatial products and services.
Key components of her assignment with the Training and Doctrine Command Proponent Office – Geospatial included coordination and experimentation for 3D data collection highlighting dense urban areas.
She said the courses improved her ability to communicate geospatial needs across a variety of agencies. The courses also enabled her office at Fort Leonard Wood to increase vendor participation and allowed it to study multiple LiDAR aerial and terrestrial remote sensing packages that helped shape equipment requirements to build future military geospatial systems.
The courses also allowed her to refine her mapmaking skills with web-based geospatial information system platforms that she uses in her everyday job.
"The courses focus on modern GIS capabilities, which is especially useful since I can directly apply what I have learned in my program and use it to make products as part of my job in the Army," she said.
Kokoski published a professional article highlighting a case study focused on how high-resolution 3D geospatial data could impact Army operations, which subsequently led to more visibility and participation from geospatial industry partners.
She expects to graduate in 2023.
An online geospatial intelligence education at Penn State
The graduate geospatial portfolio of programs at Penn State is offered through the renowned Department of Geography in Penn State's College of Earth and Mineral Sciences. Geography faculty members attended the GEOINT Symposium and praised Kokoski for her work.
"We congratulate Captain Michelle Kokoski for accepting the difficult challenge of continuing her education while serving on active duty in the U.S. Army," said Todd Bacastow, a teaching professor of geospatial intelligence at Penn State. "The award not just recognizes her past accomplishments but is also a measure of our confidence that Michelle will continue to make many more contributions to the geospatial field.
"We look forward to Captain Kokoski staying connected with us so that we can learn how Michelle applies the knowledge gained through our program in future military assignments."
Penn State offers a vast selection of areas for study in its geospatial portfolio, such as spatial data science, geographic information systems, geospatial intelligence, GIS programming, and remote sensing.
The Master of Professional Studies in Homeland Security program is offered online by the Penn State Harrisburg School of Public Affairs.
Learn more about the geospatial degree and certificate programs offered online through Penn State World Campus.
The appearance of U.S. Department of Defense (DoD) visual information does not imply or constitute DoD endorsement.
Media Contact:Mike Dawsonmdawson@psu.edu