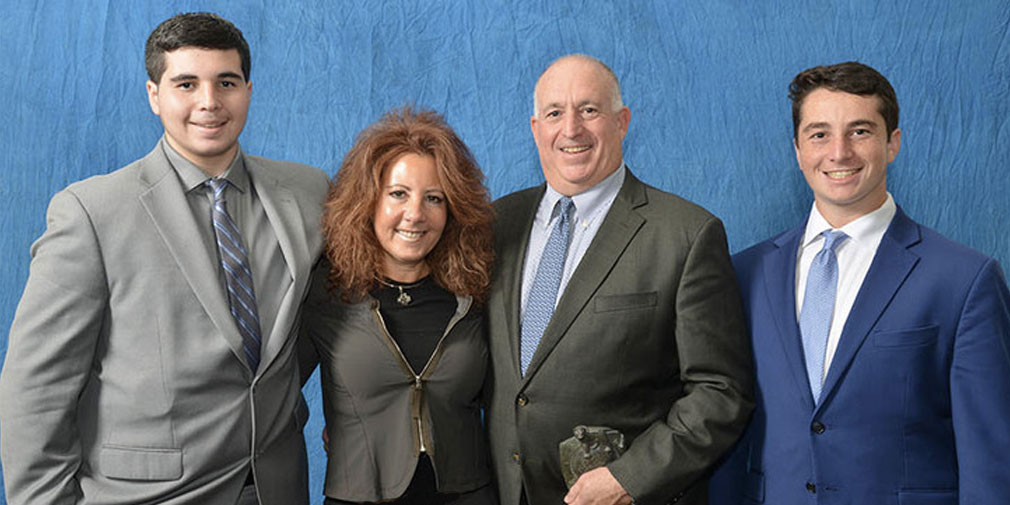 Wayne Lonstein, founder and chief executive officer of VFT Solutions, Inc. and recipient of the Penn State World Campus Outstanding Alumnus Award, is lifting up incoming students by creating the VFT Solutions, Inc. Annual Scholarship for Smart Track to Success Students in the Penn State World Campus. Smart Track to Success is a program designed to help students who are new to higher education or returning after an extended period of time away get acclimated to the online learning environment. Lonstein has committed a total of $12,500 over the next five years to support scholarships for students enrolled in the Smart Track to Success program, with preference going to first-generation college students.
"My first undergraduate degree was from Wilkes University. In the late 1970s and early 1980s, most students enrolled were children of parents who never attended college," Lonstein said. "Years later, I was impressed to find out one of the university presidents started a program to financially assist students who were first in their family to attend college and may not have the means or support to do so. When I found something similar at Penn State, it was a perfect fit. What a great way to help support a student's dream."
Many students applying to the Smart Track to Success program are adult learners, military personnel, and first-generation college students. A cohort of 60 students is chosen each year to enroll in the two-semester program, and the students are provided academic assistance, mentorship, and orientation to the online learning environment. Each student receives $1,500 per semester for tuition, totaling a $3,000 scholarship.
Lonstein and his wife, Julie, earned degrees through both on-campus and online learning environments. He said he found the perfect blend of both while earning a Master of Professional Studies in Homeland Security through Penn State World Campus and Penn State Harrisburg.
"If you want to reach for the stars, Penn State World Campus provides a state-of-the-art method to immerse yourself in an undergraduate or graduate college degree program at a world-class institution," Lonstein said. "The blend of technology and options for personal interaction make it a step above when it comes to distance or blended distance learning. With a highly engaged faculty and support staff in programs such as Smart Track to Success, it can truly be the opportunity of a lifetime, whether you live in State College or anywhere around the world."
Lonstein said the versatility of the online learning environment is a sound choice for those going back to school while balancing other commitments.
"The fact that a working parent can pursue a degree while not missing the critical events of her child's youth is something near and dear to our hearts. Both Julie and I spent late nights studying after the house was quiet and children asleep," Lonstein said. "To help another parent or to lessen burdens financially for another student by supporting the Smart Track to Success program seemed like the perfect fit."
Chastity Collier is majoring in digital media design and graphic design in the College of Arts and Architecture at Penn State. She is earning her degree through Penn State World Campus and is enrolled in the Smart Track to Success program.
"The Smart Track to Success program and scholarship I received helped me with my finances, especially with buying schoolbooks. The challenging part was adding another class to my schedule, but it was helpful overall — especially with contacting staff, learning about opportunities, and receiving guidance on how to study," Collier said. "My advice to others interested in the program is to keep going, even if things seem hard at first, and believe in yourself! If you need help, reach out."
This gift will advance "A Greater Penn State for 21st Century Excellence," a focused campaign that seeks to elevate Penn State's position as a leading public university in a world defined by rapid change and global connections. With the support of alumni and friends, "A Greater Penn State" seeks to fulfill the three key imperatives of a 21st-century public university: keeping the doors to higher education open to hard-working students regardless of financial well-being; creating transformative experiences that go beyond the classroom; and impacting the world by serving communities and fueling discovery, innovation, and entrepreneurship.