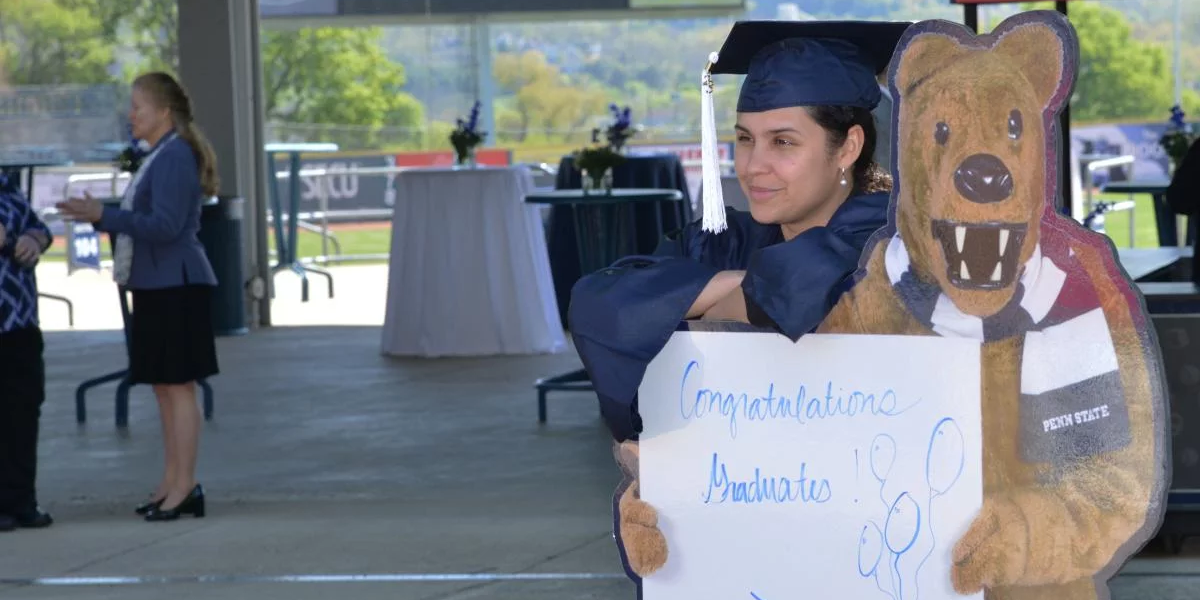 Melissa Lopez had always dreamt of a career that aligned with her passion to protect the Earth. As Lopez grew older and became a mother of four with a full-time job, she had to temporarily put her dreams on hold.
When Lopez discovered the undergraduate energy and sustainability policy program offered online through Penn State World Campus, she knew it was meant to be.
"When I saw there was a degree that would allow me to make a difference, I just couldn't say no," Lopez said.
Lopez enrolled as a full-time student in fall 2020 while she worked as a direct support professional for people with disabilities. With a green thumb and continuing passion for Earth sustainability, she knew the online ESP program was the perfect fit.
"My goal was always just to protect the Earth," Lopez said. "The energy and sustainability policy program is just a combination of everything, and that's what I loved about it."
Making the leap
The Bachelor of Science in Energy and Sustainability Policy offered through Penn State World Campus is one of the few all-inclusive programs in the country that covers all forms of energy and puts policy at the center. Developed by leading industry experts, this interdisciplinary program allows students to acquire economic, societal, and technical knowledge of energy use and its environmental implications.
"Penn State has always been my dream school. So, when I saw that I could possibly attend, I applied. I was so thrilled when I got in," Lopez said.
Accolades and connections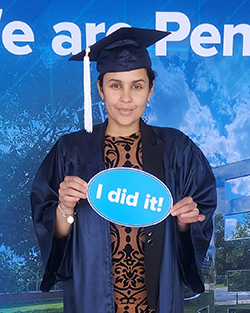 After making the Dean's List for several semesters, Lopez knew her decision to return to school was the right one.
"As a working mother, I struggled mentally," Lopez said. "So, when I finished the semester on good standing, it was an honor."
Lopez credits the unwavering support of her professors and academic advisers for her success. Fostering her academic growth from the beginning, Lopez's professors encouraged her to always push herself to be the best she could be.
"All of my professors were lovely. I was so blessed to have wonderful professors who were always understanding," she said. "I can't thank them enough."
Lopez graduated in spring 2023 with a bachelor's degree and a minor in geography. She walked in the commencement ceremony at Penn State University Park, and her family stood loyally by her side.
From capstone to career
During the last year of the undergraduate energy and sustainability program, students must fulfill a capstone project in which they make a case for or against a policy that is of interest to them and relevant to the field of energy and sustainability policy.
Lopez wanted to work with an environmental agency and found the not-for-profit land conservation organization North Branch Land Trust, which is based in Dallas, Pennsylvania. The organization focuses on conservation work in Northeastern Pennsylvania.
Lopez conducted three BioBlitz events to identify as many species of plants and animals as possible. Each event lasted two days, and Lopez and her team were able to identify more than 500 species. After gathering samples of fungi, flora, and fauna, Lopez was able to categorize each sample to determine whether there were any endangered species in the area.
Lopez completed her project when a full-time position within the organization became available. Her work helped her secure a job with the organization as a land and stewardship coordinator.
"The board and land committee was happy with what I was able to coordinate, and they thought I would be a good fit for the position," Lopez said.
Lopez now serves as a supervisor for numerous volunteers and outreach programs that focus on the preservation of natural landscapes.
Lopez also plays a crucial part in managing grants and facilitating the establishment of conservation easements, which are legal documents that outline the agreed-upon terms between a landowner and a land trust. These documents specify which activities are permissible under the conservation effort, with the primary goal being the utmost protection and preservation of the Earth.
Consider giving a gift to Penn State World Campus student scholarships and funds to enable more dreams to come true. Visit our website for more information. 
Media Contact:
Mike Dawson
mdawson@psu.edu