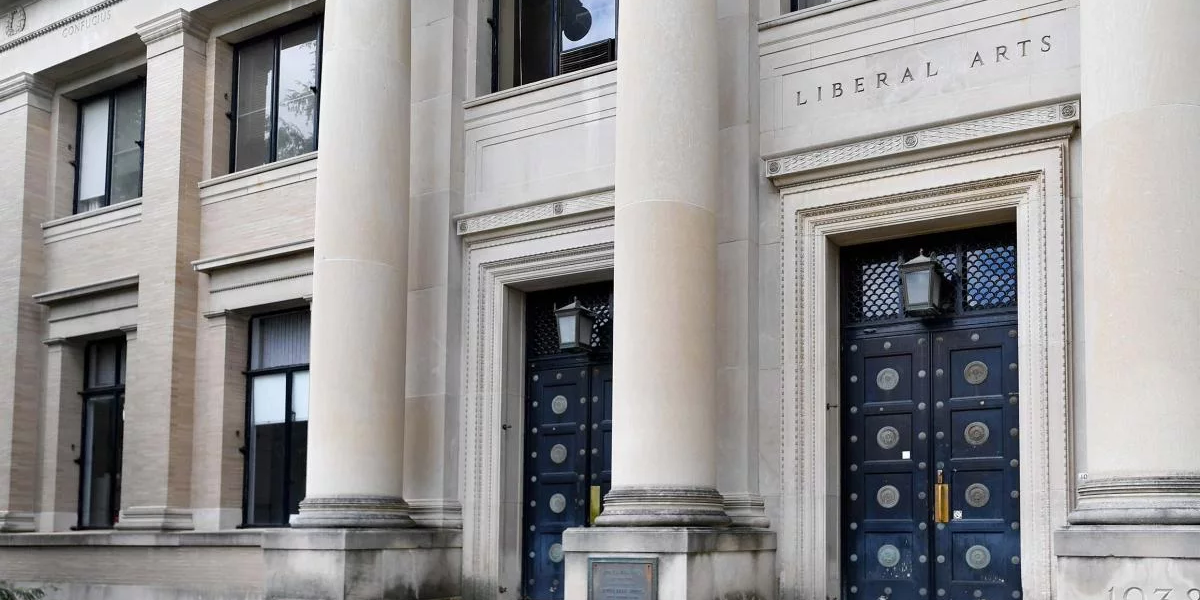 When Theresa Tama decided to go back to college online to finish her bachelor's degree, she had to pick a major. She remembered what her boss said: He valued employees with well-rounded skills like problem-solving, communication, and team-building.
That conversation led her to major in the liberal arts and enroll at Penn State through Penn State World Campus. She finished her degree while she worked full-time, graduating in 2012, and has gone on to have a successful career.
"If I hadn't finished my degree, I wouldn't have had the opportunities I've had, the jobs I've been offered," said Tama, who earned a Bachelor of Arts in Letters, Arts, and Sciences and works as a business consultant in Georgia.
That degree was Penn State's first online offering in the liberal arts discipline when it opened in 2002. Over the past 20 years, more than a dozen degree programs in the liberal arts have been made available online. Thousands of students have learned core skills such as communication, critical analysis, research, and theory and application through disciplines in the humanities, arts, and social sciences.
Liberal arts degrees provide skills to help students reach their goals
Thandi Clements graduated with a bachelor's in letters, arts, and sciences in 2014. Clements, who has 20 years of experience in marketing, sales, and client relations, said the course work she explored in the liberal arts gave her "training for the mind," a broad range of skills she has been able to apply in her jobs.
"My liberal arts degree has helped me be successful in my career," said Clements, who is the vice president for marketing and client relations at an investment firm. "You develop the skills to see and imagine the larger picture, but you also learn to research and identify other possibilities and constructs and to collaborate and communicate effectively to bring those ideas into being.
"I have relied on every single one of those tools throughout my career — from project management to problem-solving, to sales and marketing, and most importantly, navigating and adapting within a changing and increasingly complex world."
When Bryan Parent got out of the Army after serving for six years, he wanted to use his experience in military intelligence in his post-military career. He was drawn to a master's degree in homeland security but first needed to complete a bachelor's degree.
Parent decided to enroll in the Bachelor of Science in Political Science to finish his undergraduate degree so he could go on to grad school. He finished his bachelor's in 2016 and his master's in 2018, and now he works as a senior protective intelligence analyst at LinkedIn.
"Because of Penn State's first-rate reputation, World Campus was an easy choice for me. The instructors, professors, and teaching assistants are incredibly top-notch. They are generous in sharing their time and their knowledge and in pointing you in the right direction to have success after graduation. I can't thank Penn State enough for putting me in the position to take advantage of the luck that I've had."
Erica Monaghan has enjoyed similar career success. Her goal was to become the president of a company, and when she decided to return to school to finish her degree, she realized the bachelor's degree in organizational leadership was a perfect match for her desired career path.
"Knowing that leadership was in my sight lines and that it would be a demanding endeavor, my skills needed to be sharp," Monaghan said. "Through ongoing practice, feedback, and reinforcement from Penn State professors, I grinded away to better myself, to put the work in which would prepare me for the tougher role that I chased."
She now is the president of 4 Star Reps, a marketing firm for the food service equipment industry.
Jennifer Zeares will graduate in December with a Bachelor of Arts in Psychology. She said her experience learning online has been transformational.
Zeares wanted a renowned institution with a high-rated academic program that provided opportunities to get involved with her peers. She said she got what she wanted through Penn State World Campus, joining a variety of clubs and making lifelong connections with her peers and mentors.
"I didn't just get my degree — I changed my life. Everything is different, and the trajectory of my life is so different now. And that's because I chose Penn State World Campus," Zeares said.
A long history of liberal arts education
Over the past 20 years, World Campus and the College of the Liberal Arts have strategically expanded their online offerings. The School of Labor and Employment Relations, which is part of the College of the Liberal Arts, has also worked to make degree programs in its discipline available online.
The college followed the launch of the first degree, a Bachelor of Arts, with a Bachelor of Science in the field of organizational leadership. In the years that followed, the college's faculty developed online degree programs in the humanities and social sciences to create the robust portfolio for online learners that exists today.
"The liberal arts have long been the core of a full and rich Penn State education, and I am pleased that efforts to make a liberal arts degree available online have been so successful and have had such longevity," said Clarence Lang, Susan Welch Dean of the College of the Liberal Arts.
"In today's world, it is profoundly important that people in the military, working adults returning to college, and so many others have the opportunity to access a high-quality liberal arts education on their way to becoming fully fledged Penn State alumni. The College of the Liberal Arts has widely expanded our offerings over the past two decades, and our World Campus alumni are more engaged than ever."
To date, 6,462 students have graduated with a bachelor's or associate degree in a liberal arts field and another 1,992 have completed a master's degree.
A variety of degrees to study in the liberal arts
More than 2,100 students are currently enrolled in the more than one dozen liberal arts degree programs that are offered online.
Students interested in an undergraduate liberal arts education can choose from topics in psychology, law and society, history, political science, economics, leadership, labor and human resources, and more. Master's degrees in leadership and human resources are also available.
Just this year, the original letters, arts, and sciences program was renamed the Bachelor of Arts in Multidisciplinary Studies to reflect the nature of the curriculum connecting so many fields within the humanities, arts, and social sciences.
"We are proud to offer a breadth of high-quality degree programs for our students that enable them to achieve their educational goals," said Renata Engel, vice provost for Online Education at Penn State.
"The faculty and leadership of the College of the Liberal Arts were pioneers in online education and have been essential in our University's efforts over the past 20 years to make a Penn State degree a reality for adult learners who seek the flexibility afforded in the online environment."
The support from the College of the Liberal Arts has made it possible for Penn State to offer a diverse array of programs online. The college's faculty teach thousands of students online each semester in courses for the majors as well as courses that are general education requirements for many majors, such as English, communication arts and sciences, and languages.
Christopher Lawrence, a professor of history, is one of the many faculty members who teach online for Penn State World Campus and in-residence courses.
"I enjoy working with online learners because they are dedicated students, often juggling career and family obligations while pursuing their degrees," Lawrence said. "I am proud to teach the lessons of the past and the skills of the historical discipline to such insightful and committed individuals."
Proud liberal arts graduates
Monaghan, the organization leadership graduate who is the president of her company, is grateful for the experience she had that sharpened the skills that she puts to use daily.
"I was also able to develop relationships with my professors and student advisers, which added to the level of support that I received over the four years it took to complete the program," Monaghan said. "Today, as a graduate, I know that my interactions were authentic as I enjoy professional friendships with some of my favorite professors."
Tama, the graduate from 2012, remembers a job interview well after she finished her degree. The hiring manager took note of the Penn State name on her résumé and commented that her education was an indicator of her work ethic.
She landed the job.
"I love that fact that whether it was University Park or World Campus, it didn't matter. I was treated like a Penn Stater," she said. "I'm forever grateful that I was able to finish, and I was able to use my degree. And it's on my résumé.
"I'm proud."
Learn more about the liberal arts degrees offered online through Penn State World Campus.